Rufus Wainwright (and Liza Minelli!) will join Sandra Bernhard @ Town Hall (where he recently played 2 nights for Kate)
Rufus Wainwright @ Prospect Park (more by David Andrako)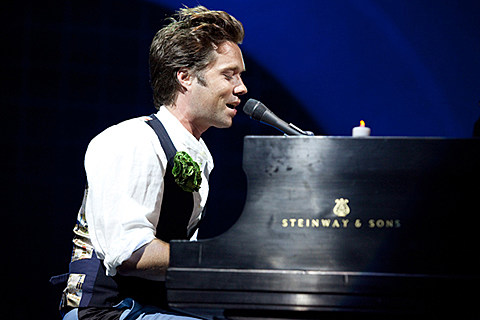 Despite the addition of Rufus Wainwright to the bill, and stellar past shows, tickets are amazingly still on sale for Doveman's show at LPR tonight (5/26). The Goastt, aka Sean Lennon and Charlotte Kemp Muhl, were recently added to the show too. There's always surprise guests (like Justin Bond) and an all-star backing band too.
Rufus was also just added to another show too, one that also still has tickets on sale, and one that now boasts an extremely impressive lineup of gay icons. Rufus Wainwright, Justin Bond AND Liza Minelli (!) were all added as special guests to the Sandra Bernhard show happening June 8 at Town Hall. The date will be the world premiere of Sandra's new show "I LOVE BEING ME, DON'T YOU?" The poster confirming this info is below.
Although the three-hour concert was billed as "A Celebration of Kate McGarrigle," the prevailing mood was naturally somber. McGarrigle wrote and sang heartrendingly personal songs throughout most of her life; hearing them now that she's gone was emotional, to say the least. Performers and audience members alike could be seen tearing up during highlights like "I Eat Dinner (When The Hunger's Gone)" (a sweet duet between Harris and Thompson), "Go Leave" (a deeply felt rendition by Hegarty), "(Talk to Me Of) Mendocino" (sung by both Wainwright siblings with Jones), "Tell My Sister" (a wonderfully torchy performance by Martha Wainwright) and most of all "Proserpina" - the last song Kate McGarrigle wrote before her death, a sad, lovely, honest tune that brought nearly everyone back on stage to close the night's first set.
Rufus has his own show coming up, a free one where he'll be performing excerpts of his opera, in NYC in June. All tour dates below...

--

Rufus Wainwright -- 2011 Tour Dates
MAY 26, 2011 -- New York, NY - Le Poisson Rouge (playing with Doveman)
JUN 08, 2011 -- New York, NY - Town Hall (playing with Sandra Bernhard)
JUN 28, 2011 -- New York, NY - World Financial Center (free show, opera preview)
JUL 18, 2011 - LONDON, UK - Royal Opera House
JUL 19, 2011 - LONDON, UK - Royal Opera House
JUL 21, 2011 - LONDON, UK - Royal Opera House
JUL 22, 2011 - LONDON, UK - Royal Opera House
JUL 23, 2011 - LONDON, UK - Royal Opera House
AUG 14, 2011 - CHICAGO, IL - Ravinia Festival Pavilion
OCT 05, 2011 - MONTREAL, PQ - New Concert Hall