Rufus Wainwright releasing a best-of w/ unreleased song "Me and Liza," touring (dates & stream)
Rufus Wainwright at Prospect Park in 2010 (more by David Andrako)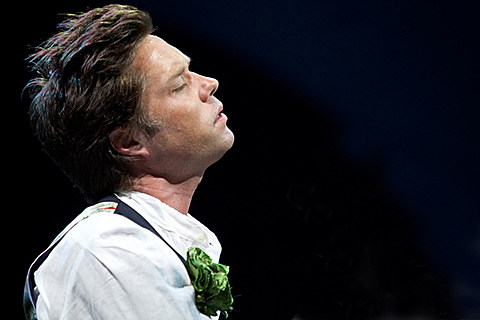 Rufus Wainwright is set to release a best-of compilation, Vibrate: The Best of Rufus Wainwright, on March 3 via Universal in the US, and he'll be supporting the release with an international tour this year. That tour comes to the US in the spring and hits NYC on April 15 at Town Hall. Tickets for that show go on presale via Rufus' site on Tuesday (1/14) at 10 AM, and Ticketmaster has a Live Nation presale starting Wednesday (1/15) at noon with the general on-sale beginning Friday (1/17) at noon.
In addition to his older favorites, Vibrate also includes a new song, "Me and Liza," which you can stream, along with the list of tour dates, below...

---
Rufus Wainwright - "Me and Liza"

Rufus Wainwright -- 2014 Tour Dates
MAR 04, 2014 DUBLIN, IRELAND Vicar Street
MAR 05, 2014 EDINBURGH, UNITED KINGDOM Usher Hall
MAR 10, 2014 AMSTERDAM , NETHERLANDS Carre
MAR 12, 2014 BRUSSELS, BELGIUM Cirque Royale
MAR 13, 2014 AARHUS, DENMARK Musikhus
MAR 14, 2014 STOCKHOLM, SWEDEN Filadelfia Kyrkan
MAR 15, 2014 OSLO, NORWAY Sentrum Scene
MAR 17, 2014 HELSINKI, FINLAND Kulttuuritalo
MAR 19, 2014 RIGA, LATVIA Palladium
MAR 20, 2014 VILNIUS, LITHUANIA Congress Hall
MAR 23, 2014 WROCLAW, POLAND Capitol Musical Theatre
MAR 24, 2014 WARSAW, POLAND Palladium
MAR 25, 2014 PRAGUE, CZECH REPUBLIC Divadlo Hybernia
MAR 26, 2014 BERLIN, GERMANY Apostel Paulus Kirche
MAR 28, 2014 VIENNA, AUSTRIA Museumsquartier
MAR 29, 2014 LJUBLJANA, SLOVENIA Cankarjev dom
MAR 31, 2014 ZURICH, SWITZERLAND Volkshaus
APR 02, 2014 ZAGREB , CROATIA Vatroslav Lisinski
APR 03, 2014 BUDAPEST, HUNGARY Palace of Arts (Budapest Spring Festival)
APR 04, 2014 BRESCIA, ITALY Teatro Grande
APR 06, 2014 LONDON , UNITED KINGDOM Theatre Royal, Drury Lane
APR 08, 2014 BOLOGNA, ITALY Teatro Duse
APR 10, 2014 CATANIA, ITALY Teatro Metropolitan
APR 15, 2014 NEW YORK, NY, UNITED STATES Town Hall
APR 16, 2014 WASHINGTON, DC, UNITED STATESLincoln Theatre
APR 18, 2014 LOS ANGELES, CA, UNITED STATESOrpheum Theatre
APR 19, 2014 SAN FRANCISCO, CA, UNITED STATES Palace of Fine Arts
APR 23, 2014 CAEN, FRANCE Le Cargo
APR 25, 2014 PARIS, FRANCE La Gaîté lyrique