Run the Jewels played 50 Kent in the rain with Nas, Gangsta Boo, Despot, Mr. Len, Vince Staples, Sleigh Bells (pics/video)
Run the Jewels & Nas / Sleigh Bells / Vince Staples

The Northside festival shows at 50 Kent wrapped up yesterday (6/14) with Run the Jewels, Sleigh Bells, and Vince Staples. The crowd was still filling in when Vince took the stage for his opening set, and it seemed like he had no trouble winning over almost everyone who was there. He advertised his upcoming debut album several times from the stage, and played a bunch of songs off that that haven't been released yet. (There were also guys in the crowd holding up banners with the title and release date -- Summertime '06, due June 30 via Blacksmith, Artium, and Def Jam.) He also did a bunch off last year's great Hell Can Wait, like "Fire," "65 Hunnid," "Blue Suede," and "Hands Up." The chorus of the latter, kind of like Kendrick Lamar's "drank!", is deceptively a celebratory chant while actually delivering a very serious message. But Vince didn't hesitate to embrace its celebratory side, and had the crowd going off for it.
Sleigh Bells were next (not really my thing), and then once the sun finally came down, El-P and Killer Mike took the stage, leading in the crowd in a sing-a-long as their DJ played Queen's "We Are the Champions." There's a part of me that wishes they'd still play some of R.A.P. Music like at the early Run the Jewels shows, but putting that wish aside, this was easily the best RTJ show I've seen yet. El-P seemed clearly in awe that he was headlining such a huge show in his hometown, and the whole thing really did seem to give RTJ even more energy than usual. Despite Killer Mike's arm being in a sling, he and El-P were in nonstop beast mode, running around the stage from start to finish. The crowd was getting lightly rained on the whole time, but that didn't kill the energy that most in attendance were giving right back to El-P and Killer Mike.
Jaime and Mikey brought out a handful of impressive guests too. Gangsta Boo came out for her verse on "Love Again (Akinyele Back)," their old pal Despot joined them for a song, and El-P's former Company Flow groupmate Mr. Len showed up too. But most exciting of all was when another NYC rapper came out, Nas. With basically no introduction, he walked on stage with his hood up, hi-fived El-P, and went into his 2002 single "Made You Look."
A video of that, more pictures from the show, below...

---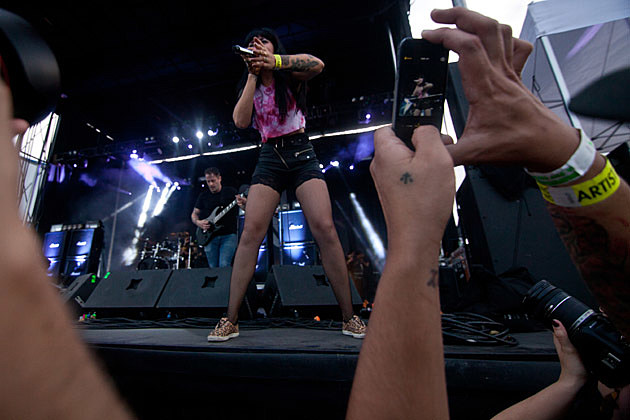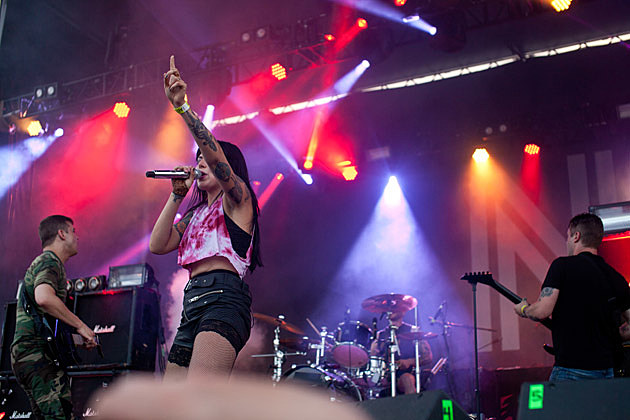 Run the Jewels ft. Gangsta Boo, Nas (by PSquared)