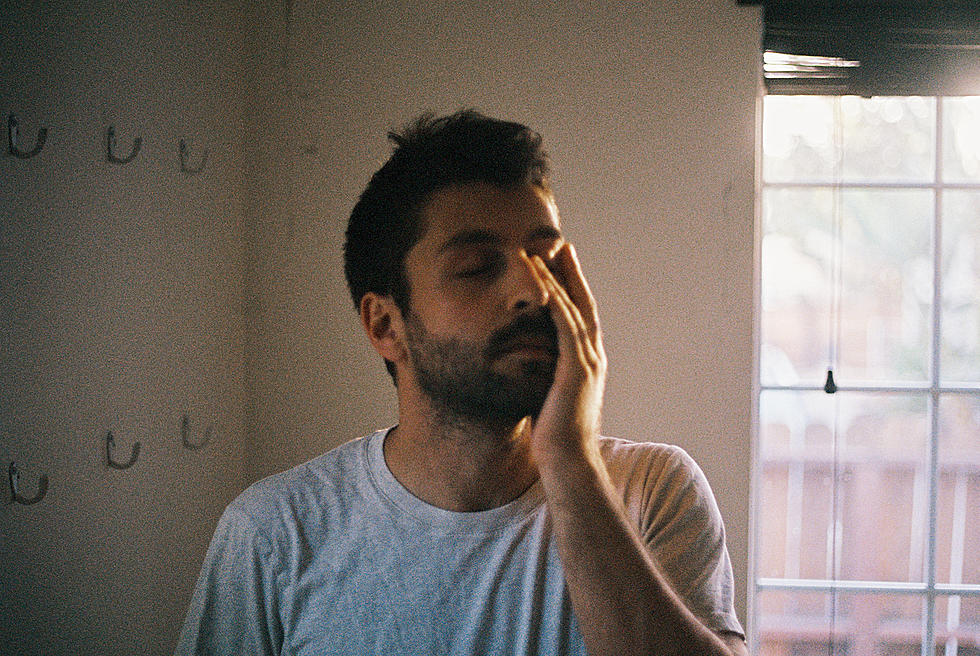 Runnner breaks down every track on new album 'Like Dying Stars, We're Reaching Out'
photo courtesy of the artist
Runnner, the project of L.A.-based singer/songwriter Noah Weinman, released his new album, Like Dying Stars, We're Reaching Out, today via Run For Cover. It's his first official album, following various EPs, singles, Bandcamp-only releases, and his 2021 collection album Always Repeating, and it's an indie folk album with flourishes of alt-country, baroque pop, and more, fitting in nicely next to stuff like Sufjan, Elliott Smith, and Alex G. In celebration of the release, Noah shared with us his track-by-track commentary--including a look into his influences, writing and recording processes, lyricism, and more. Stream the album below, and read on for Noah's analysis.
"plexiglass"
This song started with a recording of that piano/banjo riff that I captured on the internal microphone of my laptop. It gave it this great warble and distortion and set the tone for the production of the rest of the track (and a lot of other moments on the record). In the second verse you can hear a truck go by. This song, "Reach," and "NYE" I think are all trying to do the same thing on the record: if all of the other songs are scenes in a movie, these are the shots that show me holding the camera.
"i only sing about food"
I wrote this song around February 2020. It mulls over the uncertainty in a new relationship between wanting to show more of myself to this person and being afraid to do so. I was also listening to a lot of Madonna at that time, Ray of Light and Music, and wanted to couple this frustrated, self-deprecating song with a fun pop feel.
"bike again"
I wrote this in late 2018. The background pad is one sustained note from a saxophone that's pitched all around and run through a bunch of processing. it was originally recorded for a song called "Sublet" in 2017 and I've resampled it into many other songs since then. Including 3 on this record. I think this is also the only song on the album that I play trumpet on, which is kind of funny because for most of my life that was my primary instrument.
"raincoat"
The original demo for this song was all recorded in bed one morning in 2018. It was all MIDI and then I kind of whispered into the computer to lay down a vocal (which sounded kinda good to me and I tried to emulate that in the final version). It was a time in my life when I would constantly wake up early and anxious before having to go to my restaurant job. I wrote a lot of songs in that window, and generally have most of my creative ideas in the morning before I've had coffee when my brain still feels soft.
"chess with friends"
This is the first of my pandemic songs and I think when the theme of the album started to take shape (even though I hadn't recognized that yet). To some extent, I think every Runnner song is about connection/communication, but this song made it a bit clearer to me with regards to language and modes of communication. I was feeling pretty distant from a lot of people in my life, but I felt really unable to just pick up the phone and call them to bridge that gap, so I started playing online chess with some of them and it felt like a way to try and stay present in our lives without actually having to talk. Then I felt kind of stupid for hiding behind a game. Then I wrote a song about it and still didn't call. Then I think I called.
"reach"
Another song I wrote in bed one morning. There's this other song I love that's called ".--.---.--..." [I think that might be morse code for 'emote'? - when i looked it up it came up as 'EMEOETTETEEE" so I'm not sure]. Anyway, it has such a cool piano sound where you really feel the hammers moving and i wanted to emulate that so I put my phone inside the piano and recorded a voice memo to put in the track. The ending guitars were me sliding my trumpet mouthpiece around the neck at slower speeds and then snapping the parts into the correct tempo so that they would glitch out.
"noah needs a haircut"
It took me a while to embrace this song. For all the ways I'm willing to be vulnerable in my music, there are still some things I'm uncomfortable with, and usually that's a sign that I should put the song out there. In most of my songs I'm feeling frustrated with myself more than any particular situation or other person, but here I'm dealing with wanting more from someone else and knowing that we're just not going to make it there. It also deals with this superstition I have about haircuts which is that each mini chapter of my life is secretly marked by that occasion.
"runnning in place at the edge of the map"
This was a song I knew I wanted on the album before I wrote it. I had the title and the concept, and I knew i wanted it to be the sweeping dramatic track on the record, but I didn't have any bit of the actual song. I just felt like the album needed that statement, which is obviously too much of a burden to place on a song before you've written it but that's how I felt. In addition to talking about the other themes of the album, this song questions how the ways I make music have changed. As one of the last tracks that I worked on, I started to have thoughts about audience reaction that I really didn't want to be having and tried to wrestle with that feeling compared to songs I had written earlier in my life from maybe a more "pure" place, whatever that is.
"scabpicker"
This song and "String" are kind of a pair in my mind. They both take place in cars at some point, but they work in opposite directions. I wanted this song to feel dark and scary, like something from a David Lynch movie, but the lyrics are actually pretty positive to me. It's about about finding understanding from people close to you without words or without being able to make sense. The saxophones were recorded remotely and my only direction for them in the email was to play "like cars gliding by at night" - and they came up with more interesting stuff than I could have imagined.
"string"
Between this song and "Scabpicker," this is the one that sounds more hopeful but lyrically feels a lot more unsettled. "Scabpicker" finds comfort in the silence between people, but here I feel like I can't heal the connection, and I'm wondering if the other person thinks about it at all. I wanted this song to feel kind of misty and abstract and i tried to do that by recording all the instruments at a faster tempo and then slowing it all down.
"NYE"
It's probably easier for me to make a song with 30 instruments than it is for me to make a song with just one, and I wanted to force myself to do that here. So it's just my voice and a bass. I got really into the Books when I was working on this record and I know Nick experimented with different bass tunings so I that's how I ended up with that being my one instrument. Then I accidentally left my little space heater on during a vocal take but liked the way it sounded so I kept it in.
"a map for your birthday"
Mostly this song is about recognizing that while I feel so frustrated in all my imperfect ways of communicating, I'm probably not alone in that feeling and sometimes just the attempt and recognizing the attempts of others is the more important part. After a mostly downer album, I wanted to end with more optimism. There's also one moment in this song where the drum loop kind of glitches out and it's right after I sing "like dying stars, we're reaching out" and it's my favorite accident on the album.
--
Runnner will be going on tour starting at the end of the month, joined by labelmates waveform* for select dates, including in Brooklyn on March 8 at Baby's All Right.
Runnner -- 2023 Tour Dates
FEB 24, 2023 - House of Blues San Diego - Voodoo Room - San Diego, CA
FEB 25, 2023 -The Rebel Lounge - Phoenix, AZ
FEB 27, 2023 - 89th Street - OKC - Oklahoma City, OK
FEB 28, 2023 - Slowdown - Omaha, NE
MAR 2, 2023 - 7th St Entry - Minneapolis, MN
MAR 3, 2023 - Beat Kitchen - Chicago, IL
MAR 4, 2023 - Mahall's - Cleveland, OH
MAR 5, 2023 - The Drake Hotel - Toronto, Canada
MAR 7, 2023 - The Rockwell - Boston, MA
MAR 8, 2023 - Baby's All Right - Brooklyn, NY
MAR 10, 2023 - Songbyrd - Washington, DC
MAR 11, 2023 - Ukie Club on Franklin - Philadelphia, PA
MAR 13, 2023 - Cat's Cradle (Back Room) - Carrboro, NC
MAR 14, 2023 - The Masquerade - Atlanta, GA
MAR 18, 2023 - Tulips FTW - Fort Worth, TX #
MAR 21, 2023 - Lost Lake Lounge - Denver, CO
MAR 22, 2023 - The Beehive - Salt Lake City, UT
MAR 23, 2023 - MAR 24, 2023 - Treefort Music Fest - Boise, ID
MAR 25, 2023 - Polaris Hall - Portland, OR
MAR 26, 2023 - The Vera Project - Seattle, WA
MAR 28, 2023 - Cafe Du Nord - San Francisco, CA
APR 7, 2023 - The Echo - Los Angeles, CA
AUG 31, 2023 - SEP 3, 2023 - End of the Road Festival - Dorset, UK
# = Southside Spillover w/ Indigo de Souza, Luna Luna, Ron Gallo, Quarters of Change, Cheekface + more