RVIVR, Aye Nako, Shellshag & Slingshot Dakota played Saint Vitus (pics)
photos by Amanda Hatfield, words by Andrew Sacher
RVIVR / Slingshot Dakota @ Saint Vitus - 9/30/14

RVIVR brought their tour to NYC for two shows this week in support of their new Bicker and Breathe EP, Shea Stadium on Monday (9/29) and Saint Vitus last night (9/30), where they were joined by Aye Nako, Shellshag and Slingshot Dakota. Having seen the two local bands on the bill before, of the openers I was most excited to catch Bethlehem, PA's Slingshot Dakota who I'd somehow gone this long without seeing and hope to continue remedying that. Unfortunately I only caught their last three songs (but they mentioned that they opened with a Promise Ring cover), but from what I did see they sounded excellent. Singer/keyboardist Carly Comando is a hugely energetic performer and for a band that could be seen as temperate indie pop, drummer Tom Patterson pounds the hell out of those skins like he's in a way more aggressive band. It's a great mix.
Shellshag followed with their usual eccentricities, each member standing opposite each other across their homemade speaker/light show/mic stand box. They sounded great as always. As did Aye Nako, who took the opportunity to play a couple new songs which sounded good. You can catch them again soon with Ex Hex and Speedy Ortiz.
Not sure if it ever sold out, but it really packed in for RVIVR's headlining set, and just about everyone there (band and audience included) looked like they were in the best mood. I'm not even the most familiar with all of RVIVR's music, but it was undeniable how great that show was. It's super tight, super powerful pop punk done just about as well as you could ask for, and the good vibes going back and forth between the crowd and band all night were so genuine. At one point they dedicated a song to the freaks and to queer love, and were met with huge cheers. Later on they dedicated another song to feminism and equality, and once again the whole place applauded. At one point, Mattie Canino broke a string and when he went to fix it and someone yelled out something like "it's not punk to fix strings!" he said, "It is punk to fix strings, we're changing it. Just like we're changing it so it's not punk to hurt people at shows. Punk is ours, and we can change it." They didn't directly say if that had anything to do with Joyce Manor's anti-stage diving stance, but given all the recent talk about it, it felt like an even more powerful sentiment than it would usually be.
More pictures of all four bands from Saint Vitus, below...

---
Slingshot Dakota
Shellshag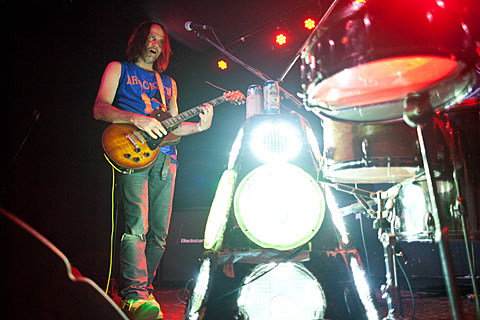 Aye Nako
RVIVR