Ryuichi Sakamoto releasing new LPs, touring (dates)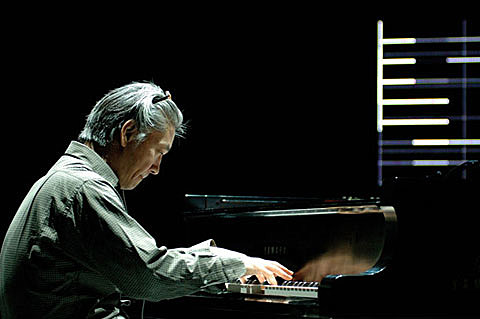 You may recognize the name Ryuichi Sakamoto as a member of the pioneering Japanese synthpop band Yellow Magic Orchestra, or as composer for one of many film scores including The Last Emperor (with David Byrne), Babel, The Sheltering Sky, or one of dozens of others. But now the solo artist/composer will embark a new adventure, a short set of US dates including Skirball Center at NYU on 10/18- one of only ten US dates on his calendar where he'll be...
"...bringing his music to audiences through sustainable and ecologically sound touring. In addition, a carbon offset will be made for all carbon dioxide emissions resulting from the tour. Sakamoto has devoted much of his time in recent years to environmental concerns - to turning Ego into Eco as he puts it. Beginning in 2001, he has made a huge attempt to use alternative energy for touring."
These rare appearances are part of a tour in celebration of the release of his TWO LPs playing the piano and out of noise, out on Decca on 9/28. The first disc, playing the piano, finds Sakamoto covering his previous works with solo piano while the second finds him "the ambiguities between music and noise".
"The second CD, out of noise, is arguably Sakamoto's most ambitious to date in which he continues to explore the netherworld between music and noise that has fascinated him for years. He is joined here by, among others, Austrian guitarist/laptop artist Christian Fennesz, guitarist Cornelius (Keigo Oyamada), England's renowned early music group Fretwork, and Icelandic multi-instrumentalist Skuli Sverrisson."
Some Sakamoto videos, as well as his full tour sked, below...

Ryuichi Sakamoto - Energy Flow

Ryuichi Sakamoto - The Last Emperor

RYUICHI SAKAMOTO - 2010 TOUR DATES
October 17 2010 Keswick Theatre/Glenside, Pennsylvania
October 18 2010 Skirball Center For the Performing Arts/New York City, New York
October 20 2010 Berklee Performance Center/Boston, Massachusetts
October 22 2010 Outremont Theatre/Montreal, Quebec
October 24 2010 Queen Elizabeth Theater/Toronto, Ontario
October 26 2010 Vic Theatre/Chicago, Illinois
October 30 2010 Moore Theatre/Seattle, Washington
November 1 2010 Vogue Theatre/Vancouver, British Columbia
November 3 2010 Regency Ballroom/San Fransisco, California
November 5 2010 El Rey/Los Angeles, California