Savages began their nine-show NYC residency at Baby's All Right with Swans' Norman Westberg (pics, setlist)
Savages @ Baby's All Right 1/12/2014

"We're not quite finished writing our new album," admitted Savages singer Jehnny Beth. "So we thought we'd come here and try some things. We'll work it out together." Such is the premise for Savages' nine-show NYC residency, which began last night (1/12) at Baby's All Right. Appropriately, the first words sung by Jehnny Beth were a repeated mantra of "I need something new," as the rest of the band slowly built up the kind of dark atmospherics Savages are known for. We got five new songs right out of the gate, none of which strayed too far from the post-punk sounds of their debut. "No" was the best of the bunch, offering the biggest and most memorable hooks (an area, I'd argue, that is Savages' one weak link).
Despite what Jehnny Beth said to us, the new material seemed fully formed -- only on "Adore" (which she dedicated to the victims of the Charlie Hebdo tragedy in Paris) did she pull out a lyric notebook to crib from. The band were tight as usual, and I'd really missed watching powerhouse rhythm section (bassist Ayse Hassan and drummer Fay Milton) lay down the groove. (I hadn't seen them since Bowery in March 2013.) At this point we got a couple songs from Silence Yourself before a couple more new ones -- "This Is What You Get" was the other clear winner of the night -- before wrapping things up with the big bang of "Husbands" and "Fuckers."
It was boiling in Baby's -- my coat was off the second song and my sweater not long after -- and the fog machine was thick. "There goes the drummer," Jehnny joked after one blast obscured the kit completely. It was good to see them again (when the smoke cleared), and it will be interesting to see how these shows vary from venue to venue as we go along. They play Wednesday (1/14) at Mercury Lounge and then Saturday (1/17) at Saint Vitus, both of which are sold out (as is the entire residency). If you're going to one (or more of these), they're selling a cool limited-edition poster, designed by Matthew Vidalis, for the series at the merch booth. Look out for that.
Opening the night was Swans' guitarist Norman Westberg who performed a solo set. I missed that but pictures of his set, along with more from Savages and their setlist, are below...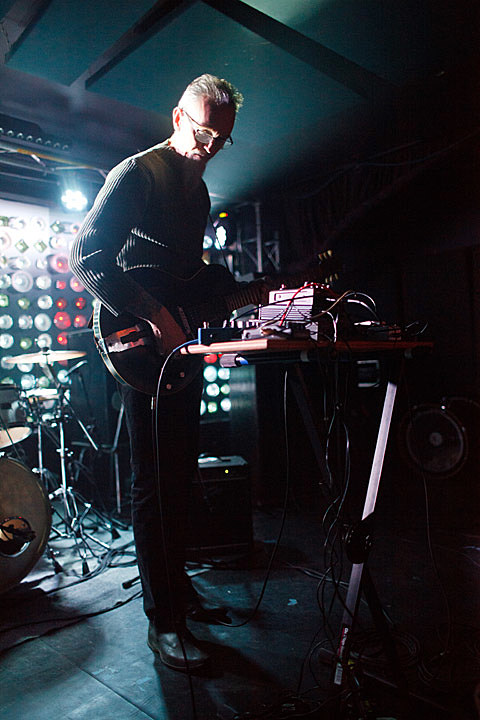 SETLIST: Savages @ Baby's All Right 1/12/2014
The Answer
No
When in Love
Surrender
Adore
Shut Up
No Face
This is What You Get
Sad Person
Husbands
Fuckers