Say Anything, Modern Baseball, Cymbals Eat Guitars & Hard Girls @ Best Buy Theater (pics)
Mimi Hong
Say Anything / Cymbals Eat Guitars / Hard Girls

Say Anything brought their tour with great openers Modern Baseball, Cymbals Eat Guitars and Hard Girls to NYC over the weekend for a show at Best Buy Theater (7/11). Kicking off the night was San Jose punks Hard Girls, who I hadn't seen since their BV-presented NYC debut at Death by Audio last August. Needless to say, as a band who would still be at home at a place like DbA and the only band on the bill you could 100% call "punk," it was odd seeing them at a huge venue in Times Square. But Hard Girls only benefited from the venue's super-professional soundsystem, which had them sounding exactly the way they should: loud.
Cymbals Eat Guitars followed, and stuck to their latest album LOSE (one of our favorites of last year), which they gave us all the highlights of: "Jackson," "Warning," "XR," Laramie" and more. They sounded great as always, with a set that was as ambitious as it was straight up rocking. If the crowd was less familiar with CEG than the two bands who followed (which it seemed like they were), I'd say a lot of people were won over that night, judging by the massive roars after frontman Joe D'Agostino ended his set writhing on the floor and creating a wall of guitar noise.
Modern Baseball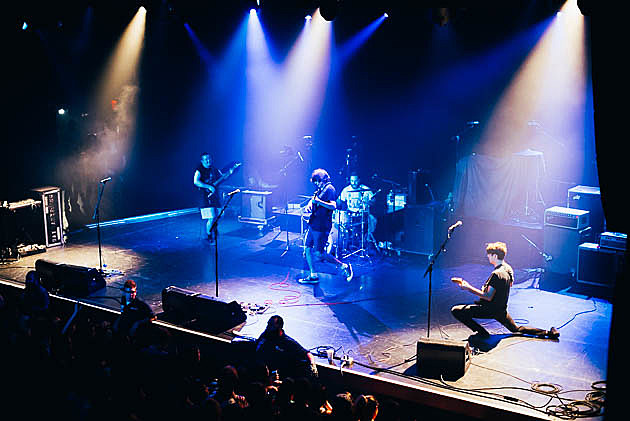 Then it was Modern Baseball, who despite being the newest band on the bill, had the wildest crowd of the night. Every time I see these guys it's crazier than the last. The minute they started, most of the crowd rushed as close to the stage as they could get, and there wasn't a moment you couldn't hear hundreds of people singing along (except during the one newer song). I've said it before, but I think what makes people connect to this band so much is that they stay very accessible without succumbing to any real established trends in either pop punk or indie rock. And their live show is super fun.
I only caught a few Say Anything songs, as I'm mostly a fan of ...Is A Real Boy and the self-releases before it, and their setlist for this tour was only including one song off that ("Woe"). (That's what last fall's very fun ...Is A Real Boy 10th anniversary tour was for though.) But our photographer caught them, and more pictures of all four bands continue below.

---