The Front Bottoms, The So So Glos and You Blew It! touring with Say Anything (dates)
The Front Bottoms at BV-SXSW 2014 (more by Amanda Hatfield)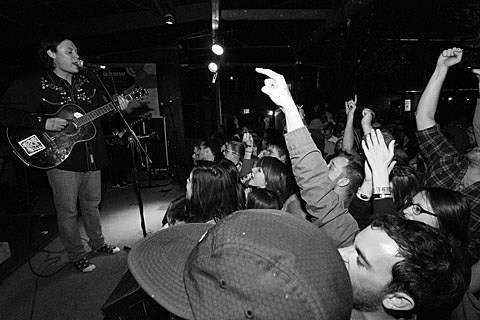 Say Anything is another of the 2000s bands that were almost entirely ignored by indie music critics, though I still maintain that if 2004's ...Is a Real Boy and all of the earlier material leading up to it (that they reissued as All My Friends Are Enemies: Early Rarities last year) had come out during the #emorevival, it'd be treated far more nicely. Max Bemis & co. just announced that they'll release a new album, Hebrews, via Equal Vision this year (6/10), but Say Anything haven't ever really put out a great followup to ...Is a Real Boy, so #emorevival or not, their time to shine just might be behind them.
To further the Say Anything/#emorevival discussion, the band has just announced a tour which features support from The Front Bottoms, The So So Glos, and You Blew It!, three bands that have definitely crossed over to indie rock fans/critics lately, and who we are definitely currently fans of. Not to mention none of these bands are wildly different from Say Anything. (Okay, well The So So Glos don't fall under the "emo" umbrella, but they're at least "pop punk" and did just open for Brand New and now this, so...)
The tour hits NYC on June 28 at Best Buy Theater and also includes nearby stops in Philly, NJ, Connecticut and upstate NY. Tickets for the NYC show go on sale Thursday, April 3 at noon. All dates are listed, with some streams/videos, below...

---
Say Anything - "Baseball But Better"

The Front Bottoms - "Twin Size Mattress"

The So So Glos - "Throw Your Hands Up"

You Blew It! - "House Address"

Say Anything, Front Bottoms, So So Glos, You Blew It -- 2014 Tour Dates
Jun 13 Dallas, TX @ Granada Theater
Jun 14 Austin, TX @ Emo's
Jun 15 Houston, TX @ Warehouse Live
Jun 17 Ft. Lauderdale, FL @ Revolution
Jun 18 Tampa, FL @ Ritz Ybor
Jun 19 Orlando, FL @ Beacham Theater
Jun 20 Atlanta, GA @ Masquerade
Jun 21 Charlotte, NC @ Amos Southend
Jun 22 Carrboro, NC @ Cat's Cradle
Jun 24 Norfolk, VA @ The NorVa
Jun 25 Baltimore, MD @ Rams Head Live
Jun 26 Philadelphia, PA @ Electric Factory
Jun 27 Sayreville, NJ @ Starland Ballroom
Jun 28 New York, NY @ Best Buy Theatre
Jun 29 Boston, MA @ House of Blues
Jul 01 New Haven, CT @ Toad's Place
Jul 02 Clifton Park, NY @ Upstate Concert Hall
Jul 03 Syracuse, NY @ Lost Horizon
Jul 05 Toronto, ON @ Opera House
Jul 06 Millvale, PA @ Mr Smalls Theatre
Jul 08 Lansing, MI @ Common Ground Fest
Jul 09 Columbus, OH @ Newport Music Hall
Jul 10 Columbia, MO @ The Blue Note
Jul 11 Chicago, IL @ Concord Music Hall
Jul 12 Milwaukee, WI @ The Rave
Jul 13 Minneapolis, MN @ Varsity Theater
Jul 15 Lincoln, NE @ Bourbon Theatre
Jul 16 Denver, CO @ Summit Music Hall
Jul 17 Salt Lake City, UT @ Club Sound
Jul 19 Seattle, WA @ Showbox at The Market
Jul 20 Portland, OR @ Crystal Ballroom
Jul 22 San Francisco, CA @ Regency Ballroom
Jul 24 Los Angeles, CA @ The Fonda Theatre
Jul 25 Pomona, CA @ Glass House
Jul 26 San Diego, CA @ House of Blues
Jul 27 Tempe, AZ @ The Marquee