Scion Rock Fest in review & pictures (Boris, Neurosis, Kylesa, Salome, Withered, Krallice, 1349 & more)
"How about this fuckin' lineup man? Whoever put this thing together, I'd like to shake their hand" - CT of Rwake
Boris (Steven Brown)

I'd like to think it was the jawdropping lineup decreed by the gods upon Mt Scion that brought people out in droves to The Masquerade in Atlanta on February 28th, but I would imagine that some of it was also due to "free show" factor. Either way, there is something ridiculawesome about bands as great as Harvey Milk, Wolves In The Throne Room, and Coalesce having to turn people away due to reaching capacity. That is my idea of sweet metal justice... some of my current favorite bands in front of the audiences they deserve.
The Masquerade is a 2+ level club. The biggest stage, dubbed "Heaven", is located on the second floor and houses somewhere in the neighborhood of 1000 people. Two adjacent clubs on the main level, "Hell" & "Purgatory", house considerably less: "Hell" is primarily a dance floor, so there were some obstructed sightlines. "Purgatory" had multiple tiers, no elevated stage and very little room in front of the band. Behind the venue in a grassy area which was muddy due to the prior night's rain, a 4,000 person capacity tent was constructed for the main stage.
continued below...

"Karate chop class is definitely not in session" - Chance of Skeletonwitch
Beau Brandon of Withered (Anthony Childs)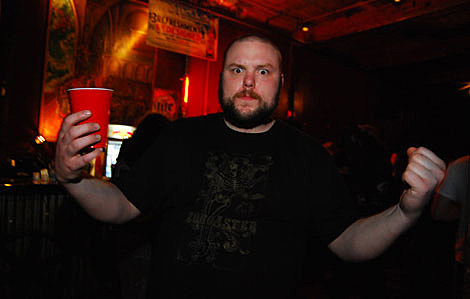 Laura of Kylesa & Tara Backstage (Anthony Childs)

Crowd (Anthony Childs)

A few thoughts about The Masquerade.... "Purgatory" was simply an impossible spot to catch a band. I pretty much never "saw" a band there and outright failed to get into the same room as Harvey Milk. "Heaven" was only accessible by a single staircase, which was impossibly cramped directly before and after any set. That said, this was one tightly run ship. Almost every band started and finished on time.
My general order of the day was to see as much as I possibly could, with no regard to seeing a full set from any one band. As a result I got to see pieces of Kylesa, Torche, Salome, Withered, Krallice, Skeletonwitch, 1349, Pig Destroyer, High On Fire, US Christmas, Coalesce, A Storm Of Light, Rwake, Mastodon, and Neurosis... not too shabby for a day under the grey sky.
Kylesa Pics by Steven Brown

Kylesa were already on the main stage when I arrived, and it was an amazing contrast to see them fill the outdoor stage in comparison to my last experience with them at the much smaller Charleston. The band wrestled with technical issues, but was extremely energized, thankful, and excited to be playing to an audience of that size. Look out for Static Tensions on Mar 17th! It's a ripper.
Torche Pics by Steven Brown

Torche followed, as did my first experience with them as a trio. I am not sure if it was the mix at the soundboard or their new Montoya-less lineup, but it sounded as if all of the really meaty middle-tones that used to give Torche that thick sound were gone. That said, the mix gave more room for Steve Brooks's vocals to take the forefront, and I was impressed by how great his voice sounded. Dude can wail. [We interviewed Steve here]
By the time I made it to Heaven, Trash Talk had already wrapped up their set with a different singer (Garrett hurt his knee) who ended up beating his head with his mic to a bloody pulp. Later in the day, I saw the scabby aftermath. What a bunch of nutjobs... and I mean that in the most endearing way possible.
Salome Pics by Anthony Childs

Although I experienced the Salome freight train just a few weeks ago, I opted to check them out again for a short while. I can safely confirm to you that Salome's brilliant performance at in Brooklyn was no fluke; this trio fucking killed it in ATL too. Salome may emerge as the breakout stars of the show... lots of raves by everyone I talked to, whether previously familiar or unfamiliar with the Virginia trio. [We interviewed Kat from Salome here]
Skeletonwitch by Steven Brown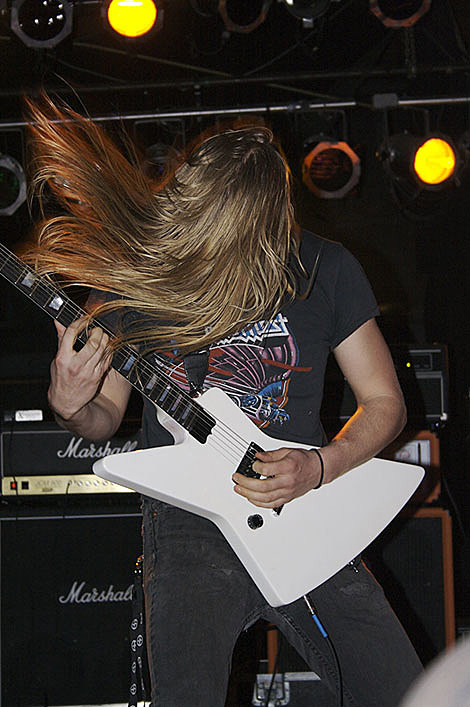 Skeletonwitch, probably the only band that I saw to have a mosh pit on Saturday (thank god), were unmatched in the fun/brutal department.
"This one's dedicated to SAAAATTTTTAAANNNNNNNNN"
Thanks Chance. Much like Municipal Waste, these guys play a high-octane brand of thrash except with a blackened tint, mostly due to Chance's vocals. Big-time fun, and highly recommended.
Baroness Pics by Steven Brown

US Christmas has always been a band with moments of greatness and lots of potential, but haven't totally sold me. Though that hasn't changed totally, I did enjoy what I saw from their set which was punctuated by a projection show done by two LCDs and four film projectors. Trippy dude.
Boris Pics by Steven Brown

With the bang of a gong by white-gloved skinsman Atsuo serving as a starting bell, Boris began their set with "Pink" and moved into "Statement" amidst their trademark dense fog. Michio Kurihara was (perpetually?) on hand to add the guitar flourishes, and if I can count on Boris to be anything, it's consistently great.
Withered by Steven Brown

I have managed to catch Withered a few times in the past, but this set ranks as the best set I have ever seen by them. Maybe it was the hometown crowd, the excitement of the killer lineup, or just the relentless tours with Ocean and Watain, but Withered seemed balls-on accurate, louder, meaner, and heavier than I have ever seen them before. These dudes mean bidness... I'll definitely have to see them again at Union Pool in April.
Withered by Anthony Brown

After the Withered triumph, I went across the hall to see Harvey Milk... denied. The room was at capacity. At capacity... for Harvey Milk? I didn't know whether to be upset because I was missing them or happy because so many people were checking them out. I'll stick with the latter.
Boris's set was scheduled to run ten minutes longer than everyone else on the main stage, and as a result, Pig Destroyer's set was shorter to compensate. Frown. Pig Destroyer was already into "Loathsome" from Phantom Limb by the time I saw them, with Blake Harrison punctuating the moments after the song with noisy, terrifying samples. Although they were technically proficient and sounded brutal/flawless, their live presence lacked the energy and insanity that I had hoped from such a furious and chaotic band. [We interviewed Scott Hull of Pig Destroyer here]
Krallice by Steven Brown

Krallice in "Hell" was next, as the Brooklyn crew opened with "Wretched Wisdom" from their S/T LP. I think I need to add these boys to the same category as Salome: bands that thoroughly impressed even the newbies. Sick band, can't wait for some new material.
High On Fire Pics by Steven Brown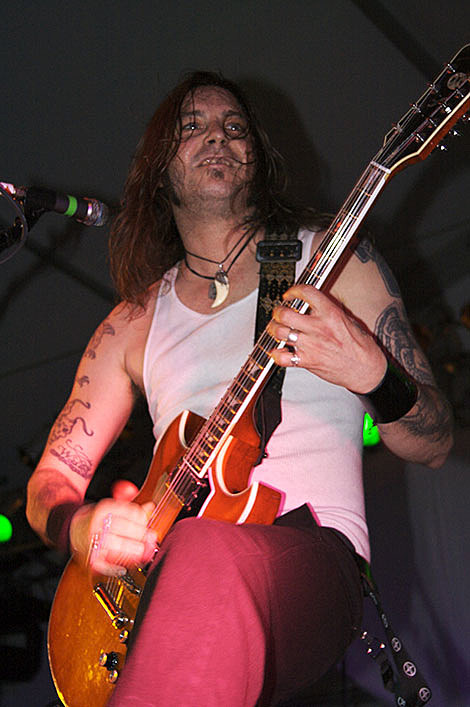 Out on the main stage, High On Fire began their set with "Turk" from their most recent Death Is This Communion record. I have seen HOF quite a few times and each was as good as the last, but alot of those previously mentioned middle tones that Torche weren't hitting also weren't present in Matt Pike's guitars as well. Hmmm, maybe it wasn't Torche after all? Either way, High On Fire, Matt Pike and his near enviable guitar tone were dependably good.
I managed to actually get into Purgatory to check out Rwake, but due to the packed house I could only really hear what was going on... And what I heard was the Arkansas crew absolutely MURDERING "Crooked Rivers" from Voices Of Omens and "Forge" from If You Walk Before You Crawl, You Crawl Before You Die. I can't wait until SXSW. I stayed for a few songs but scooted off to see the tail end of High On Fire... Mistake. [We interviewed CT of Rwake here]
Wolves in the Throne Room Pics by Anthony Childs

I decided to bounce for Wolves In The Throne Room and/or Converge by the time High On Fire were into their last song, but was greeted by a loooooooong line that stretched from the second floor, out the door, around the venue, and back to the outdoor stage. Doh. I decided to just get into a good position for Neurosis. [We interviewed Jacob Bannon of Converge here]
Neurosis Pics by Anthony Childs

There is no band on this green earth that can match the sheer furrowed-brow intensity of a Neurosis live set, and that definitely held true in Atlanta. Lately, a Neurosis live show is a bit like a comet... it's rare, short-lived, but it burns like a star. So when this crew of grizzled warriors take the stage, you know it's about to get serious. With coordinated projection visuals, their set kicked off with "A Sun That Never Sets" before moving into material from the new album... "Distill", "Water Is Never Enough", "Given To The Rising", and then on to "Stones From The Sky". I left the set early in an attempt to try and check out Coalesce, but returned to see the last few bars of the last song and SVT throwing his guitar to the floor. I'm not sure if it was in anger, but I would like to think that it was in celebration.
Coalesce was a semi-bust, but I did manage to hear the band from a tier below the stage level with their crew of fans reciting every word for their songs. I'll be damned if they didn't sound absolutely amazing.
Mastodon was next, but more on that here.
1349 Pics by Steven Brown

As my Scion experience drew to a close, I figured the best way would be to give in to the night... the creatures of the night, aka 1349. I enjoyed them much more than at Carcass last year, and this time they were joined by (awesome) drummer Tony Laureano of ex-Nile /Nachtmystium fame. They were sick, and so was my entire day on North Avenue.
Crowd Pics by Anthony Childs

Pic By Steven Brown