Scissor Sisters (Bridget Jones) @ Mercury Lounge, NYC | Pics
Scissor Sisters played a secret show under the name Bridget Jones' Diarrhea at Mercury Lounge in NYC last night (July 13th, 2005). It was the first of a three week secret residency at the same club (next week = "Megapussi" & the final show = "Portion Control"). Eleven days earlier Scissor Sisters performed for millions at the London Live 8 show. Their last NYC show was a sold out performance at (the 3000 person capacity?) Hammerstein Ballroom. Mercury Lounge holds 200-250 people.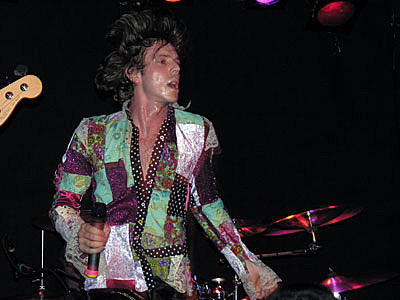 The band's desire to test out new Scissor Sisters songs was the reason for the small secret show. I think we heard seven new tunes total (give or take a new song). The new stuff was great, but hearing Laura, Mary, Tits on the Radio, Filthy/Gorgeous, and Comfortably Numb was even greater. DJ Sammy Jo opened the show with an hour DJ set before SS took the stage.
"Scissor Sisters singer Ana Matronic has accused Paris Hilton of attending Saturday's London Live 8 concert for selfish publicity purposes." [Ireland Online]