Scott Kelly, Wino, Man's Gin & Hunter Hunt-Hendrix of Liturgy played Mercury Lounge (pics & video)
Gregory R. Cristman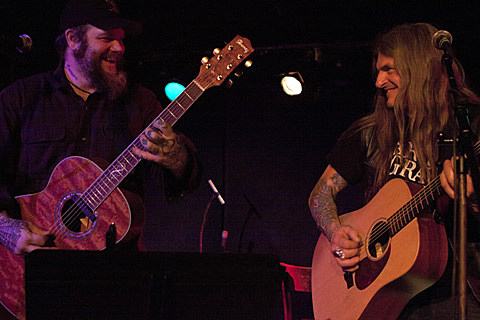 The Aquarian: What do you have coming out this year?

Wino: ...Premonition, this band I've been working with for... Well, I've known the one guy for 20 years and we never did anything, finally decided to make a record. And they liked the demos, so they said they'd put it out. We did a single, and we're right in the process right now of mixing a full-length.

Are Shrinebuilder going to do another record this year?

Wino: Yeah, we are. We're starting to get the songs ready. The songs are written. That's one good thing that came out of that volcano, actually. We couldn't get over to Europe, and it's the only time we all had together, so we all went to L.A., to the rehearsal room, and basically fleshed out the record. We played one part of it on this last tour we did, but yeah. It's gonna be cool. It's gonna be heavy as hell.

Actually, it's fucking really fucking heavy. Kelly's writing some amazing stuff, and we're all collaborating. He's a great guitar player. He won't tell you that he is, but he's a great guitar player. He may not be Yngwie Malmsteen but he knows the power of a song and delivery for sure.
Scott Kelly, Wino (and Scott Kelly with Wino) were the main attractions at Saturday's Mercury Lounge show (2/12), as the Neurosis/Saint Vitus frontmen each played respective sets before collaborating on stage together. The pair of underground legends were joined by NYC folk faves Man's Gin (who covered Cobalt's "Dry Body"!), and Hunter Hunt-Hendrix of Liturgy who started the show.
Both Man's Gin and Liturgy have shows next week: Man's Gin plays Union Pool on 2/23 with Religious To Damn, Greg Peterson (Batillus), and Oscar Albis Rodriguez (GHOST ROBOT NINJA BEAR, ex-Nakatomi Plaza) and Liturgy plays 285 Kent Ave on 2/25 with Talk Normal.
More pictures from Mercury Lounge are below, including some video of Scott Kelly, Wino, the collaboration, and Man's Gin's cover of "Dry Body"...

--
Man's Gin - Dry Body (Cobalt cover) | NYC @ Mercury Lounge | 12 Feb 2011

Wino | NYC @ Mercury Lounge | 12 Feb 2011

Scott Kelly | NYC @ Mercury Lounge | 12 Feb 2011

Scott Kelly & Wino | NYC @ Mercury Lounge | 12 Feb 2011