Screaming Females played Webster Hall, playing BV CMJ
Marissa Paternoster screaming @ Webster Hall Saturday evening

"The Females pick the strongest parts of indie, alt, punk and classic rock to gracefully create something timeless, singular and powerful. The trio's vocals, riffs, hooks, baselines and beats are live wires touching raw nerves. But the Females' biggest draw is Paternoster's impressive instrumental dexterity. Her frequent solos and leads are hooky without being showy, using the art of the shred to support the songs rather than distract from them. You can hear shades of Skynyrd, the White Stripes and countless other genre-defining greats -- but that's under Paternoster's distinctive caterwauling vocals, a sound that's undeniably aggressive.

The Black Cat is promoting Paternoster as "the new guitar God of the rock scene," while the Village Voice named the lifelong suburbanite 2009's Best Shredder in New York City.

Take it from the old guitar God of the rock scene: Last year the Screaming Females were thrilled to learn that J Mascis had placed an order for a disc on their website. A few days later, Mascis offered Screaming Females the opening slot at a Dinosaur Jr show in Brooklyn. [Washington Post]
To quote photographer Paul Birman (kolored) who was seeing the band for the first time at Webster Hall Saturday night (9/25), "screaming females are incredible." If you went to the show, hopefully you got there early. They were first of three on the bill headlined by Titus Andronicus. Free Energy were 2nd.
* The Pains of Being Pure at Heart
* The Blow
* Screaming Females
* Yuck
* Young Man
More pictures from the Webster Hall show, including one of their setlist, and more tour dates (they still have tons to go) below...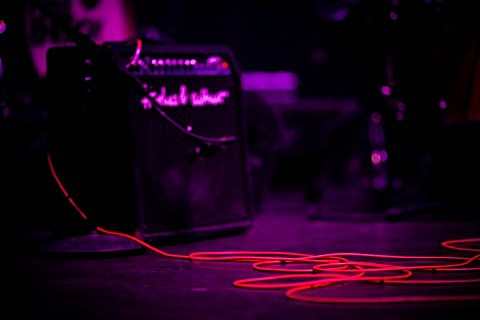 Screaming Females - 2010 Tour DateS
Sep 27 - sPACE Gallery (18+) Portland, Maine
Sep 28 - tT the Bear's (18+) Cambridge, MA
Sep 29 - daniel Street (21+) w/ Shonen Knife Milford, CT
Sep 30 - bennington College Downcafe (Students Only!) Bennington, Vermont
Oct 10 - Local 506 (18+) Chapel Hill, NC
Oct 11 - the Earl (21+) Atlanta, GA
Oct 12 - Common Grounds (18+) w/ Ted Leo and the Pharmacists Gainesville, FL
Oct 13 - the Social (all ages) w/ Ted Leo and the Pharmacists Orlando, Florida
Oct 14 - cafe Eleven (all ages) w/ Ted Leo and the Pharmacists St Augustine Beach, FL
Oct 15 - the Handlebar (18+) w/ Ted Leo and the Pharmacists Greenville, SC
Oct 16 - the Southern (all ages) w/ Ted Leo and the Pharmacists Charlottesville, Virginia
Oct 17 - the Whiskey (all ages) Annapolis, MD
Oct 21 - Music Hall of Williamsburg, Brooklyn, NY (BrooklynVegan CMJ showcase)
Oct 26 - club Cornflakes @ OCCII Amsterdam, NETHERLANDS
Oct 27 - the Luminaire (18+) London, ., UNITED KINGDOM
Oct 28 - Captain's Rest Glasgow, ., UNITED KINGDOM
Oct 29 - stereo (16+) York, UNITED KINGDOM
Oct 30 - islington Mill Manchester, ., UNITED KINGDOM
Oct 31 - loose Halloween Party @ Buffalo Bar Cardiff, UNITED KINGDOM
Nov 1 - the Hope Brighton, UNITED KINGDOM
Nov 2 - 'abordage Evreux, France
Nov 3 - usiques Volantes vs Popingays @ Le Divan du Monde Paris, FRANCE
Nov 4 - E SONIC LYON, FRANCE, FRANCE
Nov 5 - 'Embobineuse Marseille, FRANCE
Nov 7 - channel Zero Ljubljana (Slovenia), LJ, SLOVENIA
Nov 8 - SET Zagreb, CROATIA (local name: Hrvatska)
Nov 9 - HIZ vienna, AUSTRIA
Nov 10 - MK Innsbruck, AUSTRIA
Nov 11 - ad Bonn Duedingen, SWITZERLAND
Nov 12 - IRSCHENECK Basel, SWITZERLAND
Nov 13 - he Great Raeng Teng Teng Freiburg, GERMANY
Nov 14 - Bang Bang Club Berlin, GERMANY
Nov 15 - lub 007 Strahov Prague, CZECH REPUBLIC
Nov 16 - afe Kult Munich, Bayern, GERMANY
Nov 17 - onic Ballroom Köln, GERMANY
Nov 18 - strastube Hamburg, GERMANY
Nov 19 - årdaskolan Gothenburg, SWEDEN
Nov 20 - ritz's Corner @ Debaser Stockholm, SWEDEN
Nov 22 - harlies Kristiansand, NORWAY
Nov 23 - andmark Bergen, NORWAY
Nov 24 - Revolver Oslo, NORWAY
Nov 25 - PRIMAVERA CLUB Barcelona, SPAIN
Nov 26 - PRIMAVERA CLUB Barcelona, SPAIN
Nov 27 - PRIMAVERA CLUB Madrid, SPAIN
Nov 28 - PRIMAVERA CLUB Madrid, SPAIN