Screaming Females played the Don Giovanni showcase w/ Shellshag & more (pics), add more NYC shows & other dates
As soon as the Marissa Paternoster, front woman of Screaming Females, began hollering through the songs from the 2010 LP Castle Talk, the crowd took to moshing near the front of stage. Paternoster rules the stage with utter confidence and energy that seemed to possess the crowd. More than at any point during the night, it felt like a punk show with Screaming Females on stage. -[NYPress]
If you missed it, you're in luck, as Screaming Females have added another pair of new NYC-area dates. First up, the previously discussed Jeff the Brotherhood show at Santos on 3/31 (tickets still now available) will now be a co-headlining show with Marissa and the gang. In addition, the band has added a show at Maxwell's on 3/30, though not a show of the regular sort:
Something different! For this show artists from the NJ based Doodle Drag Art Collective will be creating unique images for our songs which will be projected behind us while we perform. For the song 'Lights Out' we humbly request YOUR artistic assistance.

We would like YOU to take a listen to "Lights Out" and then visually illustrate the song with your drawings, photos, collage, etc, (but we love drawing.) Be creative! You may illustrate the song however you see fit - create a narrative, create abstractions, or interpret the lyrics literally. Surprise us and most of all have fun with it! We ask that you provide us with a maximum of five drawings.

After submitting the images, they will be compiled into a slide show that will be projected behind Screaming Females during their set at the Maxwell's show, and it will be super cool.
More details on how to contribute to the show can be found at their website, and tickets for the NJ show are on sale.
All dates, and more pictures and some videos from Saturday's Music Hall show are below...

--
Byrds of Paradise - Broadcast News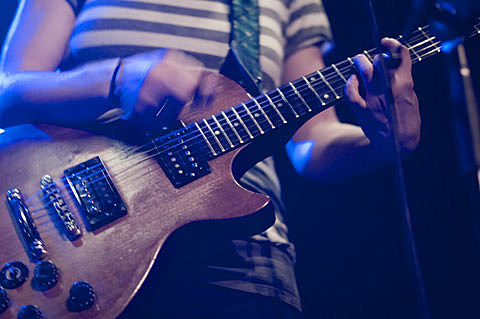 Laura Stevenson and The Cans
Laura Stevenson and The Cans - Holy Ghost

Screaming Females - Rotten Apple/Fall Asleep

SCREAMING FEMALES - 2011 TOUR DATES
Feb 18 - Yale U - New Haven, CT
Feb 24 - Delilah's On Cayuga - Ithaca, NY
Feb 25 - SUNY Binghamton - Vestal, NY
Mar 4 - Asbury Lanes - Asbury Park, NJ - w/ Full Of Fancy (last show)
Mar 5 - St Stephen's Church - Washington, DC - w/ Paint It Black and Punch
Mar 6 - First Unitarian Church - Philadelphia, PA - w/ Paint It Black and Punch
Mar 26 - Terrace Club - Princeton, NJ - w/ Jeff the Brotherhood
Mar 30 - Maxwell's - Hoboken, NJ - Screaming Females w/ Doodle Drag Art Collective
Mar 31 - Santos Party House - New York, NY - CO-HEADLINED w/ Jeff the Brotherhood
Apr 1 - MACROCK - Harrisonburg, VA
Apr 2 - Tea Bazaar - Charlottesville, VA