Screaming Females played South Street Seaport (pics), playing House of Vans & other dates
"Screaming Females shredding the shit out
of the south street seaport right now" - Andy Hare
Ted Leo and the Pharmacists and Screaming Females played the free kickoff party for 4Knots Music Festival at South Street Seaport on Saturday (7/9). As usual, Screaming Females shredded during their opening set.
"The opening band was "The Screaming Females" and I gotta say they were fucking excellent. Lead singer Marissa dresses as a neo-goth Emily Strange type, and then proceeds to shred and scream at you. It was amazing. Really amazing. So amazing in fact that I am now having a debate with myself on whether I should put up with the punk crowd at the end of the month and see another Screaming Females show OR go to the TMBG/JoCo show. They're on the same day. WHAT DO I DO?" [the science of discontent]
Catch them for free again at House of Vans on July 29th. All dates (only three in the US) and more pictures from the Seaport, below...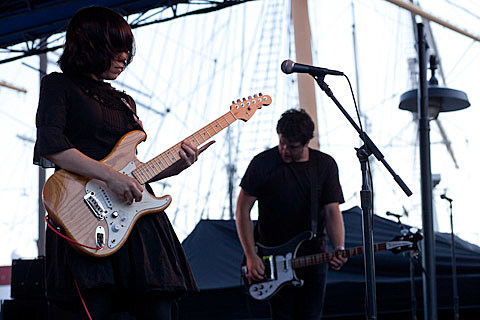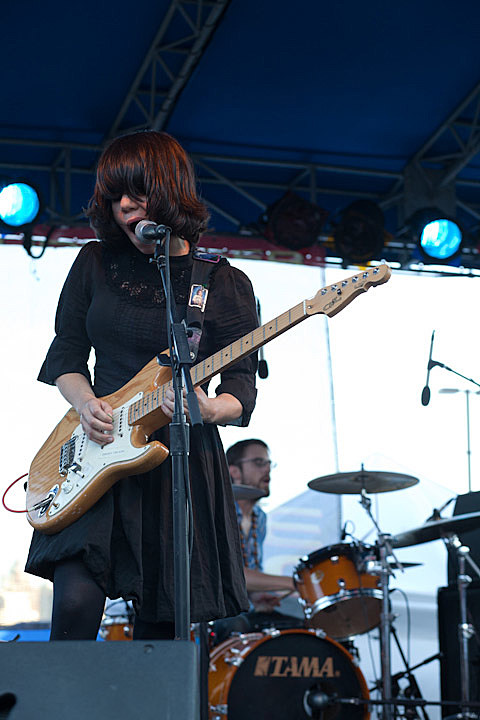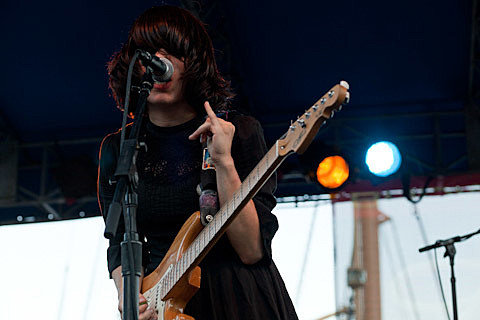 The Ted Leo pictures are HERE.
Screaming Females -- 2011 Tour Dates
Jul 29 House of Vans (Free!) Brooklyn, NY
Aug 18 The Bike Lot (Best Friends Day) Richmond, VA
Sep 9 The Lexington London, UK
Sep 10 Islington Mill Manchester, UK
Sep 11 The Croft Bristol, UK
Sep 12 Brudenell Social Club Leeds, UK
Sep 13 Norwich Arts Centre Norwich, UK
Sep 15 Incubate Festival Tilburg, NL
Sep 16 Leffingeleuren Festival Oostende, BE
Sep 17 Merleyn Nijmegen, NL
Sep 18 Tsunami Koeln, DE
Sep 19 Westgermany Berlin, DE
Sep 20 Cafe Kulturalna Warsaw, PL
Sep 21 Piekny Pies Krakow, PL
Sep 22 Arena Vienna, AT
Sep 23 Tvornica Zagreb, HR
Sep 24 Sterischer Herbst Steiermark, AT
Oct 29 FEST 10 Gainesville, FL