Screaming Females, Black Wine, Stormshadow and more played the Don Giovanni showcase at MHOW (pics)
photos/words by Caroline Harrison
Screaming Females @ MHOW 2/9/2013

Independent punk rock label Don Giovanni just finished up a three night 10th Anniversary celebration in Brooklyn. Night three, at the Music Hall of Williamsburg (Feb 9) featured Screaming Females, Black Wine, Stormshadow, Home Blitz, Shellshag, and a surprise guest performance from Rubber Molding.
Shellshag, like a couple of other bands on the bill, are better suited to a sweltering, crowded basement show than a ballroom or music hall. They play facing each other, singing into a bizarrely constructed speaker unit resembling a Dalek. Their energy treads a fine line between infectious and overly precious, but luckily most people in the crowd seemed to enjoy Shellshag's unpretentious pop punk. They closed with a Dino Jr-style cover of the Cure's "Just Like Heaven" before leaving the stage to make way for Home Blitz.
Home Blitz doesn't rely on bombast the same way Shellshag does. The quartet's set was understated, modest garage rock. Front man Daniel DiMaggio hangs off of the microphone as he sings, enhancing the impression that he's sneering through his raw and earnest vocals.
Our own Andrew Sacher talked to Stormshadow last month about the band's history, their reunion, and the decision behind re-releasing their 1999 album "Set On Destroy." The set, punk with a political bent and bar rock sensibilities, was a welcome comeback for this New Brunswick band. Stormshadow's male/female vocal approach is evocative of some Fucked Up tracks, though Stormshadow vocalist Matty King is not prone to the same onstage histrionics as Damian Abraham. Sue Werner's consistent vocal presence adds a nice back-and-forth dynamic to the band's stage routine.
Black Wine is sort of like a Don Giovanni supergroup, featuring former members of The Ergs! and Hunchback. They were originally supposed to support Screaming Females on the tour that got canceled due to Marissa's health problems, so it was nice to see the band getting to support them. Following Black Wine's set, Rubber Molding took the stage to blast through an unannounced, absolutely riotous (and spot on) cover of Meatloaf's Bat Out Of Hell, complete with a cape and some glitter-bombing..
While it was no surprise that Screaming Females absolutely destroyed, there was palpable relief from the audience that lead guitarist and howling vocalist Marissa Paternoster seems to have recovered from her long illness. The band just released a tape of new material, including a song they recorded with Shellshag, and they debuted a few new songs. The setlist is below (except the last song in the encore, because I can't read my own handwriting. Anyone out there remember?).
There are no upcoming dates for Screaming Females, but you can catch Black Wine at the Cake Shop on March 23 with Hilly Eye, Nuclear Santa Claust, and Lauren of the Measure.
More pictures and the Screaming Females setlist is below.

---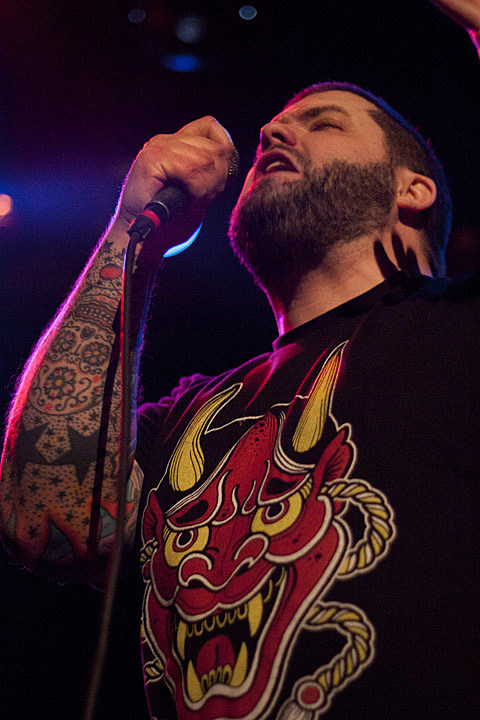 Screaming Females Setlist, 2/9/13 at MHoW:
Sheep
It All Means Nothing
Normal
Extinction
Bell
Poison Arrow
Crushing the Kingdom
Rotton Apple
Little Anne
Expire
Lights Out
Doom 84
==========
Green Vapors (feat. Shellshag)
????