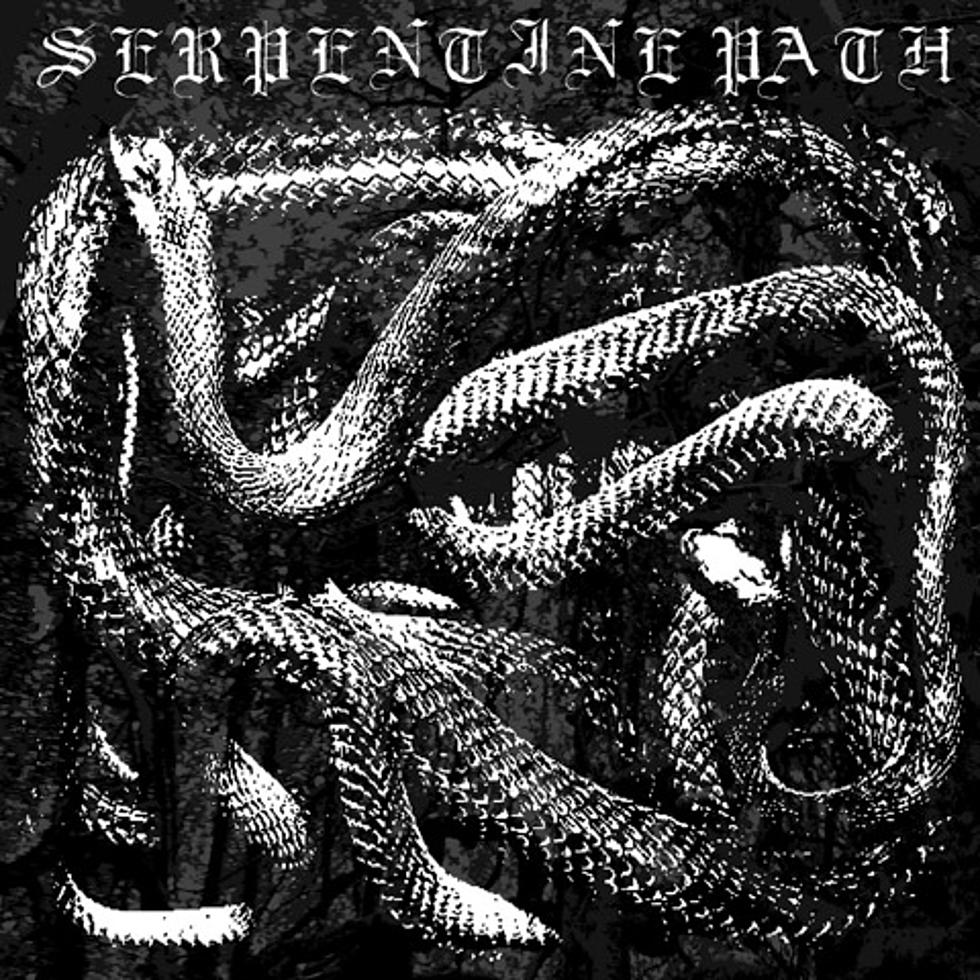 Serpentine Path = Unearthly Trance + a member of Ramesses — interview & song premiere
Serpentine Path 7" art

Take all of Unearthly Trance, add a member of Ramesses (who used to be in Electric Wizard) and what do you get? Serpentine Path, the new collaboration between Tim Bagshaw and NYC's own harbingers of doom. UT first crossed paths with Tim Bagshaw while he was a member of Electric Wizard during the original lineup's 2002 tour together, and over the years have shared stages with Bagshaw's current project, Ramesses. The collaboration has been years in the making, but only shows its head for the first time with a new 7" due at the end of this month via Parasitic Records. Stream half of that 7", "Erebus", for the first time below, and order your copy via the label, who also recently dropped a new Charles Manson and the previously discussed Aldebaran EP on vinyl.
Check out "Erebus" from the new Serpentine Path 7" below, alongside a short interview conducted with Jay Newman (bass) and Tim Bagshaw (guitar)...

==================
Who is Serpentine Path? How does the addition of Tim change the chemistry between the three UT guys?
Jay Newman: Serpentine Path is all three Unearthly Trance members, Darren on Drums, Ryan [only] on vocals and myself on bass ... with Tim Bagshaw of Ramesses and Electric Wizard playing guitar... basically UTs rhythm section plus Ryan on vocal duty and Tim serving as the primary songwriter.
Was Unearthly Trance's brief hiatus the catalyst for Serpentine Path?
Newman: No it was not, we had the idea for Serpentine long before UT took our break.
Serpentine Path was born of your friendship following 2002's Electric Wizard tour and subsequent Ramesses tours. What was your goal to differentiate SP from each of those projects?
Newman: YES! The band was totally born out of friendship. UT has toured the US with Electric Wizard and 3 times in Europe/UK with Ramesses so we have been good friends for about ten years. Tim moved from the UK to NJ about a year ago, so this was only natural living so close that we would get together to jam / hangout. The only goal we have is to write killer music and have fun... no grand agenda we just to write the most crushing music we can.
How much material is finished? Are there plans for future releases?
Newman: The only recorded material right now is the 2 songs for the 7". But are currently working on a full length album... which we have 6 songs currently written.
Tim Bagshaw: Lots of songs all ready to go! Yes!! Full length LP to come!!
Are there plans for live dates?
Newman: We do not have plans for playing live at the moment, not to mention we do not have enough material for a live set. SP is predominantly a recording project, but it would not be completely out of the question to one day play a gig.
UNEARTHLY TRANCE - "Permanent Ice"

What is the current status of UT?
Newman: UT is fully functioning. After surviving a massive earthquake in Japan touring with Melvins, High On Fire we were a bit shaken up (literally) so we took a needed break. But we are all good and are working material for a new record.
What is the current status of Ramesses? Any plans to do live dates in the US?
Bagshaw: Ramesses is alive and kicking! We are working on material for the next LP. we've discussed doing the recording here in the US, and some live US show will follow. Standby....
===========
Thanks to Serpentine Path and Tim Parasitic.