Sharon Jones played a free NYC show (pics) ++ Budos Band, Naomi Shelton, Charles Bradley & other Daptone news/dates
Jones cutting a rug w/ audience member @ Lowdown Hudson Blues Fest

Jones waltzed through her catalog with tight vocal technique, annunciation and grit on her fast paced jams and sweet flow on her ballads. She covered Gladys Knight and humorously imitated Tina Turner. Jones had it all - humor, personality, moves, energy and incredible talent. - The Examiner
Modern soul purveyors Sharon Jones and the Dap-Kings played a triumphant set last week, closing out the first night of the Lowdown Hudson Blues Festival at Brookfield Place Waterfront Plaza in downtown Manhattan. The crowd was eating it up, and she even brought up a couple audience members to dance onstage. We've got pictures of the show -- including opening sets from the No BS Brass Band and Lake Street Dive -- in this post.
Meanwhile, Jones's label Daptone has a bunch of stuff going on these days. NYC funk chameleons The Budos Band are prepping a new album called Burnt Offering, out 10/21, and have have just released a single called "The Sticks," which supposedly takes its inspiration from Black Sabbath and Pentagram, which strange as it may sound is a pretty good look for them. Budos Band have a tour coming up and they'll play in NYC at The Wick on October 25. tickets are available now. All dates are listed below.
Labelmate Naomi Shelton also has a new release on the way, with Cold World coming out on July 29. She'll also be playing that free Rough Trade show we told you about on the day the album drops. All dates are listed below.
Finally, Charles Bradley, another Daptone artist, has a new single out with LaRose Jackson that's exclusive to 7". Its called "Luv Jones" and it can be previewed below and ordered here. Bradley will be on tour for much of the rest of this year, including a couple NYC shows that we've already mentioned -- a free Llincoln Center Out of Doors show on 8/10 and a Beacon Theatre show in October with the Afghan Whigs. Check out the full list of Bradley dates below.
More pictures from Night 1 of the Lowdown Hudson Blues Fest, as well as streams for the new Budos Band song, the Charles Bradley preview, and upcoming dates for Budos Band, Naomi Shelton, Sharon Jones and the Dap Kings, and Charles Bradley, below...

---
Sharon Jones and the Dap-Kings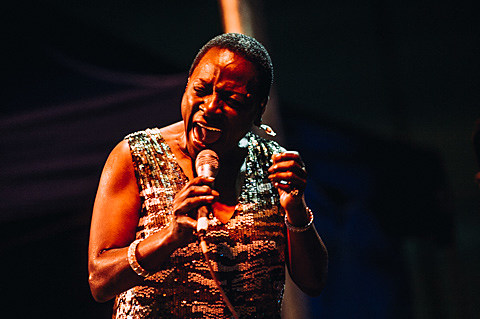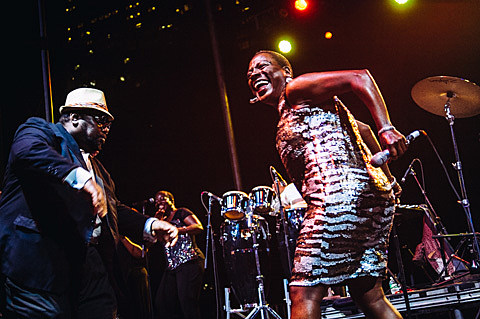 Sharon Jones and the Dap Kings -- 2014 Tour Dates
Aug 08 Astor Theatre Mount Lawley Wa, Australia
Aug 20 Hollywood Bowl Hollywood, CA
Aug 21 Sonoma Mountain Village Green Rohnert Park, CA
Aug 22 The Mountain Winery Saratoga, CA
Sep 04 Bruce Mason Center Takapuna, New Zealand
Sep 05 Tivoli Theatre Brisbane Qld, Australia
Sep 06 The Barton Theatre Adelaide, Australia
Sep 09 Astor Theatre Mount Lawley Wa, Australia
Sep 13 Sydney Town Hall Sydney, Australia
Sep 14 Odeon Theatre Hobart, Australia
Sep 17 Meeniyan Town Hall Meeniyan, Australia
Sep 19 Melbourne Town Hall Melbourne Vic, Australia
Oct 23 Albert Hall Manchester, United Kingdom
Oct 24 O2 ABC Glasgow, United Kingdom
Oct 25 Mandela Hall Belfast, United Kingdom
Oct 28 Colston Hall Bristol, United Kingdom
Oct 29 Brighton Dome Brighton, United Kingdom
Oct 31 VOORUIT Gent, Belgium
Nov 01 Le 106 Rouen, France
Nov 02 La Laiterie Strasbourg, France
Nov 03 RADIANT-BELLEVUE Caluire Et Cuire, France
Nov 04 La Coopérative de Mai Clermont Ferrand, France
Nov 06 Het Depot Leuven, Belgium
Nov 09 Patronaat, Grote zaal Haarlem, Netherlands
Nov 14 Les Docks Lausanne, Switzerland
Nov 16 Le Cargö Caen, France
Nov 18 Palau de la Musica Barcelona, Spain
Nov 19 Sala Riviera Madrid, Spain
Nov 23 Aula Magna Lisbon, Portugal
The Budos Band -- 2014 Tour Dates
JUL 24 Twilight Concert Series, Salt Lake City, Utah
JUL 25 Portland, OR, Wonder Ballroom
JUL 26 Capitol Hill Block Party, Seattle, Washington
JUL 27 Victoria, BC, Phillips Brewery Co
JUL 30 San Francisco, CA, The Independent
JUL 31 Los Angeles, CA, The Echoplex
AUG 01 Las Vegas, NV, Brooklyn Bowl
AUG 02, San Diego, CA, Casbah
OCT, 25, Brooklyn, NY, The Wick in Brooklyn, New York
NOV 15, Bear Creek Festival, Live Oak, Florida
Naomi Shelton and the Gospel Queens -- 2014 Tour Dates
July 19 Cahors Blues Festival, Cahors, France
July 20 Jazz a Juan, Antibes, France
July 29 Rough Trade NYC, New York, New York
August 8-10 Regina Folk Festival, Regina, Saskatchewan
Charles Bradley and His Extraordinaires -- 2014 Tour Dates
Jul 24, Pioneer Park (w/Budos Band), Salt Lake City, UT
Jul 25, Oregon Zoo Amphitheater, Portland, OR
Jul 26, Timber! Fest 2014, Carnation, WA
Jul 27, The Phillips Backyard Weekender, Victoria, BC, Canada
Jul 30, The Capitol Theatre, Nelson, BC, Canada
Jul 31, Top Hat Lounge, Missoula, MT
Aug 1, Seasons Performance Music Festival, Yakima, WA
Aug 2, Wanderlust, Whistler, BC, Canada
Aug 10, Lincoln Center Out of Doors, New York, NY
Aug 22, Riverfest, Elora, ON, Canada
Aug 29, Campfire Festival, Lakewood, PA
Sep 3, Jazz a La Villette, Paris, France
Sep 4, Paard, The Hague, The Netherlands
Sep 5, Patronaat, Haarlem, The Netherlands
Sep 6, Into The Great Wide Open Festival, Vlieland, The Netherlands
Sep 7, BRUIS Festival (FREE), Maastricht, The Netherlands
Sep 11, Twilight Concert Series, Santa Monica, CA
Sep 13, Telluride Blues & Brews Festival, Telluride, CO
Sep 15, Massey Hall (with Joss Stone), Toronto, ON, Canada
Sep 18, The Pool @ The Cosmopolitan, Las Vegas, N
Sep 20, Festival Palomino, Shakopee, MN
Oct 4, Beacon Theatre, New York, NY
Jan 6-11 Jam Cruise MSC Divina, US, Honduras, Mexico