Sharon Jones & the Dap Kings announce 7 NY shows, 4 in NYC (dates)
Sharon Jones at Sasquatch 2011 (more by Josh Darr)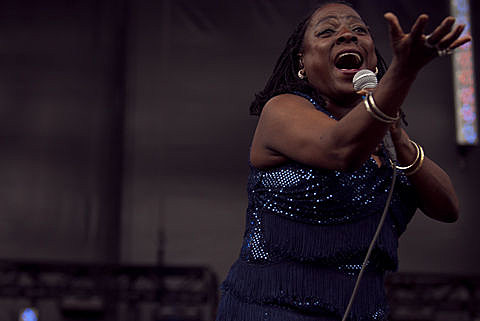 Sharon Jones & The Dap Kings have been making booties shake across the continent and will continue to do so through the bulk of the fall, eventually looping back to New York for SEVEN shows, FOUR of which are in NYC. On December 6th and 7th the band will hit Music Hall of Williamsburg in Brooklyn. Then after shows in Tarrytown, Oneonta & Syracuse, they return to the city to play December 13th and 14th at Bowery Ballroom. Tickets for all four NYC shows go on AmEx presale at noon on Wed (10/5) with regular sale hitting two days later. All dates are listed below.
Sharon Jones will compete with their West Coast touring partners My Morning Jacket on 12/14 when the Louisville band headlines Madison Square Garden with Band of Horses. Tickets are still available.
The Budos Band and one more band TBA play Music Hall of Williamsburg on New Year's Eve. Charles Bradley plays Bowery Ballroom on 12/3.
All tour dates and some recent live videos, below...

--
SHARON JONES @ CURACAO NORTH SEA JAZZ 2011 "WINDOW SHOPPING" (WITH 'EDSEL')

SHARON JONES e The Dap Kings | 22/09/11 | Jô Soares

SHARON JONES & THE DAP KINGS - 2011 TOUR DATES
OCTOBER 6 Shakori Hills Grassroots Festival Pittsboro, NC
OCTOBER 7 Westobou Festival Augusta, GA
OCTOBER 27 Newport Music Hall Columbus, OH
OCTOBER 28 Carnegie Library Music Hall Munhall, PA
OCTOBER 29 Beachland Ballroom Cleveland, OH
NOVEMBER 3 State Theatre Portland, ME
NOVEMBER 4 Music Hall Portsmouth, NH
NOVEMBER 5 Club Helsinki Hudson, NY
NOVEMBER 10 The Showbox Seattle, WA
NOVEMBER 11 Wilma Theatre Missoula, MT
NOVEMBER 12 The Wild Buffalo Bellingham, WA
NOVEMBER 13 Aladdin Theatre Portland, OR
NOVEMBER 15 McDonald Theatre Eugene, OR
NOVEMBER 16 The Depot Arcata, CA
NOVEMBER 17 Uptown Theatre Napa, CA
NOVEMBER 21 House of Blues San Diego, CA
NOVEMBER 26 Molson Canadian House Vancouver, BC
DECEMBER 1 Gibson Amphitheatre with My Morning Jacket! Los Angeles, CA
DECEMBER 2 Bill Graham Civic Auditorium with My Morning Jacket! San Francisco, CA
DECEMBER 6 Music Hall of Williamsburg Brooklyn, NY
DECEMBER 7 Music Hall of Williamsburg Brooklyn, NY
DECEMBER 8 Tarrytown Music Hall Tarrytown, NY
DECEMBER 9 The Oneonta Theatre Oneonta, NY
DECEMBER 10 The Westcott Theater Syracuse, NY
DECEMBER 13 Bowery Ballroom New York, NY
DECEMBER 14 Bowery Ballroom New York, NY