Sharon Van Etten played The Rock Shop (pics), playing Chouette day party (and other dates)
Sharon Van Etten and full band played two NYC area dates this weekend as part of an extended weekend of shows that would see her eventually link up with Bowerbirds who arrive back in NYC on Tuesday (10/12). If you missed either her 10/8 show at Rock Shop with Julianna Barwick and She Keeps Bees, or her 10/9 show at Mercury Lounge with Kyp Malone, never fear, SVE will return to the NYC stage next week to play the annual Chouette day party, this year at Bruar Falls, on 10/20 during CMJ. The show, which will also feature Lower Dens, Highlife, and Sebastian Blanck, will kick off at 3PM and will feature SVE in the top slot (at 6PM). Set times are below.
Not long after CMJ, Sharon Van Etten heads out on the road with Junip. All dates, as well as pictures from Rock Shop are below (Mercury Lounge pictures are on the way)...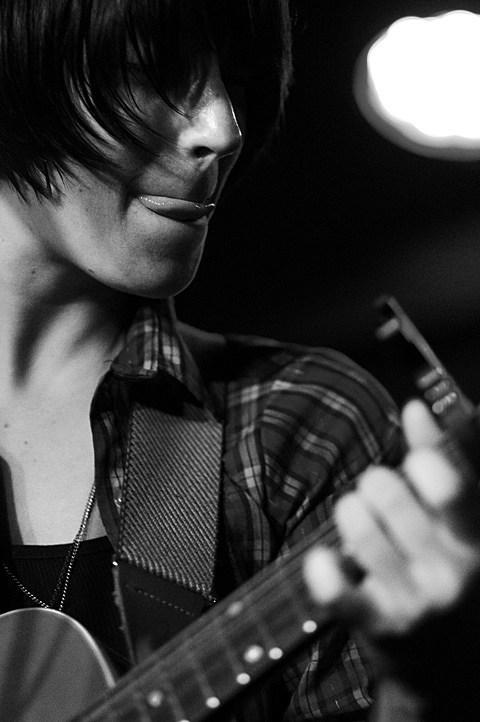 WEDNESDAY OCTOBER 20TH
CMJ MUSIC MARATHON!!!
*DAY SHOW*
CHOUETTE AT CMJ 2010 AT BRUAR FALLS
6:00PM: SHARON VAN ETTEN
5:00PM: LOWER DENS
4:00PM: HIGHLIFE
3:00PM: SEBASTIAN BLANCK
--
SHARON VAN ETTEN - 2010 TOUR DATES
10/11 Black Cat Backstage Washington DC
10/13 Castaways Ithaca NY
10/14 Iron Horse Music Hall Northampton, MA
10/16 Wildfire Lounge Ithaca, NY
10/20 New York NY Bruar Falls *Chouette at CMJ Showcase*
11/2 Royale Nightclub Boston MA
11/3 Monkey House Winooski VT
11/4 Le Belmont Montreal QC
11/5 Lee's Palace Toronto ON
11/6 Lincoln Hall Chicago IL
11/7 The Cedar Cultural Center Minneapolis MN
11/10 Neumo's Seattle WA
11/11 Venue Vancouver BC
11/12 Doug Fir Portland OR
11/13 The Independent San Francisco CA
11/14 The Music Box Los Angeles CA
11/16 The Rhythm Room Phoenix AZ
11/18 The Mohawk Austin TX
11/19 Fitzgerald's Downstairs Houston TX
11/20 Spanish Moon Baton Rouge LA
11/22 The Cat's Cradle Carrboro NC