Sharon Van Etten headlined Bowery Ballroom (pics, video, live recording, setlist), touring through April (dates)
Though I only caught Sharon Van Etten due to dinner plans that went longer than expected (everyone was raving about opener The War on Drugs though), I can say that Saturday night's show at Bowery Ballroom was an amazing and extremely emotional one. I knew it would be a special show. Headlining, not to mention selling out, the approx-600-capacity Bowery Ballroom is a milestone in an artist's career. It means even more when it happens to a beloved, local and talented artist who has worked her way up and truly deserves it. I didn't want to miss it.
The moment was not lost on Sharon either. In the most sincerest of ways, Sharon fought back crying (the crowd didn't always have as much luck) and often addressed her family, who not only seemed to be taking up one side of the entire balcony (with her parents in front), but were also peppered throughout the front of the crowd (most notably her cousin who made her voice heard more than one). Sharon often spoke to and thanked the entire crowd, and she played songs - new songs, very old rare and solo songs, and the 'hits' off her 2010 Badabing release 'Epic.'
If you've seen her lately, you know about the full band she now plays with (she mentioned that it was the band's first time playing Bowery Ballroom) (she has opened for other people there). The band, complete with a new keyboard player and the similarly-hair-styled Cat Martino on backing vocals, really round out her sound in a grand way. Megafaun's Brad Cook also played on some songs, and the Antlers' Peter Silberman sang one with her as the rest of the Antlers watched from the audience (she sang with the Antlers when she opened for them on the same stage, and she mentioned that Megafaun was the first band to ever back her on her transition from solo artist to full band).
The show closed with the most perfect cover of R.E.M.'s "Strange Currencies". Video of that, with more pictures from the whole show, and her (and opener Sebastian Blank's) setlist, and an updated set of Sharon's tour dates, below...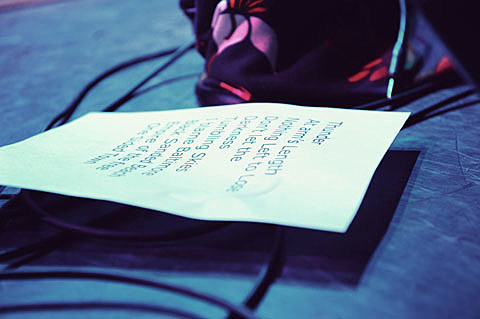 Sebastian Blanck at Bowery Ballroom 1/8/11 - Setlist
Thunder
At Arms Length
Nothing Left to Lose
Don't let the Darkness
Tumbling Skies
I Blame Baltimore
Black Sanded Beach
Empire of the Free
One Sided Town
--
Sharon Van Etten at Bowery Ballroom 1/8/11 - Setlist
A Crime
Peace Sign
Save Yourself
One Day
Don't Do It
Tornado
Tell Me
Ask
All I Can
Love More
=============
Damn Right (solo)
Give Out
Strange Currencies (R.E.M. cover)
--
--
Sharon Van Etten - 2011 Tour Dates
Wed 01/19/11 New Haven, CT - BAR
Thu 01/20/11 Philadelphia, PA - Johnny Brenda's %
Fri 01/21/11 Columbus, OH - Wexner Center at Ohio State %
Sat 01/22/11 Nashville, TN - The 5 Spot %
Sun 01/23/11 Asheville, NC - Broadways %
Sun 02/13/11 London, England @ Hoxton Square Bar and Kitchen
Tues 02/15/11 Belgium, Brussels - Forest National w/The National
Thu 02/17/11 Utrecht @ Netherlands Cross-Linx Fest
Fri 02/18/11 Eindhoven @ Netherlands Cross-Linx Fest
Sat 02/19/11 Groningen, @ Netherlands Cross-Linx Fest
Sun 02/20/11 Rotterdam, @ Netherlands Cross-Linx Fest
Tues 02/22/11 Poland, Krakow - Studio w/The National
Thu 02/24/11 Poland, Warsaw - Stodola w/The National
Fri 02/25/11 Germany, Berlin - C-Halle w/The National
Sat 02/26/11 Denmark, Aarhus - SCC w/The National
Mon 02/28/11 Sweden, Lund - Färs & Frosta w/The National
Tues 03/01/11 Sweden, Stockholm - Cirkus w/The National
Thu 03/03/11 Finland, Helsinki - The House of Culture w/The National
Fri 03/04/11 Finland, Helsinki - The House of Culture w/The National
Thu 03/10/11 Baltimore, MD - Metro Gallery
Fri 03/11/11 Raleigh, NC - Kings Barcade
Sat 03/12/11 Atlanta, GA - 529
Thu 03/17/11 Austin, TX - SXSW
Fri 03/18/11 Austin, TX - SXSW
Sat 03/19/11 Austin, TX - SXSW
Tue 03/22/11 Tucson, AZ - Solar Culture ^
Wed 03/23/11 Phoenix, AZ - Rhythm Room ^
Thu 03/24/11 San Diego, CA - Soda Bar ^
Fri 03/25/11 Los Angeles, CA - The Satellite ^
Sat 03/26/11 Costa Mesa, CA - Detroit Bar ^
Sun 03/27/11 San Francisco, CA - Bottom of the Hill ^
Tue 03/29/11 Vancouver, BC - Media Club ^
Wed 03/30/11 Portland, OR - Doug Fir ^
Fri 04/01/11 Boise, ID - Neurolux ^
Sat 04/02/11 Salt Lake City, UT - State Room ^
Sun 04/03/11 Denver, CO - Walnut Room ^
Mon 04/04/11 Omaha, NE - Slowdown ^
Wed 04/06/11 Minneapolis, MN - Cedar Cultural Center ^
Thu 04/07/11 Milwaukee, WI - Pabst Theater ^
Fri 04/08/11 Madison, WI - University of Wisconsin ^
Sat 04/09/11 Chicago, IL - Lincoln Hall ^
Sun 04/10/11 Cleveland, OH - Beachland Tavern ^
Tue 04/12/11 Toronto, ON - Drake Hotel ^
Wed 04/13/11 Montreal, QC - Casa Del Popolo ^
Thu 04/14/11 Boston, MA - Brighton Music Hall ^
Sun 04/17/11 Washington, DC - Red Palace ^
% with Julianna Barwick
^ Little Scream