Short Wave Warfare (03/3/10)
Samantha Marble
by BBG
DOWNLOAD: The Howling Wind - "Teeth of Frost" (MP3)
DOWNLOAD: Palace of Worms - "Rite of Blood" (MP3)
DOWNLOAD: Unholy Grave - "Little Bastards" (MP3)
DOWNLOAD: Coffinworm - "Start Saving For Your Funeral" (MP3)
DOWNLOAD: Darkthrone - "Eyes Burst At Dawn" (MP3)
DOWNLOAD: Wolvhammer - Dawn Of The 4th (Zipped MP3, Mediafire)
DOWNLOAD: Panopticon - "Beginning Of The End" featuring Rob "The Baron" Miller (MP3 Snippet)
DOWNLOAD: From Ashes Rise - "All In Due Time" (Live) (MP3)
DOWNLOAD: Alcest - "Percées De Lumière" (MP3)
DOWNLOAD: Wormrot - "Indonesia" (MP3)
DOWNLOAD: Jucifer - "Rifles" (MP3)
Ryan of The Howling Wind w/ Unearthly Trance (more by Samantha Marble)

Ryan Lipynsky probably best known for his role as doom-destroyer in Unearthly Trance, but he's been around the block with projects as varying as Motive, Pollution, Thralldom and The Howling Wind, who will release their latest LP Into The Cryosphere via Profound Lore in April. The Howling Wind, which includes Tim Call of Parasitic Records, Aldebaran, and others, toils in icy doom and black metal much like the ripping "Teeth of Frost" available above. The band also has the Mortuary Library 7" due out later this year via Parasitic.
In related news, NYC doomers Unearthly Trance have hit the studio to record their new album V with Sanford Parker. The band currently has one show on their calendar, April 21st at The Charleston with Lair of The Minotaur as part of a string of East Coast dates in celebration of Evil Power, their new album due out on their own The Grind-House Records imprint. Look for that LP in middle April.
Raw and punishing Japanese grind returns with Grind Killers, the new LP from Unholy Grave! Recorded live in a Dutch studio in September 2008, these 23 tracks were mastered last year and will see a release on Selfmadegod Records in March 2010. Check out "Little Bastards" available for download above. Meanwhile, Selfmadegod will also release a Peel Sessions disc with Agothocles recorded in 1997 and The Grind Years from Psycho.
Coliseum with new drummer Carter Wilson (far right)

Coliseum has signed with Temporary Residence Limited! The band has completed recording their new LP with J Robbins which will see the light of day this summer and will feature appearances from Will Oldham, members of Young Widows, Jason Noble, and many others. Congrats boys!
Harvey Milk will release their new album, A Small Turn of Human Kindness via Hydrahead on May 18th! Can't wait. The current tracklisting is below. Make sure and catch Harvey Milk with Coalesce and The Atlas Moth on tour and at Le Poisson Rouge on 3/8 (tix).
The "De-cancellation Tour" routing is almost complete! Make sure and catch Ludicra on the road this spring doing select dates with Krallice including Europa on 4/18 as part of a BV/Osiris presentation! Tickets are on sale. Full tour routing is below.
The dark forces of Coffinworm have revealed more details from their upcoming shadowy effort for Profound Lore, When All Became None. Sanford Parker has helmed the sludgy blackened doom LP, which features six tracks and is due for release in April. Dig on "Start Saving For Your Funeral" from the LP, downloadable above. Coffinworm will appear at the BV/CC/1000K Pizza Party alongside Zoroaster, Landmine Marathon, and many others. Album art is below.
That album art, and news on Corrupted, Triptykon, Autopsy, Black Shape of Nexus, Virus, Darkthrone, Rosetta, and so much more, as Short Wave Warfare continues...


No status on the new album by Norwegian prog metallers Virus, but the band will release their epic Carheart LP on vinyl via Duplicate Records. Preorder that here.
Hydrahead have announced that they will release a Melvins/Isis split 12"! Details are forthcoming. Meanwhile the previously discussed Melvins 12" via From The Nursery is out now and it features a remix, a longer version of "Dies Iraea" and a Wipers cover! Get a copy today before they disappear.
From Ashes Rise will release Live Hell, a live LP recorded in Los Angeles on April 30, 2005. Check out a live rendition of "All In Due Time" available for download above. Order the LP via Jade Tree.
Immolation's new LP Majesty and Decay is out this week via Nuclear Blast. Stream all of it here and preorder a copy. It's another in an impressive line of releases from these NYDM greats.
Thou will hit the east coast on a short tour that will impact ABC No Rio for a matinee on April 10th. Full tour dates are below. The band has a heap of releases on deck including an EP and a split for Robotic Empire, an LP, and a four-way double split with Haarp, Dark Castle, and A Hanging.
Corrupted have begun work on their new LP. Details are scarce.
Reading the list of influences on Minneapolis's Wolvhammer is very telling: "Norway, NOLA, Sweden, Oakland, Lemmy...". It's this kitchen sink mentality that makes Dawn Of The 4th a fascinating listen; black metal collides with crust, doom, and many elements to create a unique cocktail of darkness. It's good, download it above for free. The band has signed to the great Init Records. Look for more from this band in the near future!
Palace of Worms

It starts with an uneasy drone before moving into an odder pitch-shifted riff, but with their debut LP The Forgotten, Palace of Worms have reminded us why the Bay Area is such a haven for buzzing and forward-thinking darkness. San Francisco black metal horde's LP for Flenser Records is out NOW and melds the traditional with elements of spacious shoegaze, experimentalism, and even hardcore riffing for a distinct and powerful mix. Recommended. Dig on "Rite of Blood" available for download above, it rips.
Watain has completed recording of their new album! In the meantime, look for Season of Mist to release a picture disc EP in the coming months. More details on both projects are forthcoming.
Sayyadina will release The Great Northern Revisited, a collection of their splits, compilation tracks, and previously unreleased work, for Relapse. Preorder that before it hits shelves on 3/16. The Swedish grindcore badasses released Mourning The Unknown on vinyl last year via Nerve altar.
High On Fire are streaming their new album Snakes For The Divine in full.
I've spent some time with Triptykon's new LP, Eparistera Daimones, and it is definitely a worthy follow-up to Celtic Frost's return to form, Monotheist. Highly recommended. Pick it up when the record drops on 3/23, but until then checkout some webisodes.
Triptykon Webisode 4, check out one, two, and three as well.

Darkthrone has launched a mini-site in anticipation of Circle The Wagons, their new LP due in April. According to the band, the new LP features nine songs, with five "in the speed metal (fast heavy metal songs a la 1979-1985 tempo) pace" and the remaining "in regular heavy metal tempos". Check out one of those tracks above and stream a few at the mini-site.
1349 will release their new (should I call it comeback?) album Demonoir on 4/27 via Prosthetic Records. Look for it on "digipack CD and a limited edition 12" picture disc LP".
Xasthur has reportedly worked on new material with Marissa Nadler (!) for his new LP Disharmonic Vibrations on the way in April. Xasthur recently dropped a reissue of his 2005 demo via Hydrahead.
Grand Magus has completed recording of their new album, Hammer Of The North, the follow up to Iron Will. Look for it on Roadrunner in the spring/early summer.
Southern Lord has signed The Secret! The dark Italian hardcore band will hit the studio to record Solve et Coagula with Kurt Ballou (!) in April. More details to come.
Howl will release their new LP, Full of Hell, via Relapse Records in May. Album art is below. Howl will perform at both the Relapse showcase and Full Metal Texas at SXSW.
Rosetta will release a split LP with Restorations this spring on Cavity Records. It'll be Rosetta's second split in a year, as the band recently dropped a three-way split with East of The Wall and Year of No Light via Translation Loss (on CD). Vega will handle the three-way on vinyl in the US with Denovali handling the EU territories. The split is one of two releases for the band so far the year, the second being the new album A Determinism of Morality due on Translation Loss on 5/25!
German doom collides as Black Shape of Nexus has teamed up with Kodiak to release a split on Denovali. The two song effort features both bands at the thundering doomy worst. Preorder that via Denovali. Kodiak also released a split with Nadja late last year. Stream clips from that record, and download the Kodiak debut LP for free.
Kill The Client have signed on with Relapse Records! Congrats boys! Look for the band at our Pizza Party during SXSW!
Anarcho-crust, black metal, atmospherics, and even bluegrass make up Panopticon's Collapse, which saw release on Pagan Flames late last year. Now the one-man wrecking crew from Louisville is prepping to release Collapse on wax via Flenser Records, but with a twist: the vinyl version will feature a cover of the Amebix classic "Beginning of The End" with Amebix vocalist Rob Miller on vocals! Preorder that record at Flenser, and dig on a snippet of "Beginning Of The End" above.
The previously discussed Burned Up Bled Dry/Deadbird split is out now.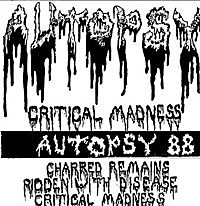 Nuclear War Now will release the collection of Autopsy's "1987 Demo" and "Critical Madness" entitled Awakened By Gore! The double LP will feature "the demos themselves remastered for vinyl from the original tapes" while the second disc "will include rehearsal and live recordings selected by the band and remastered exclusively for this release" and "artwork etched into the vinyl". Autopsy will reunite at Maryland Death Fest.
625 Thrash will reissue all the Spazz records on LP and CD as well as a collection of the Parlamentarisk Sodomi's EP and LP on CD.
Ash Pool (featuring Dominick Fernow of Prurient/Cold Cave) have released their new LP For Which He Plies The Lash on Hospital Productions. Get it at your local distro or swing by the store!
Southern California's Nails really know how to crush the crowd as evidenced by their Obscene Humanity 12" out NOW on Six Feet Under Records. This band can riff with the intensity of Swedish Death Metal while channeling powerviolence, and they are prepping their new (and irritable) baby, Unsilent Death, for release. Produced by Kurt Ballou, check out a pair of streaming tracks at the SFU website and preorder the new record. Nails indeed.
Anaal Nathrakh is working on a new album. Mick Kenney of AN has a new band with the vocalist of Bleeding Through called Sorrows.
Anaal Nathrakh live Asylum Birmingham 29 Jan 2010

Mouth of the Architect are streaming a song from their upcoming EP The Violence Beneath due on Translation Loss on March 23.
-16- has dropped off, but Nirvana 2002 has been added to the already awesome Maryland Death Fest lineup.
Wormrot's Abuse will see a world wide release via Earache on April 12th. Check out "Indonesia" available for download above. Wormrot was an "honorable mention" of my favorite albums of 2009.
Alcest is prepping to release a new album, Écailles De Lune, due on Prophecy Productions at the end of this month and currently up for preorder. The release will serve as a launchpad for "Lunar Abysses Over North America", a short tour in April which includes The Studio at Webster Hall on 4/29. Ticket info is forthcoming, full sked is below. check out the first song to trickle out from the record "Percées De Lumière" above (courtesy Stereogum) and a second song streaming below.
Alcest - "Écailles De Lune (Part I)" from Écailles De Lune

You have probably heard that BV/1000 Knives will present the NYC date of Converge on May 6th at Santos (tickets here), but FULL Converge dates are below.
Leng Tch'e have signed to Season of Mist. Look for a NEW LP later this year on the French imprint.
Haarp has completed recording their forthcoming full length for Housecore Records. Pick up their two EPs via the band directly. Housecore will also release an upcoming Crowbar live LP.
Jucifer has a new album Throned In Blood due in April via Nomadic Fortress. Check out "Rifles" available above. In addition, the band recently premiered the David Hall video "Fleur De Lis".
Jucifer - "Fleur De Lis"

EVILIVE
3/5: Leatherface @ Knitting Factory
3/5: Goes Cube, East Of The Wall, The Austerity Program @ Union Pool
3/6: Naam, Liturgy, Tournament @ Union Pool
3/6: Blacklisted, Gods & Queens, Tiger Flowers, Chambers @ Cake Shop
3/6: Backslider, Chainsaw To The Face, The Communion @ ABC No Rio
3/6: Kreator, Voivod, Nachtmystium @ Nokia
3/6: Backslider, Chainsaw To The Face, Unmen, Bloodkitt @ Rock Star Bar
3/7: Sourvein, Ramps @ Charleston
3/8: Coalesce, Harvey Milk, The Atlas Moth @ LPR
3/8: Alice In Chains @ T5
3/9: Alice In Chains @ T5
3/11: Dillinger Escape Plan @ Irving Plaza
3/11: Shrinebuilder, Wolves In The Throne Room, Salome @ NYU
3/13: Priestess @ MHOW
3/14: Drunkdriver, Todd @ Cake Shop
3/15: The Resurrection Sorrow, Maegashira, Archon @ Lit Lounge
3/17: Capsule @ Cake Shop
3/18: A Storm of Light, Batillus @ Union Pool
3/20: Capsule @ ABC No Rio
3/20: Capsule, Defeatist, Psychic Limb, Ramps @ The Glass Door
3/22: La Otracina, AOK Suicide Forest, Malkuth @ Lit Lounge
3/25: Howl, Javelina, Sea of Bones, Flourishing @ Cake Shop
3/27: Nebula @ Pianos
3/27: Drunkdriver @ Market Hotel
3/28: Rosetta, Starkweather, Junius @ Public Assembly
3/29: Know Nothing (ex-Today Is The Day), Easter, Hallux @ Lit Lounge
3/30: Immortal, Black Anil @ BMT
4/4: Inter Arma, Battlemaster, Castevet, Bastard Sapling @ Charleston
4/4: Drunkdriver @ Monster Island Basement
4/5: Flourishing, Mutilation Rites, Mortals @ Lit Lounge
4/7: Opeth @ Terminal 5
4/9: High on Fire, Black Cobra, Priestess, Bison BC @ Gram
4/10: Thou, From The Depths, Stockade @ ABC No Rio
4/10: Weedeater, The Gates of Slumber, Black Tusk, Struck by Lightning @ The Studio @ Webster Hall
4/11: Brujeria @ Webster Hall
4/11: Kayo Dot @ Union Pool
4/13: Red Sparowes, Doomriders @ Mercury Lounge
4/14: Red Sparowes, Doomriders @ Mercury Lounge
4/16: Cable @ Union Pool
4/17: Deceased, Superchrist, Slaves To The Grave @ Union Pool
4/18: Ludicra, Krallice, Castevet, Atakke @ Europa
4/21: Lair of The Minotaur, Unearthly Trance @ Charleston
4/24: Narrows, Acid Tiger, Psychic Limb @ Cake Shop
4/29: Alcest @ The Studio @ Webster Hall
NEWS BLAST (BEATS)
- The Left Hand Path interviewed Stephen O'Malley.
- Slough Feg will hit the road with Bible of The Devil, no NYC dates. Tour sked is below.
- Download an entire Gnaw live set from their appearance on WFMU's The Brian Turner Show.
- Klaxon Records is no more, but Seedstock Records is.
- Dave Ellefson has rejoined Megadeth.
- Vile Noise interviewed David Johansson of Kongh.
- Hydrahead has released Bohren & Der Club of Gore's Dolores on LP.
- Pick up a copy of the book Hideous Gnosis: Black Metal Theory Symposium Vol 1 (based on the event) at Aquarius Records.
- Origin replaces their vocalist.
- Reflections Records wail reissue Sick Of It All's early monsters, 1989's Blood, Sweat, and No Tears and 1992's Just look Around.
- The Funeral Pyre has begun recording their new album.
- Book of Black Earth has added bassist Ricky Way.
- 20 Buck Spin will release Bloody Panda's Summon on vinyl.
- Shadow of The Torturer is demoing new material. We originally profiled SOTT last year.
- Alpha & Omega have signed to 6131 Records.
- Kreator has signed to Nuclear Blast.
HARVEY MILK - A Small Turn of Human Kindness Tracklisting:
1. *
2. I Just Want To Go Home
3. I Am Sick of All This Too
4. I Know This Is No Place For You
5. I Alone Got Up and Left
6. I Know This Is All My Fault
7. I Did Not Call Out
LUDICRA - 2010 TOUR DATES
03/13 - Columbus, OH @ Scion Rock Fest
03/24 - San Francisco, CA @ DNA Lounge (w/Pentagram, Slough Feg, Orchid)
04/01 - Portland, OR @ Berbati's Pan (w/Jonny X and the Groadies, Transient, Dj Nate C)
04/02 - Olympia, WA @ Capitol Theater (w/Pierced Arrows)
04/03 - Seattle, WA @ The Morgue (w/Anhedonist, Elksblood, Forest of Grey)
04/04 - Boise, ID @ Redroom
04/05 - Salt Lake City, UT @ Burt's Tiki Lounge (w/SubRosa, Ninth Zealot)
04/06 - Denver, CO @ Blast-o-mat
04/07 - Lincoln, NE @ Duffy's w/Ezra
04/08 - St Paul, MN @ Turf Club
04/09 - Milwaukee, WI @ Jackpot Gallery
04/10 - Chicago @ TBA (w/Clad in Darkness)
04/11 - Indianapolis, IN @ Melody Inn
04/12 - Lansing, MI @ Mac's Bar (w/Wastelander, Sauron)
04/13 - Rochester, NY @ Bug Jar (w/KRALLICE, CRUCIFIST)
04/14 - Toronto, ON @ Rancho Relaxo (w/KRALLICE)
04/15 - Montreal, QC @ TBA (w/KRALLICE)
04/16 - Portland, ME @ Geno's (w/Ocean, KRALLICE, Aok Suicide Forest)
04/17 - Boston, MA @ TBA (w/Tombs, KRALLICE)
04/18 - Brooklyn, NY @ Europa (w/KRALLICE, CASTEVET, Attake)
04/19 - Philadelphia @ M Room (w/Lair of the Minotaur, Tombs, KRALLICE)
04/20 - Baltimore, MD @ Hexagon (w/Tombs, KRALLICE)
04/21 - Richmond, VA @ The Triple (w/KRALLICE)
04/22 - TBA
04/23 - TBA
04/24 - TBA
04/25 - Austin, TX @ Emo's
04/27 - TBA
04/28 - Phoenix, AZ @ Nile Basement
04/29 - TBA
04/30 - TBA
05/01 - Santa Cruz, CA @ Coaster's (w/Dusted Angel)
05/08 - San Francisco, CA @ Cafe Du Nord( w/Kowloon Walled City - cd release show for "The Tenant")
LAIR OF THE MINOTAUR - 2010 TOUR DATES
Apr 16 2010 Melody Inn Indianapolis, Indiana
Apr 17 2010 Peabody's Cleveland, Ohio
Apr 18 2010 Sonar Baltimore, Maryland
Apr 19 2010 M Room Philadelphia, Pennsylvania
Apr 21 2010 Charleston Brooklyn, New York
Apr 22 2010 Velvet Lounge Washington DC, Washington DC
Apr 23 2010 Broadway Joe's Buffalo, New York
Apr 24 2010 The Summit Columbus, Ohio
SLOUGH FEG, BIBLE OF THE DEVIL - 2010 TOUR DATES
April 1 - Cobra Lounge - Chicago, Illinois
April 2 - Frequency - Madison, Wisconsin
April 3 - Third Street Dive - Louisville, Kentucky
April 4 - PK's - Carbondale, Illinois
April 5 - Hi Tone - Memphis, Tennessee
April 6 - Emo's - Austin, Texas w/ Radio Moscow, Naam
April 7 - Night Rocker - San Antonio, Texas
April 8 - Launchpad - Albuquerque, New Mexico w/ Leeches Of Lore
April 9 - Rogue - Scottsdale, Arizona
April 11 - Thee Parkside - San Francisco, California w/ Orchid
April 12 - Metro - Oakland, California
ALCEST - 2010 TOUR DATES
Mar 21 2010 The Silver Church Club Bucharest w/Agalloch
Apr 1 2010 K17 Berlin
Apr 2 2010 Music Hall Exit Chmelnice Praha
Apr 3 2010 Escape Metalcorner Vienna
Apr 4 2010 Olden Live Club Lonato del Garda
Apr 5 2010 Posthalle Würzburg
Apr 6 2010 Glazart Paris
Apr 7 2010 Purple Turtle London
Apr 8 2010 Turock Essen
Apr 9 2010 Romein Leeuwarden
Apr 10 2010 Biebob Vosselaar
Apr 22 2010 Bar Octobre Québec, Quebec
Apr 23 2010 Hard Luck Bar Toronto, Ontario
Apr 24 2010 Reggie's Rock Club Chicago, Illinois
Apr 25 2010 To be announced To be announced, Alabama
Apr 26 2010 To be announced To be announced, Alabama
Apr 27 2010 Kung Fu Necktie Philadelphia, Pennsylvania
Apr 28 2010 Cafe Nine New Haven, Connecticut
Apr 29 2010 The Studio At Webster Hall New York, New York
Apr 30 2010 Underworld Montreal, Quebec
May 1 2010 Unit Boston, Massachusetts
May 14 2010 Auditorium Sá de Miranda Braga
May 15 2010 Side-B Benavente
May 23 2010 Wave Gothic Treffen Leipzig
CONVERGE - 2010 TOUR DATES
4/30 - Philadelphia, PA - Trocadero (w/Thursday, Touche Amore, Lewd Acts)
5/1 - Worcester, MA - The Palladium (w/Thursday, Touche Amore, Lewd Acts)
5/2 - Poughkeepsie, NY - The Chance (w/Thursday, Touche Amore, Lewd Acts)
5/3 - Williamsville, NY - Club Infinity (w/Thursday, Touche Amore, Lewd Acts)
5/4 - Washington, DC - Black Cat (w/Thursday, Touche Amore, Lewd Acts)
5/5 - Norfolk, VA - Norva (w/Thursday, Touche Amore, Lewd Acts)
5/6 - New York City - Santo's Party House (w/Touche Amore, Lewd Acts, Black Breath)
5/7 - Cleveland, OH - Grog Shop (w/Lewd Acts, Black Breath)
5/8 - Detroit, MI - Magic Stick (w/Coalesce, Lewd Acts, Black Breath)
5/9 - Chicago, IL - Bottom Lounge (w/Coalesce, Lewd Acts, Black Breath)
5/10 - Lawrence, KS - Bottleneck (w/Coalesce, Lewd Acts, Black Breath)
5/11 - Denver, CO - Marquis Theatre (w/Coalesce, Lewd Acts, Black Breath)
5/13 - Seattle, WA - Nuemo's (w/Coalesce, Lewd Acts, Black Breath)
5/14 - Portland, OR - Satyricon (w/Coalesce, Gaza, Lewd Acts, Black Breath)
5/15 - San Francisco, CA - Slim's (w/Coalesce, Lewd Acts, Black Breath)
5/16 - San Luis Obispo, CA - Downtown Brew (w/Coalesce, Gaza, Lewd Acts, Black Breath)
5/17 - Anaheim, CA - Chain Reaction (w/Coalesce, Gaza, Lewd Acts, Black Breath)
5/18 - Los Angeles, CA - El Rey Theatre (w/Coalesce, Gaza, Lewd Acts, Black Breath)
5/19 - Phoenix, AZ - The Clubhouse Music Venue (w/Coalesce, Gaza, Lewd Acts, Black Breath)
5/21 - Austin, TX - Emo's Outside (w/Coalesce, Gaza, Lewd Acts, Black Breath)
5/22 - Dallas, TX - Trees (w/Coalesce, Gaza, Lewd Acts, Black Breath)
5/23 - Tulsa, OK - The Marquee (w/Gaza, Lewd Acts, Black Breath)
5/25 - Memphis, TN - Hi Tone Café (w/Gaza, Lewd Acts, Black Breath)
5/26 - Louisville, KY - Headliners Music Hall (w/Gaza, Lewd Acts, Black Breath)
5/27 - Nashville, TN - Exit/In (w/Harvey Milk, Gaza, Lewd Acts, Black Breath)
5/28 - Atlanta, GA - The Masquerade (w/Harvey Milk, Gaza, Lewd Acts, Black Breath)
5/20 - Baltimore, MD - Sonar (w/TBA)
THOU - 2010 TOUR DATES
03.13 - Columbus, Ohio Circus
04.07 - Birmingham, Alabama
04.08 - Carrboro, North Carolina
04.09 - Philadelphia, Pennsylvania
04.10 - New York, New York (matinee) ABC No Rio
04.10 - Providence, Rhode Island (late show)AS220
04.11 - Baltimore, Maryland (possible matinee show) Charm City Arts Space
04.11 - Washington, DC early house show near the Black Cat
05.07 - Tallahassee, Florida
05.07 - Gainesville, Florida (late night show)
05.08 - Jacksonville, Florida (matinee)
05.08 - Miami, Florida Churchills
05.09 - Pensacola, Florida Sluggos
06.10 - Oklahoma City, Oklahoma Scatacomb
06.11 - Albuquerque, New Mexico
06.12 - Tempe, Arizona (matinee) The Slurp
06.12 - San Diego, California Che Cafe
06.13 - Tijuana, Mexico 1979
06.14 - Los Angeles, California (matinee) Vacation Vinyl
06.14 - Los Angeles, California The Smell
06.15 - Los Angeles, California (matinee) Distort House
06.15 - Inglewood, California Hyde Park Half
06.16 - Santa Barbara, California
06.17 - San Luis Obispo, California (matinee) Broadlodge
06.17 - Santa Cruz, California Cafe Pergolesi
06.18 - San Jose, California (matinee) KFJC
06.18 - San Francisco, California Thee Parkside
06.19 - Berkeley, California Gilman
06.20 - Oakland, California
06.20 - Santa Rosa, California
06.21 - Sacramento, California (matinee) R5 Records
06.21 - Redding, California
06.22 - Arcata, California Aloha House
06.23 - Salem, Oregon Burial Grounds
06.24 - Portland, Oregon
06.25 - Olympia, Washington Northern
06.26 - Seattle, Washington (early show)
06.26 - Seattle, Washington
06.27 - Spokane, Washington (matinee) Cretin Hop
06.27 - Missoula, Montana Abe's Studio
06.28 - Fargo, North Dakota The Red Raven
06.29 - Sioux Falls, South Dakota
06.30 - Lincoln, Nebraska The Ghost House
07.01 - Columbia, Missouri The Hairhole
07.02 - New Orleans, Louisiana
07.03 - Baton Rouge, Louisiana
07.22 - Baton Rouge, Louisiana
07.23 - New Orleans, Louisiana
07.24 - Atlanta, Georgia Drunken Unicorn
07.25 - Birmingham, Alabama Kevin Wright