Shrinebuilder played NYU w/ Wolves in the Throne Room & Salome (pics) – pics & more tour dates
If the biblical Salome got John the Baptist's head for her seductive performance, then Salome the band deserve all of our heads on sticks. This Virginia trio opened Thursday's epic show at NYU (3/11) with a crushing set of stripped-down, primal doom. No hiding behind post-metal noodling or stoner fuzziness here - just massive down-tuned riffs, earth shattering drums and ungodly vocals bellowed from deep below. They know how to build tension and are at their best when they take a mid-tempo riff down to a snail's pace, then slow it down some more. My favorite performance of the night.
Wolves in the Throne Room don't revel in corpse-paint and goats' heads; their focus is squarely on the music, hence their request for the house-lights to be dimmed and that photographers refrain from using flash. Despite brief sound issues, WITTR played a powerful and haunting set of their majestic, trance-inducing "shamanic black metal". There were a few kids moshing in all the wrong places (the band suggested they take a break), but the majority of the crowd looked appropriately transfixed.
Despite the storied past of each individual member, Shrinebuilder are not exactly pushing any boundaries; instead, they've settled into familiar stoner rock territory and are comfortably - effortlessly - retreading old ground and turning up stones in search of forgotten riffs. It was epic watching these guys jam together; with nothing left to prove, their bombastic, bluesy sound is more soothing than intense. Really, the polar opposite of the two preceding bands, who are still carving out new niches for themselves.
Full tour dates and more pictures from the show, below...


Wolves in the Throne Room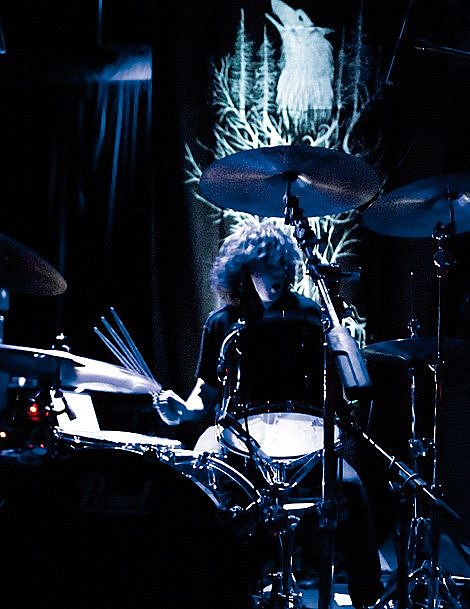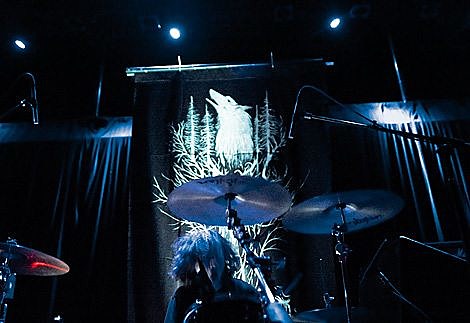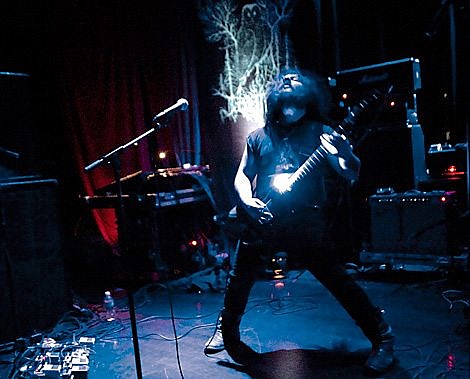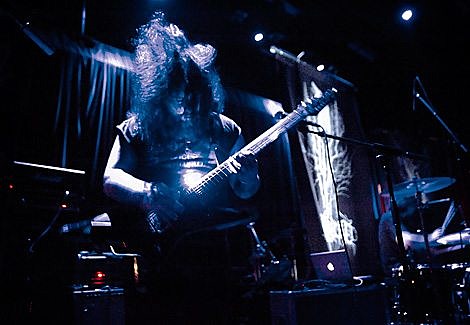 WOLVES IN THE THRONE ROOM - 2010 TOUR DATES
Apr 14 2010 The Oak Street Speakeasy (w. Earth) Eugene, Oregon
Apr 15 2010 Nocturnum (w/EARTH) Eureka, California
Apr 16 2010 Slim's (w/Earth) San Francisco, California
Apr 17 2010 Historic Brookdale Lodge (w/EARTH) Brookdale, California
Apr 19 2010 Che Cafe (w/EARTH) San Diego, California
Apr 20 2010 The Echo (w/EARTH) Los Angeles, California
Apr 22 2010 Rotture (w/EARTH) Portland, Oregon
Apr 23 2010 Neumo's (w/EARTH) Seattle, Washington
Apr 24 2010 Capitol Theater (w/ Mount Eerie, Ô Paon? and Earth) Olympia, Washington
May 1 2010 Ragnarok Festival Rieden
May 5 2010 K4 Nurnberg
May 6 2010 Matrix Club Prague
May 7 2010 Friction Festival Berlin
May 8 2010 Beatpol Dresden
May 10 2010 Durer Kert Budapest
May 11 2010 Channel Zero Ljubljana
May 12 2010 Szene Vienna
May 13 2010 Neudegg Alm Abtenau
May 14 2010 Rock Planet Pinarella di Cervia
May 15 2010 Koko Club Castelletto Cervo
May 16 2010 Le kab Geneva
May 17 2010 Jubez Karlsruhe
May 18 2010 Glazart Paris
May 19 2010 AB Club Brussels
May 20 2010 the Fighting Cocks Kingston Upon Thames
May 21 2010 Engine room Brighton
May 22 2010 Hare and Hounds Birmingham
May 23 2010 Islington Mill Manchester
May 24 2010 the Underworld London
May 25 2010 the Croft Bristol
May 27 2010 Trix Antwerp
May 28 2010 Lakei Helmond
May 29 2010 Tivoli Utrecht
May 30 2010 Gleis22 Munster
May 31 2010 Hafenklang Hamburg
Jun 1 2010 Loppen Copenhagen
SALOME - 2010 TOUR DATES
Mar 14 2010 LITTLE HAMILTON COLLECTIVE w/ Hull, Tombs, Evil Bebos, Dawn, Sanctions, and more Nashville, Tennessee
Mar 15 2010 VINO'S w/ Iron Tongue, Zucura Little Rock, Arkansas
Mar 17 2010 SXSW - BROOKLYN VEGAN DAY PARTY Austin, Texas
Mar 19 2010 SXSW - PROFOUND LORE/20 BUCK SPIN SHOWCASE Austin, Texas
Mar 20 2010 MICHELLE'S HOUSE w/ Thou, Black Market Ministry, 54R Baton Rouge, Louisiana
Mar 21 2010 MAGIC CITY WHOLESALE w/ Dark Castle Birmingham, Alabama
Mar 22 2010 PS WAREHOUSE w/ Dark Castle, Sons of Tonatiuh, Death of Kings, Doomed Youth Atlanta, Georgia
Mar 23 2010 SLIM'S w/ Gringo Raleigh, North Carolina
SHRINEBUILDER - 2010 TOUR DATES
Apr 17 2010 Roadburn Festival Tilburg
Apr 18 2010 The Scala London
Apr 19 2010 De Kreun Kortrijk
Apr 20 2010 La Maroquinerie Paris
Apr 21 2010 Substage Karlsruhe
Apr 22 2010 Rote Fabrik Zurich
Apr 23 2010 Bloom Mezzago
Apr 24 2010 Bronson Ravenna
Apr 25 2010 Arena Vienna
Apr 26 2010 Futurum Prague
Apr 27 2010 Feierwerk Munich
Apr 28 2010 Conne Island Leipzig
Apr 29 2010 Berghain Berlin
Apr 30 2010 Asymmetry Festival Wroclaw