Shrinebuilder played Le Poisson Rouge in NYC w/ Rwake & Liturgy (pics, video & setlist)
by BBG
On Sunday at Le Poisson Rouge, Shrinebuilder played an overwhelming show -- almost meditatively focused, one whose afterimage is likely to stay with those who saw it. It's a band of willful musicians in their 40s from around the country who have given their adult lives to slow-and-heavy music: Scott Kelly of Neurosis, Scott Weinrich of the Obsessed and Saint Vitus, Al Cisneros of Om and Dale Crover of the Melvins. Shrinebuilder is as loosely based in doom-metal as Krallice is in black-metal: it might be the starting place, but it's not the ending place...

In a set that lasted about an hour and a quarter, the band elongated all the songs from its new, self-titled first album, and played a cover of Joy Division's droning "24 Hours" -- a perfect and surprising choice. (It's hard to imagine the two Scotts, stolid American grizzlies, as secret Anglophiles.) As the last song, "Pyramid of the Moon," swept to its end and Mr. Crover socked the last beat, the crowd erupted almost involuntarily, as if it had been punched. -[New York Times]
To quote myself, "Shrinebuilder = amazing". Thanks to all who came to the BV sponsored presentation of Shrinebuilder, Rwake and Liturgy as part of The Blackened Music Series. The Sunday (11/15) show at Le Poisson Rouge was a success on many fronts: a searing performance from a quartet of bonafide legends, amazing support from rarely seen Rwake (in the Northeast anyway) and the promising Liturgy, and a packed house! Most importantly though, that packed house showed that the metal underground is thriving, and that intelligent, thought-provoking, and challenging heavy music can triumph.
The Sunday night Shrinebuilder show at LPR was the conclusion to three nights of "Blackened" music in NYC. Friday (Krallice) and Saturday (Skeltonwitch) were both at Union Pool.
On Monday (11/6) Shrinebuilder flew to Austin for a show that night...
"Then went downtown to Emo's to catch Shrinebuilder, a super group of Wino, Al Cisneros (Sleep, OM), Dale Crover (Melvins, Nirvana) and Scott Kelley (Neurosis). Got there to stand in line, which was around the block soon after. Chilly night, glad I bundled up. Opening band Sub Oslo was really good, very trippy cosmic Reggae. Shrinebuilder was of course amazing..." [Danny G]
Their next scheduled show is Apr 17, 2010 in Tilburg, Holland for Roadburn.
Pics, video (courtesy of No Gods, No Vegetables) and the set list from the NYC Shrinebuilder show, below...


Liturgy
Rwake
Shrinebuilder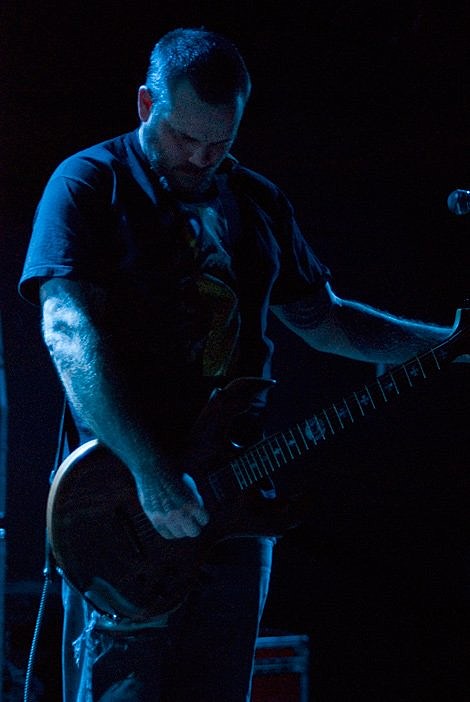 Shrinebuilder - "Pyramid of the Moon" @ Le Poisson Rouge. Nov 15th, 2009

"Blind For All To See"

"Hell"