Shunda K (ex-Yo! Majesty) no longer on Domino, two free LPs (download), and tour dates (MHOW w/ Peaches)
"I've been da outcast all my damn life. Being gay & being raised in a religious household is not a great match. It's God HISSELF dats blessing me with everything I have from da knowledge to da wisdom, to da woman in my life & my career. Da devil is a liar!!!" -Shunda K
Shunda K with Yo! Majesty @ Highline Ballroom in 2008 (more by Faith-Ann Young)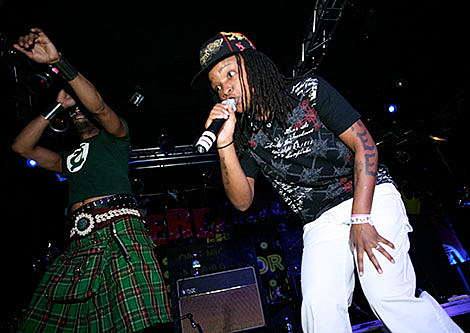 First there were three MCs in Yo! Majesty: Jwl B, Shon B and Shunda K. By the time debut album 'Futuristically Speaking... Never Be Afraid' dropped late last year, Shon B had left the fold. Jwl B and Shunda K then fell out very publicly, suggesting Yo! Majesty was over. Now, this is where it gets complicated. In January, Jwl B did some time in a Florida prison, leaving Shunda K flying solo and claiming her partner-in-rhyme was sacked from the group. Then when Jwl B got out, ignored her and rejoined the tour, Shunda K quit immediately. Shon B returned to take her place. Confused yet? You're not the only one. [NME]
To update that, Shunda K has announced that Domino Records (who released Yo Majesty's album in October 2008) dropped her. And that she's released two collections of songs, Shunda K Presents: The Best Eva Written...Outkast mixtape and Kollaborations, a collection of...collaborations, both for free online. Those two collections, with MP3 singles from each, are linked above. More info is pasted below.
Shunda K has tour dates scheduled around the East Coast and in her homestate of Florida. Those shows include some dates with Peaches, including tonight - Friday, June 19th at the Music Hall of Williamsburg with Peaches and Drums of Death (which is sold out).
Her ties to Peaches go beyond touring as well. Peaches appears on Shunda's new Kollaborations disc, and Shunda guests on the Peaches' song "Billionaire" off her new album I Feel Cream. A video of the pair performing that song in LA on June 6th, Yo! Majesty (without Shunda) tour dates (all in Europe), more album info, and all Peaches and Shunda K shows, below...

Shunda K album info...
The first collection, The Best Eva Written... Outkast, is the beginning of the thematic "Best Eva Written" series which appropriates existing work (in this case, Outkast instrumentals) to illustrate a new overarching album concept (in this case, being a societal outkast.) 20 new tracks... hosted by France's DJ Keshkoon.

The second group of songs, Shunda K: Kollaborations, is just that. Listen as Shunda shares the spotlight with 22 emerging artists, giving 'em all a chance to shine. Mixed by Tampa's DJ ChangBang. Twenty-two new Shunda K collabs with artists such as Peaches, WeHaveLove, Caspa Codina, Tha Pumpsta, Raspberry Cocaine, Rosetta Stoned, Blaque Pop, DJ Orion, DJ Deekline, Cindy Wonderful & Scream Club, Killola, A1 Baseline, and more!
Peaches w/Shunda K - Billionaire - live June 6, 2009

Shunda K - 2009 Tour Dates
Jun 17 Washington, DC @ 9:30 Club #
Jun 18 Washington, DC @ EXPO
Jun 19 Brooklyn @ Music Hall of Williamsburg #
Jun 20 Baltimore BOLT @ The Hexagon
Jun 21 Philadelphia, PA @ M ROOM
Jul 10 Cocoa Beach, FL @ The Chili Pepper Club
Jul 17 Orlando, FL @ Wills Pub
Jul 24 Jacksonville, FL @ TSI
# w/ Peaches
Peaches - 2009 Tour Dates
Jun 17 9:30 Club Washington, DC
Jun 19 Music Hall of Williamsburg Brooklyn, New York
Jun 20 The Stone Pony Asbury Park, New Jersey
Jun 26 Corsica Studios London
Jun 27 Tatty Devine London
Jun 28 Glastonbury Festival Shepton Mallet
Jul 3 Club Berlin (WMF) Berlin
Jul 8 Malta International Theatre Festival Poznan
Jul 10 Splash Festival Pouch bei Bitterfield
Jul 11 Les Ardentes Festival Liege
Jul 15 Hopeless Festival Rome
Jul 17 Sonnenrot Festival Munich
Jul 18 Benicassim Festival Valencia
Jul 24 Fuji Rock Festival Niigata
Jul 31 Paredes de Coura Festival Paredes de Coura
Aug 2 Paradise Beach Mykonos
Aug 7 DJ set @ Berlin Festival Berlin
Aug 15 La Route Du Rock Saint-Malo
Aug 22 Pukkelpop Festival Hasselt
Aug 29 Woodstower Festival Lyon
Aug 30 Get Loaded Festival London
Sep 1 Concorde2 Brighton
Sep 3 Magnolia Parade Milan
Sep 4 Piper Club Rome
Sep 5 Estragon Bologna
Sep 6 Fri-Son Fribourg
Sep 8 Club X-Tra Limmathaus Zurich
Yo! Majesty - 2009 Tour Dates
Jul 09 Les Ardentes Festival Liege
Jul 10 Hultsfred Festival Hultsfred
Jul 11 Splash Festival Leipzig
Jul 16 Slottsfjell Festival Tønsberg
Jul 19 Vieilles Charrues Fest Carhaix
Aug 08 Nouveau Casino Paris
Aug 09 Nuits Secretes Festival AULNOYE AYMERIES
Aug 10 Pantiero Festival Cannes
Aug 13 Kampnagel Sommer Festival Hamburg
Aug 14 Fabric London
Aug 15 Crawdaddy Dublin
Aug 19 Pacha Lisbon
Aug 21 Razzamatazz Barcelona
Aug 22 Pukkelpop Festival Hasselt