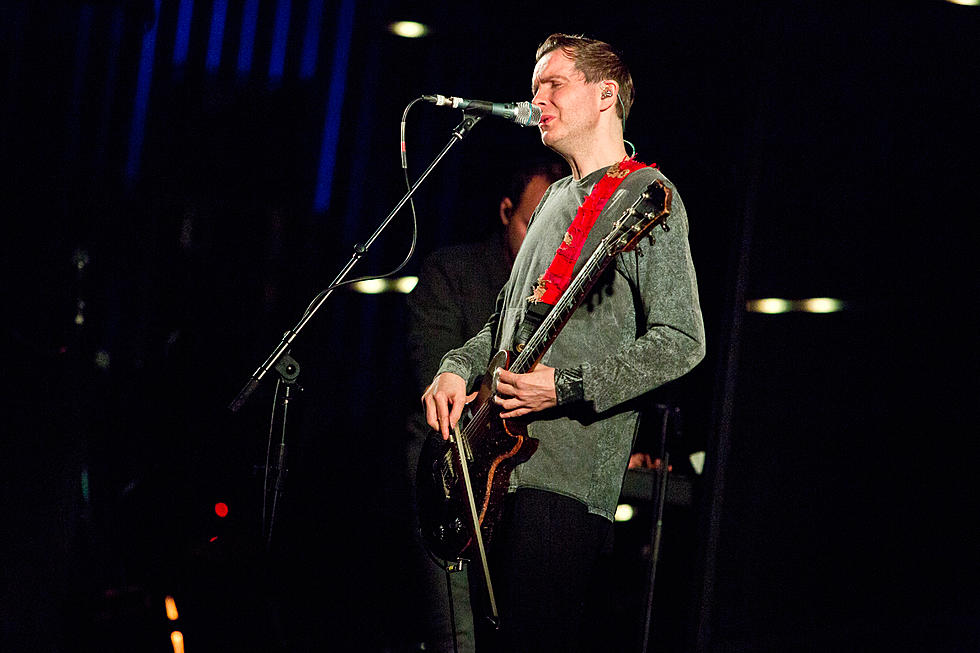 Sigur Ros need LA fans for documentary, working w/ Dan Deacon, Owen Pallett, Nico Muhly & more on upcoming shows
Photo by Greg Cristman
Attention Los Angeles-based Sigur Ros fans:
"we are casting for a short documentary exploring the lives of sigur rós fans. if you have been to numerous live shows and have a strong connection with the band in a way that has really impacted your life please submit. we're looking for people based in los angeles, california – and are available over the next few weeks."
Sigur Ros plan to be in LA in April for three special shows with the LA Philharmonic at Walt Disney Concert Hall. They also just announced other collaborators that will join them at those shows:
[They will] feature new string arrangements by a cadre of guests that includes electronic composer Dan Deacon; multi-disciplinary composer Nico Muhly (Björk, Grizzly Bear, Jónsi); the Polaris Prize winning Arcade Fire collaborator Owen Pallett; plus former composer-in-residence with the BBC Scottish Symphony Orchestra, Anna Meredith.

There will also be arrangements by the Pulitzer Prize winning composer David Lang, who also scored Paolo Sorrenti's most recent movies (The Great Beauty and Youth); Opera Company of Philadelphia composer in residence, Missy Mazzoli; Icelandic composer Páll Ragnar Pálsson; and Daniel Bjarnarson, who first worked with Sigur Rós when he conducted the session on the band's song "Ára Bátur" at London's Abbey Road for the Með suð í eyrum...album in 2008, and is co-curator of the Disney Hall's Reykjavík Festival.

The guest arrangers are collaborating with the band on a selection of both old and new songs for the group's three special performances at the Philharmonic's Reykjavík Festival. The shows will also mark the first time the band have played publicly with an orchestra since performances of their unreleased work Odin's Raven Magic in 2002-3.

Each Sigur Rós performance (April 13, 14, 15) will be prefaced by a different symphonic and choral program,including new work from long-term Sigur Rós collaborator and Amiina member Maria Huld Markan Sigfúsdóttir, as well as pieces from Anna Þorvaldsdóttirand and Jón Leifs.

In addition, the orchestra will also present the world premier of a new violin concerto from Daníel Bjarnason, performed by Pekka Kuusisto, and the U.S. premieres of Haukur Tómasson's piano concerto, with Icelandic soloist Vikingur Ólafsson, and Hlynur Aðils Vilmarsson's BD. (see full schedule below)

The Reykjavík Festival is designed as an exploration of the eclectic Icelandic music scene, highlighting the creativity thriving in Reykjavík and covering a wide spectrum of music, from chamber, choral and symphonic to pop music.
You can also view the full program details below.
More tour dates including Forest Hills Stadium in NYC, are listed HERE and below.
Thursday, April 13
Friday, April 14
Saturday, April 15
Los Angeles Philharmonic
Esa-Pekka Salonen, conductor
Sigur Rós
Schola Cantorum Reykjavík
Pekka Kuusisto, violin (April 13)
Vikingur Ólafsson, piano (April 14)
James McVinnie, organ (April 15)

Each program preceded by Nordic Affect chamber music program.

Program 1 (April 13):
Schola Cantorum Reykjavík (a cappella choral works TBA)
Hlynur Aðils VILMARSSON BD (U.S. premiere)
Daníel BJARNASON Emergence (U.S. premiere)
Sigur Rós works

(Daníel Bjarnason's Violin Concerto for Pekka Kuusisto (LA Phil commission) is postponed to Tuesday, August 22, 2017 at the Hollywood Bowl in a performance to be conducted by Gustavo Dudamel.)

Program 2 (April 14):
Schola Cantorum Reykjavík (a capella choral works TBD)
Anna THORVALDSDOTTIR Airiality
Haukur TÓMASSON Piano Concerto (LA Phil co-commission; U.S. premiere)
Vikingur Ólafsson, piano
Sigur Rós works

Program 3 (April 15):
Schola Cantorum (a capella choral works TBD)
María Huld Markan SIGFÚSDÓTTIR Aequora
LEIFS Organ Concerto
James McVinnie, organ
Sigur Rós works
Sigur Ros -- 2017 Tour Dates
4/7 - Santa Barbara, CA - Santa Barbara Bowl
4/8 - Berkeley, CA - Greek Theatre
4/11 - Irvine, CA - Bren Events Center
4/13 - 4/15 - Los Angeles, CA - Walt Disney Concert Hall (accompanied by LA Philharmonic)
5/20 - Gulf Shores - Hangout Fest
5/21 - New Orleans, LA - Saenger Theatre
5/23 - Atlanta, GA - The Fox Theatre
5/25 - Columbia, MD - Merriweather Post Pavilion
5/28 - Toronto, ON - TD Echo Beach
5/30 - Montreal, QC - Place des Arts
6/2 - Detroit, MI - Masonic Temple Theatre
6/3 - Chicago, IL - Auditorium Theatre
6/4 - Columbus, OH - Palace Theatre
6/5 - St Louis, MO - Peabody Opera House
6/7 - Dallas, TX - Bomb Factory
6/9 - Austin, TX - ACL Live at The Moody Theater
6/10 - Austin, TX - ACL Live at The Moody Theater
6/12 - Nashville, TN - Andrew Jackson Hall
6/13 - Louisville, KY - Louisville Palace Theatre
6/15 - Pittsburgh, PA - Stage AE
6/16 - Philadelphia, PA - Mann Center for the Performing Arts
6/17 - Queens, NY - Forest Hills Stadium