Sigur Ros and Perfume Genius played Prospect Park (pics, review, setlist)
Sigur Ros at Prospect Park - 7/31/12

The stage at Prospect Park last night (7/31) was lit up only by the grainy footage used for their "Ekki Mukk" video as Sigur Ros walked out, greeted by thunderous applause, for their first NYC show in four years. The show was sold out, but tons of people were listening from outside the venue too.
Sigur Ros recently ended their four-year hiatus with the album Valtari, their most consistent since 2005's Takk. So with that album's success to ride on, I went into the show with pretty high expectations, all of which were easily met. They opened the show with the only two Valtari songs of the night, "Ekki Mukk" and "Varuo," but the songs melded right in with the rest of the set. They relied most on material off of Agætis Byrjun and Takk, arguably their two heaviest hitters, and of course the crowd reactions for those old favorites like "Sæglopur," "Svefn-g-englar," and "Hoppipolla" were the most massive, but they really hit no lows.
For this tour, original pianist/multi-instrumentalist Kjartan "Kjarri" Sveinsson has chosen to sit out, though in an interview with The Reykjavik Grapevine, Jonsi confirms that he is not leaving the band for good, and just "tired of touring" and wants to "spend his time doing something else." In his place was Ólafur Björn Ólafsson of Jonsi's live band and bassist Georg's younger brother, Kjartan Dagur Hólm (of For A Minor Reflection). With that lineup in tow, the three original members took their places at the front of the stage (the only three members to receive spotlights), as Ólafur and Kjartan remained in the back with the band's touring string and horn players. Save for those rare spotlights, the band continued to be lit almost exclusively by the grainy footage on the screens behind them and a series of light bulbs scattered throughout their instrument setups. The slowly drifting images on the screen were as dream-inducing as the band themselves -- but while you'll catch some ambient bands using visuals as vices, Sigur Ros are quite the splendor to watch on their own.
The show began with a great set from Perfume Genius (aka Mike Hadreas and his 2-piece backing band), who seemed pretty aware that it's a bit of a struggle to open for Sigur Ros, but delivered nonetheless. He played a number of highlights from his excellent 2012 LP, Put Your Bank N 2 It, including "Take Me Home," "Dark Parts," and "Hood," among others. He also threw in some cuts from his 2010 debut, Learning, notably the standout single, "Mr. Peterson," and covers of Neil Young's "Helpless" and Madonna's "Oh Father." The crowd was a little restless for his set, and often times the people talking were louder than Perfume Genius's music, but with the lyrical depth that Mike Hadreas has, he couldn't help but steal a few commanding moments.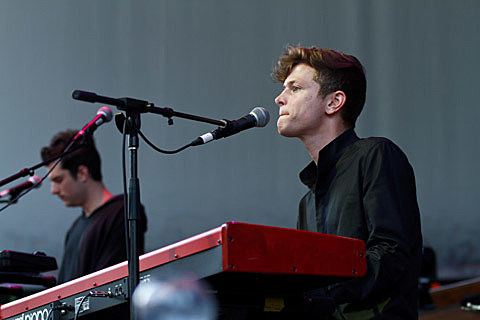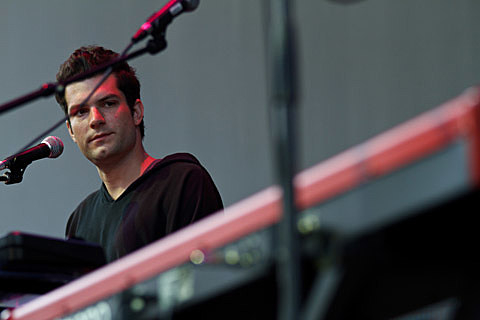 Sigur Ros Prospect Park Setlist - 7/31/12
Ekki Múkk
Varúð
Ný Batterí
Í Gær
Vaka
Sæglópur
Svefn-g-englar
Viðrar Vel Til Loftárása
Hoppípolla
Með Blóðnasir
Olsen Olsen
Festival
Hafsól