Silver Apples played Coco66 & the Joshua Light Fest @ Abrons Arts Center – pics & video (and live Woods recording)
photos by Lori Baily
An excellent show! Silver Apples was just Simeon with oscillators and synths and beats and it was incredible. -justinpaszul
Silver Apples: chillwave originators??!? -WIZARDISHUNGRY:
Oneida joining Silver Apples for "Oscillations" was the most entertaining thing I've seen since...Silver Apples joining Grails for "Silk Rd" -TRL_Mailorder
Oneida jamming with Silver Apples. Lower East Side is ready for liftoff. -MaxBurke
Silver Apples @ Abrons Arts Center

It's not every day you have the opportunity to step into the 5th dimension (and hitting up one of those smokey Chinatown mall raves that are all the rage lately doesn't count.) However, if you happened to find yourself at Brooklyn's Coco66 last night to see electronic-psych pioneers the SILVER APPLES, chances are you felt like you were visiting the other side...
Before a fawning and awe-inspired crowd, esteemed godfather of experimental electronics and surviving member of legendary psych duo Silver Apples, Simeon Coxe III greeted us with waves and smiles. And then came the oscillations we had all been waiting for! Promptly making the magic happen on his historic, eponymously named, personally devised synthesizer, The Simeon, Coxe performed a handful of Silver Apples/Contact-era favorites ("A Pox on You," "Seagreen Serenades," "Oscillations"), as well as a healthy dose of newer, nerve-perking vibrations. Transcendental, dance-inducing, and euphoric, last night's mystical Silver Apples set truly had us seeing stars. [Opening Ceremony]
That's a review of Silver Apples' show on Sunday, May 16th at Coco66. It was one of two shows for the legendary project, the other being a Friday, May 14th gig as part of the Joshua Light Show Fest at Abrons Arts Center. At that show he shared a bill (and stage for a few songs) with BK psych-rockers Oneida. Behind them, Joshua Light Show projected trippy visuals, which you can see for yourself in the pictures and videos below.
Other bands that played the four-night Joshua Light Show fest at Abrons included Dean & Britta (video below), Steve Moore (video below), Woods (NYC Taper taped it) and MV & EE (NYC Taper taped it).
Pictures and video below...

--
Abrons Arts Center...
Nick Hallett

Oneida @ AAC...
Silver Apples @ AAC...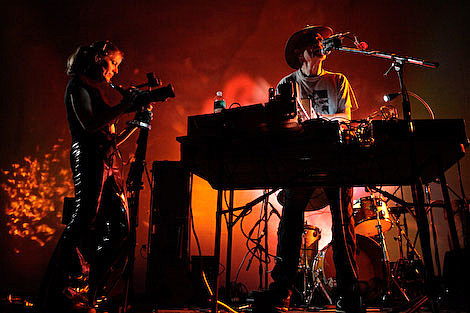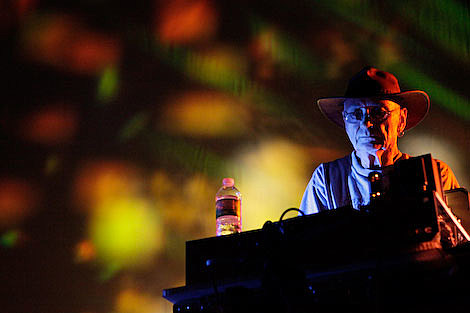 Silver Apples - "A Pox on You" Live at the Abrons Arts Center in NYC

Silver Apples - "Seagreen Serenades" Live at the Abrons Arts Center in NYC

Steve Moore + Joshua Light Show LIVE at Abrons

Steve Moore pt.2 @ Abrons Art Center w/ Joshua Light Show

"Oscillations" by Silver Apples, live at Coco66 5/16/10

Dean and Britta - "The Enabler" - May 15, 2010 - Joshua Light Show