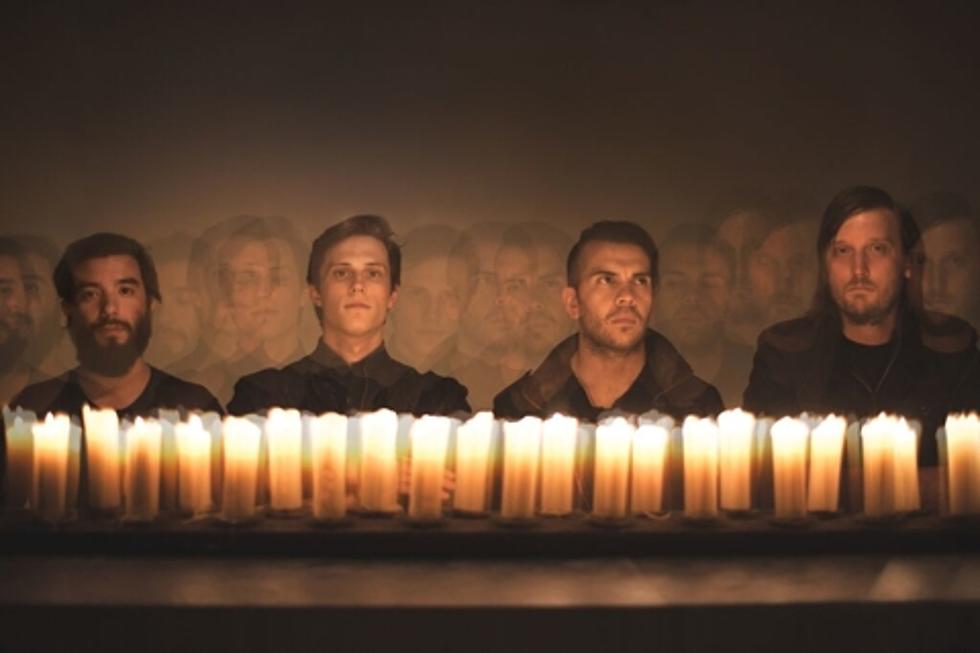 Silver Snakes releasing 'Saboteur' and touring with Coheed & Cambria and Glassjaw (dates, new song stream)
LA's Silver Snakes are following last year's Year of the Snake (on Bridge 9) with the new album Saboteur on February 5 via Coheed & Cambria frontman Claudio Sanchez's Evil Ink Records. (It comes out on Pelagic in Europe.) We've got the premiere of its single "Raindance," a pummeling rock song that fits nicely between the atmospheric post-hardcore of Title Fight/Superheaven and the sludge-rock of Baroness/Torche. It's an absolute ripper, and you can listen below. Here's what singer Alex Estrada tells us about the song and the album:
Saboteur is a record summed up by its title. It's about sabotage, it's about using direct action to accomplish a goal. It can be applied to many situations : Personal, Political etc. it's about having the passion to do absolutely whatever it takes to make a point even if it's potentially harmful.

"Raindance" was one of the first songs written for the record. It's the follow up track to a song we previously released called "Sundance" which was about being caught up in abusive relationships. "Raindance" is about taking the plunge into new endeavors only to have voices from the past show up to steer you elsewhere. It's the balance between sides, The person being torn down and the voice of negativity all speaking at once.
The band will be on tour in 2016 supporting their label head's band Coheed & Cambria and Long Island post-hardcore crushers Glassjaw (who have a new rhythm section). That tour hits NYC on March 4 at The Theater at MSG. Tickets are still available.
All dates are listed, with the new song stream and album art, below...

---
Silver Snakes -- 2016 Tour Dates
Jan 11 - Los Angeles, CA - Silverlake Lounge
Jan 18 - Los Angeles, CA - Silverlake Lounge
Jan 25 - Los Angeles, CA - Silverlake Lounge
Feb 1 - Los Angeles, CA - Silverlake Lounge
Feb 22 - Boston, MA - House of Blues*
Feb 25 - Royal Oak, MI - Royal Oak Music Theater*
Feb 26 - Chicago, IL - Aragon Ballroom*
Feb 27 - St. Paul, MN - Myth Live Event Center*
Feb 29 - Columbus, OH - The LC Indoor Pavilion*
Mar 1 - Pittsburgh, PA - Stage AE*
Mar 2 - Washington, DC - Echostage*
Mar 4 - New York, NY - Theater at Madison Square Garden*
Mar 5 - Philadelphia, PA - The Fillmore*
Mar 7 - Raleigh, NC - The Ritz*
Mar 8 - Charlotte, NC - The Fillmore*
Mar 10 - Miami, FL - The Fillmore*
Mar 11 - Orlando, FL - Hard Rock Live*
Mar 12 - St. Petersburg, FL - Jannus Live*
Mar 14 - Atlanta, GA - Tabernacle*
Mar 15 - Nashville, TN - Marathon Music Works*
Mar 17 - Houston, TX - Revention Music Center*
Mar 19 - Dallas, TX - South Side Ballroom*
Mar 21 - Tempe, AZ - The Marquee*
Mar 22 - Los Angeles, CA - Hollywood Palladium*
Mar 23 - San Francisco, CA - The Masonic*
Mar 25 - Las Vegas, NV - Brooklyn Bowl Las Vegas*
Mar 26 - Salt Lake City, UT - The Complex*
Mar 27 - Denver, CO - Fillmore Auditorium*
* - w/ Coheed & Cambria, Glassjaw