Slayer, Exodus & Suicidal Tendencies touring together in the fall, playing Wellmont Theatre (dates)
Slayer at Madison Square Garden Theater in 2013 (more by Caroline Harrison)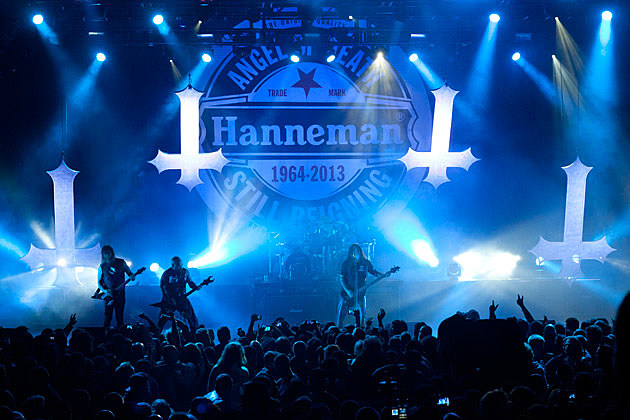 The Slayer, Exodus, and Suicidal Tendencies showcase that brought together the thrash luminaries for a few dates in May (including Rock on the Range) was apparently just a taste of things to come. In the fall, the three will reprise that bill in a North American tour presented by Scion. The tour begins on November 12 in Oakland, California and ends on December 5 in Detroit, Michigan. On November 29, the speedy triumvirate will hit Montclair, New Jersey's Wellmont Theatre. Slayer Fan Club members will be able to purchase tickets on Wednesday, June 25 at 10 AM EST. Sales for tickets for the general public begin on Friday, June 27 at 10 AM EST.
This incarnation of Slayer will include Kerry King, Tom Araya, guitarist Gary Holt, and drummer Paul Bostaph. Exodus, too, just underwent a membership shift, welcoming singer Steve "Zetro" Souza back into the fold. Said Souza, "For my first tour back with Exodus, I'm beyond excited to be on the road with my brothers in true thrash metal! I'm also looking forward to meeting and hanging out with all of the fans on this heavy as hell tour." All three bands have been working on new material. Slayer have their eyes set on 2015, Exodus's material will come a little sooner at near the end of 2014, and Suicidal Tendencies released 13 a little over a year ago.
Slayer is currently on a world tour, but will return to the States before the Exodus/Suicidal Tendencies tour in September for Riot Fest Chicago and Denver. Exodus will play Heavy Montréal 2014, along with dates in Europe and Brazil. And Suicidal Tendencies have two Asian fests on their schedule.
All dates are listed with ticket links and live videos of the three, below...

---
Slayer Fall 2014 Tour w/ Suicidal Tendencies and Exodus
Nov 12 - Fox Theatre, Oakland, CA
Nov 14 - The Forum, Los Angeles, CA
Nov 15 - Comercia Theatre, Phoenix, AZ
Nov 17 - Bricktown Events Center, Oklahoma City, OK
Nov 18 - ACL Live, Austin, TX
Nov 19 - Verizon Theatre, Dallas, TX
Nov 21 - Hard Rock Live, Orlando, FL
Nov 22 - The Tabernacle, Atlanta, GA
Nov 23 - The Fillmore, Charlotte, NC
Nov 25 - The Armory, Albany, NY
Nov 26 - Sands Events Center, Bethlehem, PA
Nov 28 - The Palladium, Worcester, MA
Nov 29 - Wellmont Theatre, Montclair, NJ
Nov 30 - Tower Theatre, Philadelphia, PA
Dec 2 - Agora Theatre, Cleveland, OH
Dec 4 - Egyptian Room, Indianapolis, IN
Dec 5 - The Fillmore, Detroit, MI
Other Upcoming Slayer Dates
June 24 - Poznan, Poland - Stadion Miejeski
June 26 - Strasbourg, France - La Laiterie
June 27 - Dessel, Belgium - Graspop
June 29 - Belfast, Ireland - The Limelight
June 30 - Belfast, Ireland - The Limelight Belfast, Ireland
July 1 - Dublin, Ireland - The Academy
July 3 - Tilburg, Holland - Poppodium
July 4 - Paris, France - Paris Le Zenith
July 4 - Knebworth Park, England - Sonisphere Knebworth
July 19 - Oshkosh, Wisconsin - Ford Festival Park
Aug 1 - Schleswig-Holstein, Germany - Wacken Open Air
Aug 2 - Graz, Austria - Seerock Festival
Aug 4 - Moscow, Russia - Arena Moscow Club
Aug 5 - St. Petersburg, Russia - A2 Club
Aug 7 - Jaromer, Czech Republic - Fortress Josefov
Aug 8 - Gavle, Sweden - Gasklockorna
Aug 10 - Montreal, Quebec - Parc Jean Drapeau
Sep 12 - Sep 14 - Chicago, IL - Humboldt Park
Sep 17 - Sep 19 - Denver, CO - May Farms
Other Upcoming Exodus Dates
July 11 - Bang Your Head!!! 2014 - Balingen, Germany
July 12 - Antwerp Metal Fest 2014 - Antwerp, Belgium
Aug 08 - Aug 10 - Heavy Montréal 2014 - Parc Jean-Drapeau, Montreal, QC, Canada
Aug 27 - Aug 31 - Dimensions at Fort Punta Christo 2014 - Fort Punta Christo, Pula, Croatia
Sep 13 - Sep 14 - Swiss Sauce Vol.4 2014 - Tampa, FL, US
Oct 01 - Botequim, Belem, Brazil
Oct 04 - Carioca Club, São Paulo, Brazil
Oct 05 - Opinião, Porto Alegre, Brazil
Other Upcoming Suicidal Tendencies Dates
Aug 1 - Incheon Pentaport Rock Fest - Penta Park - Korea
Aug 16 - 17 - Summer Sonic festival in Tokyo and Osaka - Japan