Slayer played two NYC-area shows after Bonnaroo, released new song "Repentless" (stream, pics, setlist)
Slayer at The Paramount in 2015 (more by Mathieu Bredeau)
The veteran metal act played fan favorites from the lengthy career, including "Hell Awaits," "Chemical Warfare," "Die By The Sword," "Seasons in the Abyss," "Raining Blood," and "Hate Worldwide" among others. They opened the show with "World Painted Blood" and closed it with a two-song encore of fan favorites, "South of Heaven" and "Angel of Death."

This tour is a 'must-see' for any Slayer fan. The energy in the Paramount was electric, and the enthusiasm of those in attendance unquenchable. Without a doubt, Slayer has proven an underground metal band from the early days of thrash can indeed gain the mainstream recognition they greatly deserve. [National Rock Review]
Slayer have been on a tour that just hit two major festivals, Bonnaroo and Amnesia Rockfest, and in between they squeezed in two NYC-area shows. They happened at Long Island's Paramount in Huntington, NY on June 16 and 17. We've got pictures of the first night.
Slayer return to the area later this summer on the Rockstar Mayhem Fest tour with King Diamond, Code Orange and more. It hits PNC Bank Arts Center on July 21 and Nikon at Jones Beach Theater on July 26. Tickets for both are still available.
These shows are ahead of their first album in six years, Repentless, which comes out on 9/11 via Nuclear Blast. Since we last spoke, they revealed the tracklist and a stream of the title track.
Check that out, with more pictures and the setlist from The Paramount, and their updated list of tour dates, below...

---
Slayer - "Repentless" (new song)

Repentless Tracklist
1. Delusions Of Saviour
2. Repentless
3. Take Control
4. Vices
5. Cast The First Stone
6. When The Stillness Comes
7. Chasing Death
8. Implode
9. Piano Wire
10. Atrocity Vendor
11. You Against You
12. Pride In Prejudice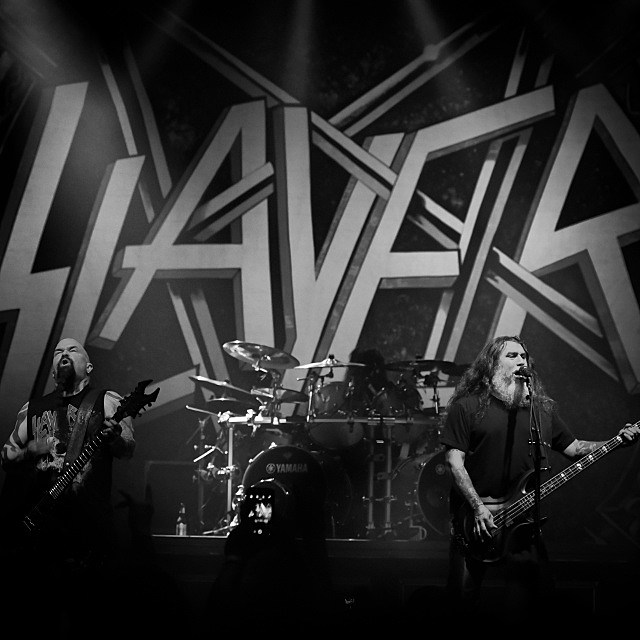 Slayer @ The Paramount Setlist (via)
World Painted Blood
Postmortem
Hate Worldwide (preceded by "Raining Blood" intro)
Die by the Sword
Chemical Warfare
War Ensemble
Mandatory Suicide
Necrophiliac
Spill the Blood
Hell Awaits
At Dawn They Sleep
Altar of Sacrifice
Jesus Saves
Disciple
Seasons in the Abyss
Snuff
Dead Skin Mask
Raining Blood
Psychopathy Red
Encore:
South of Heaven
Angel of Death
Encore:
South of Heaven
Angel of Death
Slayer -- 2015 Tour Dates
Jun 26 Sleep Train Amphitheatre San Diego, CA^
Jun 27 San Manuel Amphitheater San Bernardino, CA^
Jun 28 Shoreline Amphitheatre Mountain View, CA^
Jun 30 White River Amphitheatre Seattle, WA^
Jul 01 Ford Idaho Center Boise, ID^
Jul 03 Ak-Chin Pavillion Phoenix, AZ^
Jul 04 Isleta Amphitheatre Albuquerque, NM^
Jul 05 Red Rocks Amphitheatre Denver, CO^
Jul 07 Harrah's Council Bluffs Council Bluffs, IA^
Jul 08 Eagles Ballroom Milwaukee, WI^
Jul 10 Klipsch Music Center Indianapolis, IN^
Jul 11 DTE Energy Music Center Detroit, MI^
Jul 12 First Midwest Ampitheatre Chicago, IL^
Jul 15 TD Echo Beach Toronto, Canada^
Jul 17 Susquehanna Bank Arts Pennsauken Township, NJ^
Jul 18 First Niagara Pittsburgh, PA^
Jul 19 Xfinity Theatre Hartford, CT^
Jul 21 PNC Bank Arts Center Holmdel, NJ^
Jul 22 Erie Insurane Arena Erie, PA ^
Jul 24 Jiffy Lube Live Bristow, VA^
Jul 25 Xfinity Center Winthrop, MA^
Jul 26 Nikon Theatre at Jones Beach Wantagh, NY^
Jul 28 The Orange Peel Asheville, NC^
Jul 29 Aaron's Amphithatre at Lakewood Atlanta, GA^
Jul 31 Alamo City Music Hall San Antonio, TX^
Aug 01 Cynthia Woods Pavillion Houston, TX^
Aug 02 Gexa Energy Pavillion Dallas, TX^
Sep 28 Motorhead's Motorboat 2015 Miami, FL
Oct 25 013 Tilburg, Netherlands
Oct 26 Le Zenith Paris, France
Oct 27 Komplex Zurich, Switzerland
Oct 30 Santana 27 Bilbao, Spain*
Oct 31 Coliseum A Coruña, Spain*
Nov 01 La Riviera Madrid, Spain*
Nov 03 Razzmatazz Barcelona, Spain*
Nov 05 Alcatraz Milano, Italy
Nov 07 Gasometer Vienna, Austria
Nov 08 Haus Auensee Leipzig, Germany
Nov 10 Zenith, die Kulturhalle Munich, Germany
Nov 12 C-Halle Berlin, Germany
Nov 13 RuhrCongress Bochum Bochum, Germany
Nov 14 MHPArena Ludwigsburg, Germany
Nov 16 Jahrhunderthalle Frankfurt Frankfurt Am Main, Germany
Nov 17 AB Brussels, Belgium
Nov 19 Rockhal Luxembourg, Luxembourg✝
Nov 21 Newport Centre Newport, United Kingdom ✝
Nov 22 Plymouth Pavilions Plymouth, United Kingdom✝
Nov 24 O2 Apollo Manchester Manchester, United Kingdom✝
Nov 25 O2 Academy Glasgow Glasgow, United Kingdom✝
Nov 27 O2 Academy Birmingham Birmingham, United Kingdom✝
Nov 28 O2 Academy Leeds Leeds, United Kingdom✝
Nov 30 O2 Academy Brixton London, United Kingdom✝
^ Rockstar Mayhem Fest tour w/ King Diamond, Code Orange, more
* w/ Kvelertak
✝ w/ Anthrax, Kvelertak