Slim Cessna touring (dates & pics), Liturgy now on Thrill Jockey, Batillus to Seventh Rule, Roadburn expands & more
Timothy S. Griffin
Slim Cessna's Auto Club at Spiderhouse, March 2010

Slim Cessna's Auto Club contains members of Delta 72, 16Horsepower, and Wovenhand. Wovenhand recently announced their participation in Roadburn 2011. Roadburn has also added a gang of other awesome additions in the past week or so, including Voivod (who also played a BV party this year), Rwake, Ludicra, Shrinebuilder (who were supposed to play last year, but played NYC instead), Liturgy, Black Mountain (who just played NYC with Black Angels), Cough (who just played the BV-BBG CMJ showcase), and Yob, who will play The Unreal Never Lived in it's entirety! Full lineup is below.
Speaking of Liturgy, the band recently signed with Thrill Jockey Records and will play Acheron on Dec 3rd with Orphan, Dope Body, and Elks. The show will celebrate Orphan and Dope Body's recent split release on Black Tent Press, pick it up. Liturgy are currently on tour, dig on dates below.
Cough and Naam (both of which will be hitting Roadburn) are scheduled to play The Charleston on 12/11 for a BrooklynVegan presented show with Batillus and new addition Sea of Bones. Congrats to Batillus, who recently signed to Seventh Rule for their new and Sanford-Parker-produced LP Furnace. Look for it next year and look for their tour dates below.
More of those Slim Cessna pics, and all tour dates are below.

--
Slim Cessna at Spiderhouse during SXSW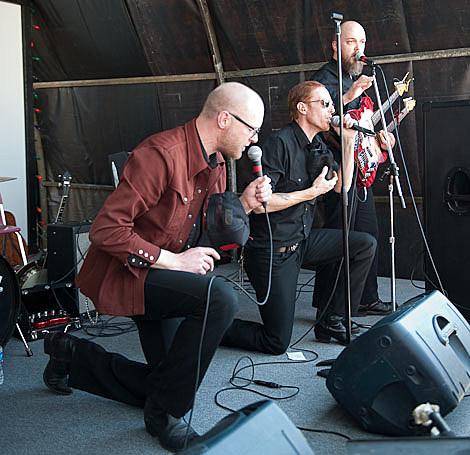 SLIM CESSNA - 2010 TOUR DATES
November 10...Mercury Lounge... New York, NY
November 11...Brighton Bar... Long Branch, NJ
November 12...Metro Gallery... Baltimore, MD
November 13...Club Cafe... Pittsburgh, PA
December 30... Bluebird Theater w/ Drag the River... Denver, CO
December 31... Bluebird Theater w/ Munly & the Lupercalians... Denver, CO
Thursday, April 14th

Godflesh
(performing Streetcleaner in its entirety, and in track order, including the Tiny Tears EP)
Pentagram
Wovenhand
Buzzov*en
Soilent Green
Alcest

Wardruna
Acid King
Circle
Blood Ceremony
The Kilimanjaro Darkjazz Ensemble

Count Raven
Ghost
Year of no Light
Winterfylleth
The Atomic Bitchwax
+ 1 more band TBA

In Solitude
Zoroaster
Naam
Quest For Fire
Carlton Melton
Cough

Friday, April 15th - Sunn O)))'s Curated Event at the 013 venue
Sunn O)))

Friday, April 15th - Roadburn Festival - Midi Theatre
Voivod
Incredible Hog
Pharaoh Overlord
Place of Skulls
Year of no Light
(live soundtrack to CT Dreyer's horror masterpiece Vampyr)
+1 more band TBA
Saturday, April 16th

SWANS
Candlemass
(celebrating 25 years of doom, including "Epicus Doomicus Metallicus" in its entirety; featuring original vocalist Johan Längquist)
Shrinebuilder
Voivod
Weedeater

Yob
(performing The Unreal Never Lives in its entirety)
Circle
Dragontears
Rwake
Master Musicians of Bukkake

The Gates of Slumber
Ramesses
Evoken
Yakuza
White Hills
+1 more band tba

Liturgy
Lonely Kamel
Wolf People
Stone Axe
Ludicra
Imaad Wasif
Sunday, April 17th - Roadburn Afterburner - 013 Venue

Black Mountain
Dead meadow
Blood Farmers
Black Pyramid
Dragontears
Gomer Pyle
(+3 more bands tba)
LITURGY - 2010 TOUR DATES
Nov 10 2010 Kung Fu Necktie Philadelphia, PA
Nov 11 2010 Gallery 5 Richmond, Virginia
Nov 12 2010 Snug Harbor Charlotte, NC
Nov 13 2010 Broadways Asheville, NC
Nov 14 2010 Farm 255 Athens, Georgia
Nov 15 2010 E.A.R.L. Atlanta, GA
Nov 16 2010 The End Nashville, TN
Nov 17 2010 Pilot Light Knoxville, TN
Nov 18 2010 Kings Barcade Raleigh, NC
Nov 19 2010 Comet Ping Pong WASHINGTON, Washington
Nov 20 2010 Golden West Baltimore, Maryland
Dec 3 2010 The Acheron Brooklyn, NY
BATILLUS - 2010 TOUR DATES
11/14 New York, NY @ Bowery Electric w/ Evoken + Man's Gin + Moth Eater
11/19 Wallingford, CT @ Red Scroll Records w/ Author and Punisher + Theologian
11/20 Somerville, MA @ The Starlab w/ Author and Punisher + Theologian
11/21 Albany, NY @ The MarketPlace Gallery w/ Author and Punisher + Theologian
11/26 Philadelphia, PA @ The Rotunda w/ Author and Punisher + Theologian
11/27 Brooklyn, NY @ Acheron w/ Author and Punisher + Theologian
12/11 Brooklyn, NY @ The Charleston w/ Naam + Cough + Sea of Bones
NAAM - 2010 TOUR DATES
Nov 10 2010 Stella Blue w/ Priestess Asheville, Nc
Nov 11 2010 Local 506 w/ Priestess Chapel Hill, NC
Nov 12 2010 Drunken Unicorn w/ Priestess Atlanta, GA
Nov 13 2010 The Triple w/ La Otracina Richmond, VA
Nov 14 2010 The Mad Hatter w/ Priestess Covington, KY
Nov 15 2010 Pirates Cove (at Peabodys) w/ Priestess Cleveland, Ohio
Nov 16 2010 31st street pub(SLOPPY SECONDS) w/ Priestess pittsburgh, Pennsylvan
Nov 17 2010 Skully's Music Diner w/ Priestess Columbus, OH
Nov 18 2010 CarBar w/ La Otracina, Main Street Gospel Columbus, OH
Nov 19 2010 Mohawk Buffalo, NY
Nov 20 2010 Valentine's Downstairs w/ La Otracina Albany, New York
BUZZOV*EN - 2010 TOUR DATES
12/13 San Diego, CA @ The Ruby Room
12/14 Los Angeles, CA @ Ultra Violet
12/15 San Francisco, CA @ DNA Lounge
12/16 Portland, OR @ Dante's
12/17 Seattle, WA @ Funhouse
12/19 Denver, CO @ 3 Kings Tavern