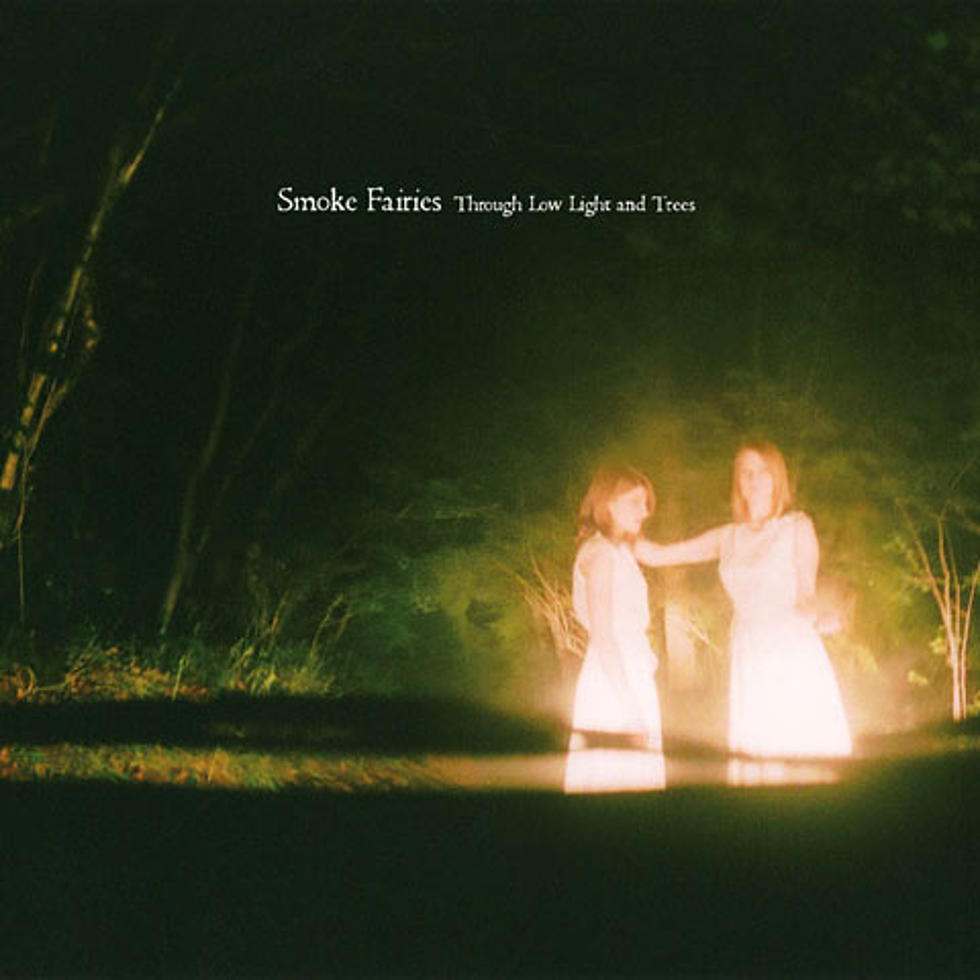 Smoke Fairies released an LP in the USA, playing NXNE, NYC & shows w/ Rasputina (dates)
British folk duo Smoke Fairies release their first full-length album in the US, Through Low Light and Trees, today, June 14. The album, released in the UK September 6, 2010 via V2/Cooperative Music, was produced by Head who is known for working with PJ Harvey and Black Francis. The new US version of the CD also comes with a disc of bonus tracks. Check out the video for "Strange Moon Rising" and more of their music below.
You may remember Smoke Fairies from their "Gastown/Riversong" 7" which came out all the way back in December 2009 on Jack White's Third Man label. He also produced the single and contributed drums and guitar along with Jack Lawrence. The duo more recently reminded the US of their existence when they released a double a-side single "Hotel Room/Strange Moon Rising" for Record Store Day through 453 Records
Smoke Fairies are heading out on a US tour in late July with Rasputina. The tour doesn't include any NYC dates but the duo do have two NYC dates scheduled as part of a short trip here this month. After visiting Toronto for NXNE and then Boston, they play Rockwood Music Hall on June 21. They play the Manhattan venue right before Lisa Hannigan plays a sold out show on the same stage (no advanced tickets for the Smoke Fairies set though). They also open for My Gold Mask the next night, June 22 at The Rock Shop. Tickets are on sale for the Brooklyn show
Smoke Fairies contributed to MOJO Magazine's 'Harvest Revisited', a tribute to Neil Young's Harvest. Villagers, Phosphorescent, Sam Amidon and others appear on the compilation. Check out Smoke Fairies' take on "Alabama" below with more dates, videos, and other stuff.

--
Smoke Fairies - "Strange Moon Rising" Official Video

Smoke Fairies - "Storm Song" Acoustic on Other Voices

Smoke Fairies - "Devil In My Mind" presented by 'In My Head, She Said'

Through Low Light and Trees Tracklist:
1. "Summer Fades"
2. "Devil in my Mind"
3. "Hotel Room"
4."Dragon"
5. "Erie Lackawanna"
6. "Strange Moon Rising"
7. "Morning Blues"
8. "Storm Song"
9. "Blue Skies Fall"
10. "Feeling is Turning Blue"
11. "After the Rain"
--
Smoke Fairies - 2011 U.S. Tour Dates
June 18 The Dakota Toronto, ON (NXNE)
June 20 Passim Folk and Cultural Center Boston, MA
June 21 Rockwood Music Hall New York, NY
June 22 Rock Shop Brooklyn, NY
July 29 Key Club * Los Angeles, CA
July 30 SLO Brewing Co * San Luis Obispo, CA
July 31 Great American Music Hall * San Francisco, CA
August 4 WOW Hall * Eugene, OR
August 5 Doug Fir Lounge * Portland, OR
August 6 Tractor Tavern * Seattle, WA
August 8 The Railyard * Billing, MT
August 11 Bourbon Theater * Lincoln, NB
August 12 Blue Moose Tap House * Iowa City, IA
August 13 7th Street Entry * Minneapolis, MN
August 14 Shank Hall * Milwaukee, WI
August 16 Underground * Sandusky, OH
* Rasputina Dates