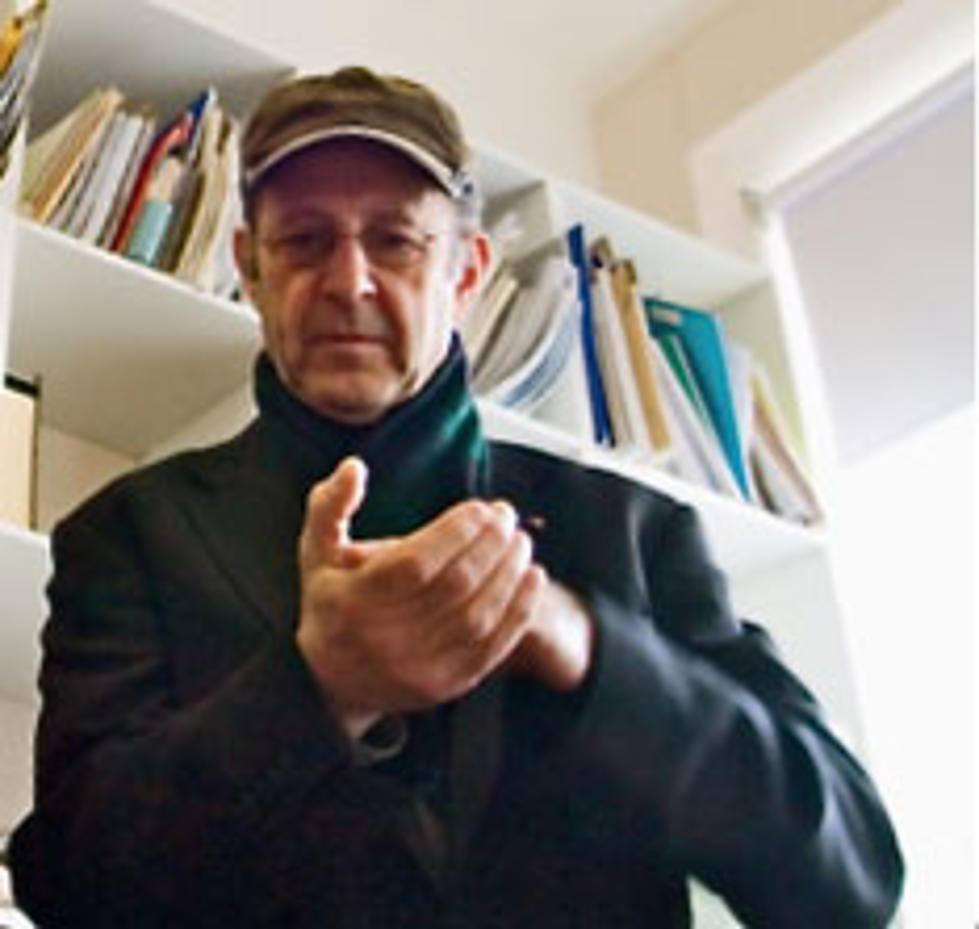 So Percussion (but not Dan Deacon) tonight, Steve Reich's Double Sextet, Bang on a Can benefits, street band & more
by Andrew Frisicano

Steve Reich clapping

Tonight (5/22) the Undiscovered Islands/New Amsterdam Records series at Galapagos continues with two sets: Sarah Kirkland Snider's Penelope performed by Signal, guitarist Steven Mackey and singer Rachel Calloway (conducted by Brad Lubman), and an opening performance by So Percussion. Tickets are still on sale.
we are playing some new music that we've been working on as meditations on the concept of city. the music has been focusing on the task oriented nature of a city and the parallel task-oriented nature of playing music. loops are made out of tasks and we have taken to transforming mundane objects into musical instruments like we haven't before. turning on lamps, writing on paper, pouring gravel, putting down ordinary objects in rhythm, etc. a few new videos by my sister jenise treuting will be busted out as well.
That gig is your only way to check out the piece (except for streaming excerpts), as there's currently no way to buy a recording of it. Reich discussed this in a recent interview...
Newsweek: I missed the premiere of "Double Sextet" last year, and when I heard it had won, I found myself upset that there was no way to buy the piece yet.

Reich: Yeah, that's just part of the recording business. When you have a 24-minute piece, the official recording hinges on finishing and recording two other pieces to go with it [on a CD]. I'm working on two other pieces right now, and have to finish writing the second one, actually. I've got a piece for all rock-and-roll people already completed, and it's going to premiere later this year. [Nico Muhly's blog]
Commenters on Nico Muhly's post about the situation rightly point out that Double Sextet should be released ASAP to capitalize on the Pulitzer publicity. The 2008 Pulitzer Prize for Music, won by Bang on a Can cofounder David Lang for his the little match girl passion (streaming here), is just seeing a CD release, with four other Lang works, on June 9th via Harmonia Mundi.
Speaking of Reich and Bang on a Can, the composer will perform his own "Clapping Music" at the Bang on a Can Big Benefit Bash taking place Wednesday, June 3rd at (Le) Poisson Rouge. Other special guests include Meredith Monk, David Cossin, Wu Man, Maya Beiser, Talujon and Doug Aitken. Tickets will run you a $400 donation to the non-profit...
...which is why the regular-people-friendly festival is hosting a "Bang on a Can't Afford the Other Benefit" show at LPR later that same night (6/3) with So Percussion, Gutbucket, Newspeak and NOW Ensemble. Tickets for that are a more reasonable $20.
Full info on BoaC's Asphalt Orchestra, and its Lincoln Center Out of Doors Festival plans, below...

--
For the Lincoln Center event, the 12-piece Bang on a Can ensemble will be playing nightly at 7pm from Wednesday, August 5 to Sunday, August 9 in "different locations across the Lincoln Center campus." The repetoire for the band will include
new commissions by Tyondai Braxton of Battles, Stew and Heidi Rodewald of The Negro Problem and Passing Strange, and celebrated Balkan musician-composer Goran Bregovic, plus music by Björk, jazz legend Charles Mingus, Swedish metal pioneers Meshuggah, and eminent American experimental composers Conlon Nancarrow and Frank Zappa.