Sonic Youth & The Entrance Band @ United Palace Theater in NYC – pics & setlist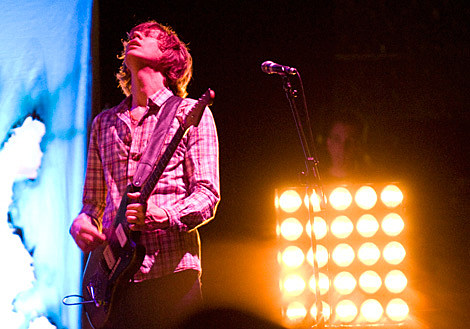 The 'A' train is not carrying its accustomed load, up at 175th Street. Droves of downtown rock'n'rollers are arriving at the relatively underused United Palace Theatre, on the less-frequented Washington Heights section of Broadway. It's an architectural wonder, impressively elaborate even before entering. Once inside, the exotica magnifies, as the foyer is encrusted on all sides by highly detailed work that can only be described as a decorative fusion. This joint must surely be one of the city's most ornate theatres, and on a particularly grandiose scale. It's best described as a dripping melange of Moorish, Hindu, Gothic, Rococo and Coney Island motifs. A huge organ sits waiting, greeting arrivals upon entry. Upstairs, the sealed manager's office has a David Lynchian metal lozenge of a sign hanging above its door. Down the corridor (with its infinity of mirror-reflection lamps) is another shuttered room with a keyhole that reveals an empty banquet table. The Room Of Rest has a row of porcelain urinals to covet. Upon entering the loges (balcony, to ordinary mortals), the full scale of this massive space is revealed, the vast walls continuing the densely barnacled theme. Although grand, there's also a sense of faded decadence, an almost morbid aura of decay. Upstairs, though, the acoustics are reverberational in the extreme.
review continued w/ more pictures & setlist, below...


Sonic Youth aren't really loud enough up here, and the mix is a swirly mush. It also seems like that magical vibration of the crucial rock show ain't happening. The balcony is an excellent vantage point to witness the classic punk rock moves of Ranaldo, Gordon and Moore, particularly the latter who still projects the stringbean body language of a teenager. This is becoming my regular view, having been upstairs for SY's performance at the No Fun fest in The Music Hall Of Williamsburg. Then, it was Gordon's turn to writhe around supine on the floor. Tonite, it's Moore who gets to crawl around, whanging his guitar into his amplifier, his monitor speaker and his stage-side lights. Despite recent chances to hear SY play music for dancing (Merce Cunningham at BAM) and freaking (the aforementioned No Fun), this is a much-anticipated opportunity to hear them play a song-set, with the full line-up in place.
Unsurprisingly, it's The Eternal that provides the core repertoire, inevitably to the disappointment of some. Even so, its fresh contents are very much in the classic mould, so if your favourite old song isn't here, they have a new one that's not too dissimilar. The peak of these arrives midway, with "Anti-Orgasm", where Moore, Ranaldo and Gordon are all singing out front, all axes throbbing with full mass. Then, "Leaky Lifeboat" sustains the power and before too long "(I Got A) Catholic Block" sends everyone ecstatically back two decades. The nature of the sound up here means that the finer points of SY's wall-of-tuning can't really be disentangled, and the vocals are sometimes getting submerged. Each time the guitars pause, Steve Shelley sets his fur-balled sticks a-thundering on the toms.
When your faith in rock'n'roll might be in doubt, and you're wondering: is it the acoustics?, would this all be infinitely superior out in the corridor, with its low ceiling and thick carpet?, just wait until the extended encore, which rises up into that special place, as Moore urges the crowd forward and the band suddenly loosens up with "Pacific Coast Highway". Everything suddenly coalesces (or breaks apart), and by the time the second encore climaxes with a deranged "Death Vallley '69", SY are unleashed into their improvisatory flailing mode, where anything can happen, the song sounding just like it's been newly-penned. Who can say whether it's healthy when their best tune is still the one that first got many folks into this band, back in 1984. The acoustics might still be problematic up here, but the onstage energy and abandon has suddenly improved matters dramatically.
The Entrance Band opened. Sonic Youth's setlist after the rest of the pictures below...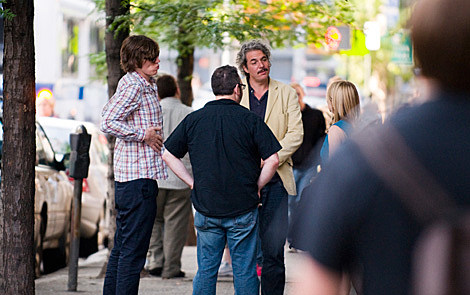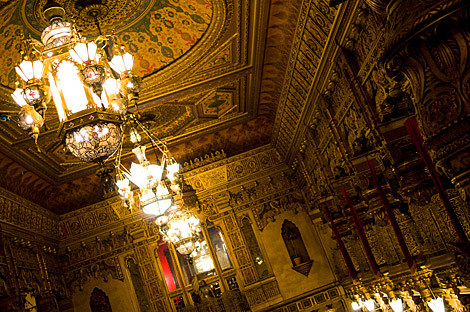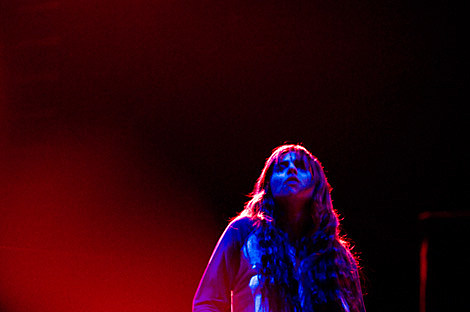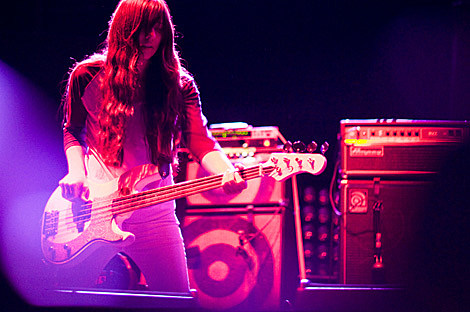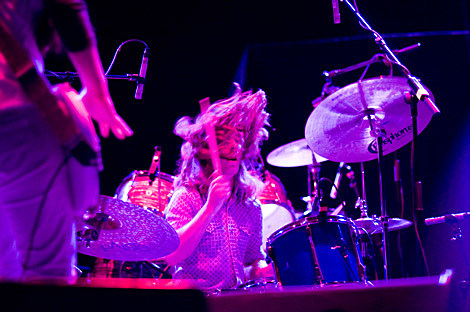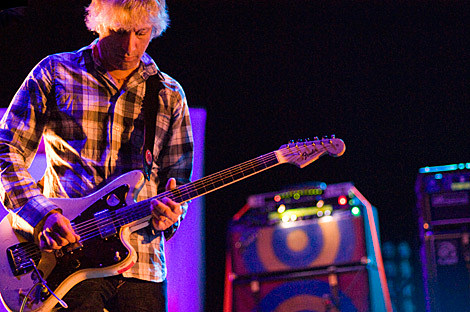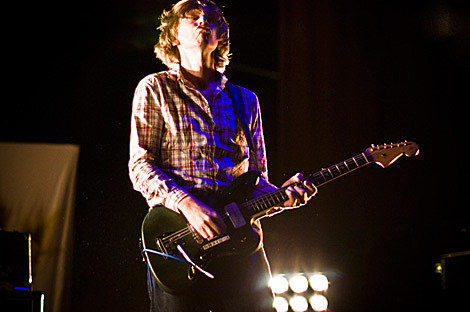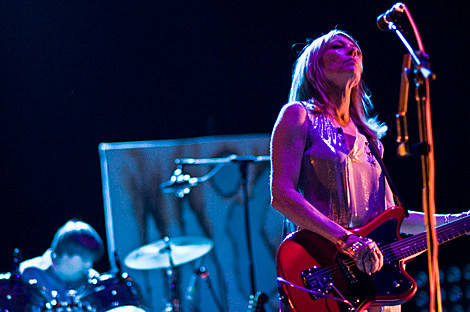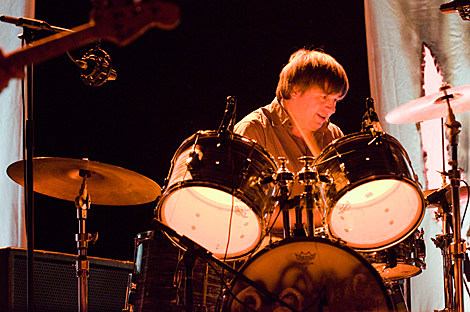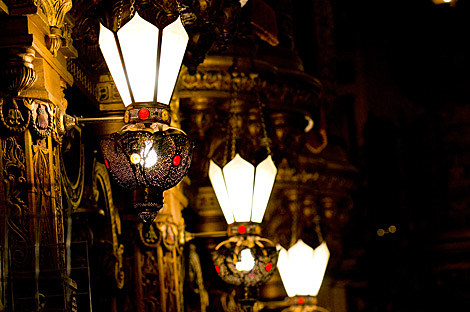 Sonic Youth's setlist (photo by PP, not Bao)...
Sonic Youth - 2009 Tour Dates
July
Monday 06 Washington, DC 9:30 Club w/Endless Boogie
Tuesday 07 Washington, DC 9:30 Club *
Wednesday 08 Richmond, VA The National *
Friday 10 Knoxville, TN Bijou Theater *
Saturday 11 Nashville, TN War Memorial *
Sunday 12 Birmingham, AL Sloss Furnace *
Monday 13 Atlanta, GA Variety Playhouse *
Wednesday 15 Dallas, TX House of Blues **
Thursday 16 Tulsa, OK Cains Ballroom **
Friday 17 St. Louis, MO Fair Saint Louis **
Saturday 18 Kansas City, MO Beaumont Club **
Monday 20 Milwaukee, WI Turner Hall **
Tuesday 21 Minneapolis, MN First Avenue **
Thursday 23 Boise, ID Knitting Factory **
Friday 24 Spokane, WA Knitting Factory **
Saturday 25 Seattle, WA Capitol Hill Block Party
Sunday 26 Burnaby, BC Virgin Festival BC
Tuesday 28 Portland, OR Roseland **
Thursday 30 Salt Lake City, UT Twilight COncert Series **
Friday 31 Denver, CO Ogden **

August
Sunday 02 Oakland, CA Fox **

October
Sunday 04 Austin, TX AUSTIN CITY LIMITS

December
Saturday 05 Minehead, UK ATP Nightmare b4 Xmas

* w/Entrance
** w/Awesome Color