Sonic Youth, Wild Flag & Kurt Vile played Williamsburg Waterfront (pics, review & setlist)
Kurt Vile and the Violators started the evening pretty early at Williamsburg Waterfront on Friday (8/12), taking the stage at a prompt 6:30 PM. The crowd hadn't filled in too much yet but those who did make it out early were treated to a short, but great set. Drawing almost entirely from his recently released Smoke Ring for My Halo, Kurt's shoegazey folk rock kicked off the show well and was especially fitting on the sunny waterfront with whiffs of barbecue and cigarette smoke floating through the air.
Up next was Wild Flag, who initially won me over when I saw them open for Bright Eyes earlier this year at Radio City, but their Radio City set doesn't compare at all to what they did at the waterfront on Saturday. The all-girl indie supergroup, featuring Carrie Brownstein and Janet Weiss of Sleater-Kinney, Mary Timony of Autoclave and Helium, and Rebecca Cole of The Minders, were greeted to tons of immediate applause as soon as they stepped out onto the stage. Unlike at Bright Eyes, where many people in attendance seemed unfamiliar with the group, this crowd was giving the band some serious support, and that might have encouraged them to rock even harder.
As Bill pointed out, Wild Flag's album is not out yet and hasn't even leaked, but even being only vaguely familiar with their material from live shows and various online singles, I was blown away by every song. The two frontwomen (Carrie and Mary) switched off lead vocal duties every other song and both of them ripped through killer guitar solos. I was a little more drawn to the Carrie-fronted songs because of how ferocious of a performer she is, but needless to say, Mary's were excellent as well. I feel more than confident in saying that Friday's show is not the last I will be seeing and hearing of Wild Flag.
Sonic Youth took the stage a little after 8 PM as their 5-piece incarnation of the band with Pavement's Mark Ibold, unlike last summer's NYC show at Prospect Park, when it was just the four of them. They launched right away into a handful of old material, focusing most heavily on 1985's Bad Moon Rising, and diving as far back as Confusion is Sex and the Kill Yr Idols EP. After a few more old favorites like "Kotton Krown" and "Eric's Trip," the band played a few cuts off their most recent proper LP, 2009's The Eternal. Having Mark on stage gave Kim Gordon the opportunity to put down her bass and sing. And as Kim proved when she left the constraints of a mic stand and took to the front of the stage during the pummeling "Sacred Trickster," she's an electrifying frontwoman. She carried the band as if she was solely a vocalist for their entire career.
They played material from 1983 alongside stuff from 2009, all sounding like it came from the same brilliant place. While most bands who are thirty years into their career are either fading away or living off of the nostalgia of their older material, Sonic Youth continue to sound and perform as fresh as ever. They thrash around stage with a youthful fervor that could destroy the hip-to-be-bored lo-fi scene who cite the band as an inspiration. And while you could try to argue that the similarities between their newer and older material is a negative thing, you'd be leaving out the fact that with only guitar, bass, and drums, all of it sounds like music from a time period that the rest of the world hasn't experienced yet.
Kim returned to the front of the stage around 9pm to sing "Drunken Butterfly" off 1992's Dirty. The band then left the stage after what seemed like far too short of a set. The crowd was audibly disappointmented. However, Sonic Youth quickly began making up for it when they returned for the first of three encores. Kim gave a shout out to Wild Flag and dedicated the song "Flower" to them. After leaving and returning to the stage a couple more times, the band were preparing to play their actual last song when a fan threw a ukulele to Lee Ranaldo, which he used to create the noise intro to "Inhuman." As the song progressed, Thurston Moore unplugged the bass he was playing and started making feedback with his guitar cable that he proceeded to wrap around his neck and body as he sang into the mic that he'd ripped off the stand. Mark Ibold and Steve Shelly kept what was left of the song's structure intact as Kim and Lee continued to create layers and layers of guitar noise. The band stretched the song's ending for at least twice the duration of the recorded version as Thurston kicked around stage moaning and shrieking "inhuman" and Lee swung guitars around by drumsticks lodged underneath their strings, completely stripping at least three of them. By the song's end, Thurston had uprooted the mic setup, and over a sea of fading feedback he said, "With the power of love, anything is possible," threw the mic down and walked off stage.
More pictures, a video, and setlists from the show below...

--
Sonic Youth at Williamsburg Waterfront 8/12/11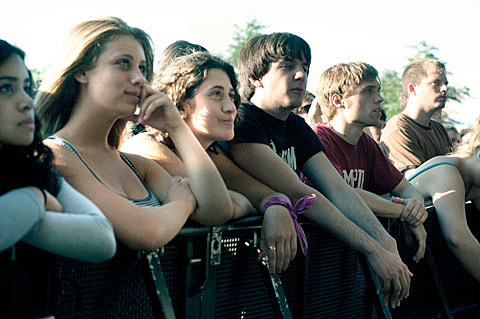 Kurt Vile Setlist:
Overnite Religion
Runner Ups
Jesus Fever
On Tour
Ghost Town
Sonic Youth Setlist:
Brave Men Run (in My Family)
Death Valley '69
Kotton Krown
Kill Yr Idols
Eric's Trip
Sacred Trickster
Calming the Snake
Starfield Road
I Love Her All the Time
Ghost Bitch
Tom Violence
What We Know
Drunken Butterfly
Encore 1:
Flower
Sugar Kane