Soulwax, Late of the Pier, The Whip & others @ Irving Plaza (CMJ), NYC – pics
Late of the Pier (by Leia Jospe)

Soulwax (by Gabi Porter)

Insiders was a "micro-festival" put together by Pete Tong and Live Nation whose goal was:
...to highlight and celebrate a cross pollination of genres, all somewhat considered left-of-center but each possessing the potential to gain mass appeal in the mainstream arena - Insiders is destined to provide a jam packed, quality festivalé of fun and music, redefining the future of electronic music
While I'm not sure if attaching a $55 price tag (though I felt it was easily worth that) to an eight act, one evening, bill was the ideal way of gaining "mass appeal in the mainstream arena", Insiders did provide a lot of fun for everyone present that evening, laying the ground work, and highlighting the future of electronic music. In a time when deejay sets are frequently delivered from behind laptops (which can still be art depending on who's doing it), Insiders brought many electro acts who do more than that to the forefront. Yes, the evening did have its share of deejays. Rob Da Bank, Luciano, James Lavalle, and Pete Tong all managed to get the crowd adequately moving during the time allotted, but anyone there will tell you the true excitement and electricity of the evening came when the live bands joined with electronics during the Whip, Late of the Pier, and Soulwax's performances.
continued below...


In a sandwich that alternated between bands and deejay sets, the Whip were the first band to perform. The young group from Manchester whose sound draws on that of many music pioneers from their region, started off with one of their calmer songs, "Sister Siam" whose minimal, but soon to be augmented electronic sounds from Danny Saville took off once accompanied by live bass, guitar, vocals, and drums from Nathan Sudders, Bruce Carter, and Fiona Daniels respectively. With momentum building as they played more and more of the upbeat tracks from their debut album X Marks Destination due out early next year, the Whip brought the crowd (at least the group of about 40 or so congregated at the front of the still gradually filling up venue) to a dancing frenzy. While some of their tracks may seem initially a bit more poppy than you're used too a *little* good pop never hurt anyone and I was too busy dancing to let it bother me. Some highlights of their performance, in addition to seeing how much greater the band's capabilities were in a live setting, were ending their performance with perhaps one of their best known songs to date, "Trash", as well as a cover/live performance of their remix of the Black Ghosts track "Any Way You Choose To Give It" reminding the crowd that they're more than just a band.
editor's note: Bill Pearis felt less positive about their performance at Music Hall of Williamsburg earlier in the week.
Late of the Pier were yet another great example of the fusion of live and electronic elements. Possibly one of the most buzzed about bands of CMJ, person after person I talked to couldn't stop raving about Late of the Pier. I never had a chance to check them out, and my only brief expectation/reference came when I ran into fellow BV writer, Bill Pearis, right before LOTP went on and he described them as Queen meets Gary Numan. Before I even had time to process what that might possibly sound like, Late of the Pier were rocking in the most refreshing way I have seen anyone rock in a long time. Their sound is somehow an amalgamation of so many great, classic, pop/rock/glam references without at all sounding cliched. With keyboards and synths balancing the band's raw, rocking energy and adding danceability, listeners had no choice but to get down while staring in disbelief at the happily rocking presence that is LOTP. Provided they can keep things up, much more is sure to be headed for a band that is so young and talented.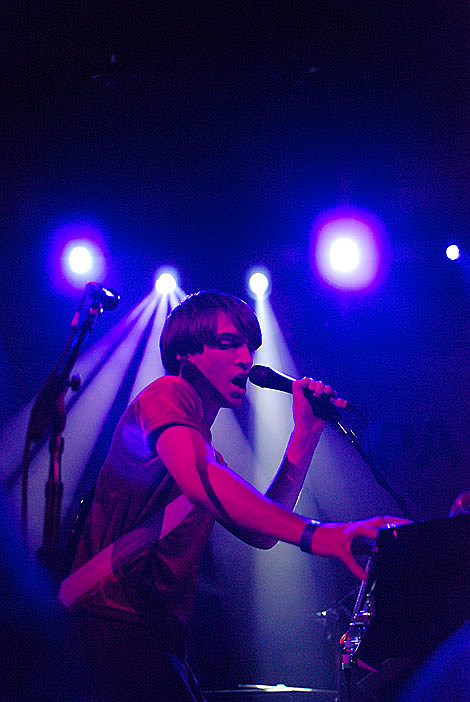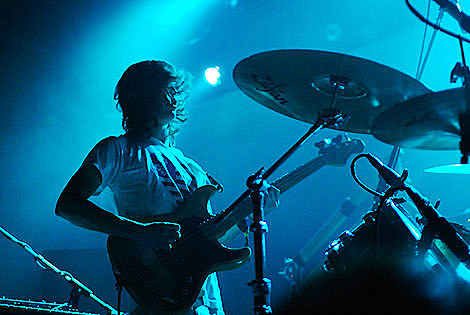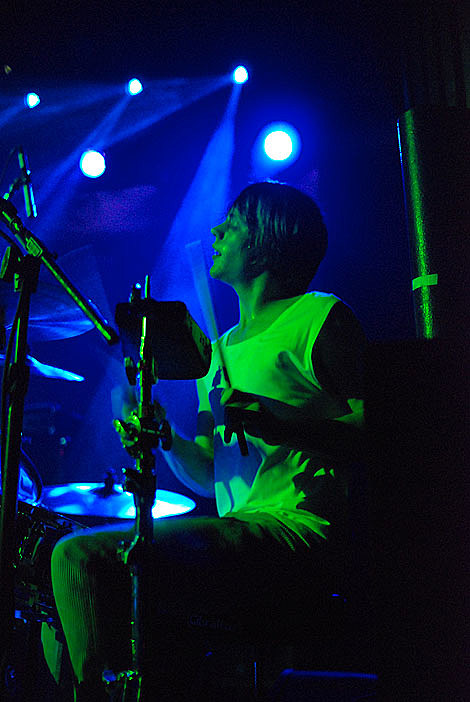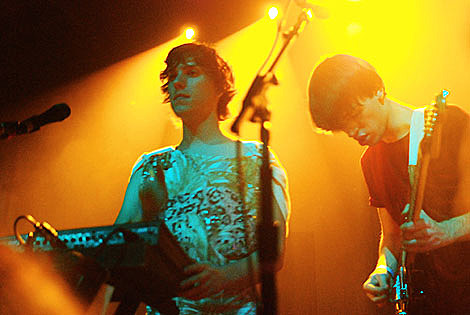 As much as I enjoyed all the new, live music I had just experienced, my favorite part of the evening was the tried and true Soulwax. Despite this being my second time seeing them this year, after seeing them two nights in a row the year before, nothing could have prepared me for the Soulwax experience on this night. Prior to last Friday all of my Soulwax experiences had been wonderful, happy bouts of people dancing madly on the floor. While I enjoyed what I had seen of the Soulwax documentary, Part of the Weekend Never Dies, up to that point...I had never really found my past Soulwax experiences to have reached such levels of mayhem as recorded in the film. This night all of that changed. From literally the second Soulwax took the stage in their trademark, matching white tuxes, a surge of energy immediately pulsed through the crowd ending with the group of us right at the front getting shoved straight into the stage. While this shoving eventually fell into a pattern of ebb and flow, it never fully let up...and that's when I realized it was a situation where I needed to start doing the same otherwise it was going to be miserable. For the next hour I proceed to lose my shit, jumping up and down, screaming (to the point that David Dewaele looked over directly at me, laughed and smiled), and shoving back off the stage into the group of particularly rowdy Scottsmen that were my neighbors throughout the set. Despite Soulwax playing much of the same material from Nite Versions and Most of the Remixes... this was by far a totally different experience from their show back in August. I was able to appreciate Soulwax's playing from close range - Steve Slingeneyer pounding the songs forward on drums, Stefaan Van Leuven providing live, bouncey basslines, while the Dewaele brothers drove electronics, added synthy crunch, and breathed live vocals while sweating over their machines - and see how they truly exemplify the fusion of a live band and electronic elements...in my opinion, the future of electronic music.