Soundgarden played Irving Plaza (pics / review / setlist)
The room was only half full by the time Chris, Kim, Matt and Ben returned to the stage for their second, and only true encore last night at Irving Plaza (11/13). Most assumed the show was over after the curtain went down and the house music went on, but the diehards forced the band back back on stage to play Badmotorfinger's breakout single, "Rusty Cage". The intimate record release show was technically the band's third in two days (they played the Ed Sullivan Theater and with Chris at Bowery Ballroom one day earlier), but it was their first proper gig on the isle of Manhattan in more than 15 years (they played Jones Beach, Prudential Center and Atlantic City in 2011). And the reunited foursome delivered again this time around
With all four players back in the fold and no support band to warm the crowd, the momentum would belong wholly to Soundgarden. The energy in the room in the moments before the quartet hit the stage was palpable, and when the band finally did open with Ultramega OK's "Incessant Mace" and eventually transitioned to "Jesus Christ Pose" it was clear that the older-skewing crowd was into it. Way into it. Like 35-year olds crowd-surfing into it.
One of the greatest things about Soundgarden was always the individuality between the players... a meeting of four forces that formed a bit of a less-virtuosic, "grunge version" of The Who. Ben Shepard's low slung bass and tone always cut through the mix, and coupled with Matt Cameron's always impressive drumming that never feels overly showy, they were one of the tightest rhythm sections in popular music. Kim Thayil's beef-stroganoff-riffs always felt intricate yet astonishingly simple. And last but not least, pretty boy Chris Cornell's high-pitched wail soared above it all. When Soundgarden split, it was the dissolution of four individuals that formed a whole.
The reunion has been kind with tons of interest from fans. And as a band, they are well-prepared and Cornell's voice has clearly aged like a fine whiskey. Each of the individual players haven't lost a step. Their set was well in tune with the audience's needs, yet included plenty of material from their new album King Animal which was released this week (setlist below). Soundgarden is clearly as good or better than a reunited band should be.
Yet I couldn't help but be disappointed by sound. Kim Thayil's thunder seemed toned down. Soundgarden came up in the era and scene that bore greats like Melvins, Nirvana, Mudhoney and so many more, yet at Irving Plaza, the guitar muscle was sorely lacking. The individual players were barely distinguishable... unlike all of the cymbals and hi-hats. This was a heavy band that pop met in the middle, never a band that went down the pop road willfully and purposely.
Either way, Irving Plaza is much too small for a band of this size. Look for the mix to be vastly improved (hopefully) at one of their upcoming bigger shows. Until then, check out more pictures and the setlist from Irving, below.

---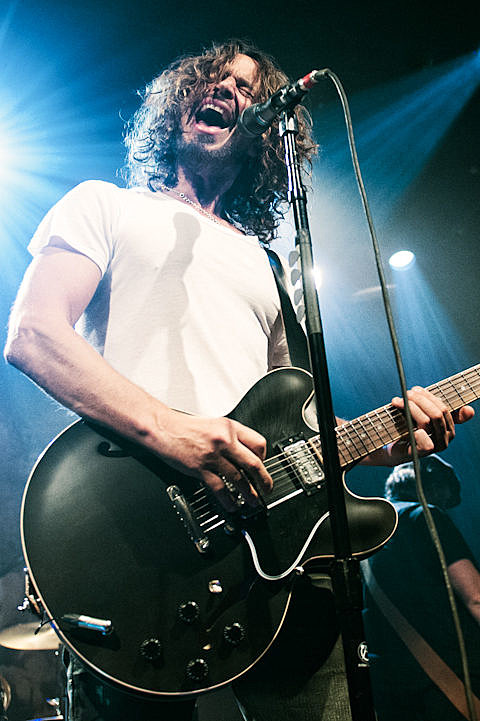 SETLIST
Incessant Mace
Gun
Jesus Christ Pose
By Crooked Steps
Outshined
Room a Thousand Years Wide
Spoonman
Taree
Been Away Too Long
Worse Dreams
My Wave
Ugly Truth
Fell on Black Days
Hunted Down
Drawing Flies
Non-State Actor
Black Saturday
Blow Up the Outside World
Eyelid's Mouth
Blood on the Valley Floor
Rowing
Encore:
Slaves & Bulldozers
------
Rusty Cage
--