South Africa's BLK JKS EP is out on Secretly Canadian – free MP3 & 2009 Tour Dates (NYC, SXSW & Sasquatch)
South Africa's BLK JKS (pronounced 'Black Jacks') will be playing a pair of NYC dates, this Friday (3/13) at Union Hall (TICKETS) and Saturday 3/14 at Santos Party House with Preacher & The Knife (TICKETS). The band then heads to SXSW for a full set of shows, before touring the UK in April. On May 25th they'll be back in the US for an appearance at the Sasquatch Festival.
Secretly Canadian just released a remastered version of the band's debut Mystery EP yesterday, 3/10 (mentioned in Largehearted Boy's Interesting CD Releases This Week column). Mystery's first two tracks, "Lakeside" (posted above) and "Mystery" (streaming on the band's Myspace) both showcase the BLK JKS's free mix of post-punk and dance rock with dub-like, dancehall tendencies. The band recently posted on its site a mixtape by Carlos Ramos (of the Midnight Rockers Express) that remixes and tweaks the source material (3/4ths of the EP) even further.
All tour dates, two videos, and the Santos flyer below...

BLK JKS - "Lakeside"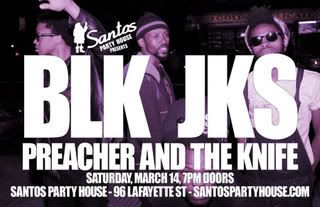 BLK JKS - 2009 Tour Dates
03/13/09 Brooklyn, NY - Union Hall
03/14/09 New York, NY - Santos Partyhouse
03/18/09 Austin, TX - SXSW - ME Soundstage on Congress
03/18/09 Austin, TX - Paradise Cafe - SXSW - The Stimulus Package w/ The Tallest Man On Earth
03/19/09 Austin, TX - The Parish - NPR Showcase
03/19/09 Austin, TX - The Mohawk - SXSW SC/JAG/DOC Showcase
03/20/09 Austin, TX - The French Legion Museum- SXSW
04/09/09 London, UK - Adventures in the Beetroot Field @ Fabric
04/14/09 Colchester, UK - Arts Centre w/ Errors
04/15/09 London, UK - The Lexington
04/16/09 London, UK - ICA w/ Errors
04/18/09 Newcastle, UK - The End
04/19/09 Glasgow, UK - Captain's Rest
04/20/09 Leeds, UK - Brudenell Social Club
04/21/09 Bristol, UK - NME @ The Lanes
04/22/09 Manchester, UK - The Deaf Institute w/ HEALTH
04/23/09 Reading, UK - South Street
04/24/09 London, UK - Ether @ South Bank Centre w/ Squarepusher
04/25/09 London, UK - Camden Crawl
05/25/09 Quincy, WA - Sasquatch Music Festival