Southern Lord planning tour; NYC show announced (Black Breath, Martyrdod, The Secret, Burning Love, Enabler & more)
Gregory R. Cristman
Black Breath at BV-Power of The Riff SXSW (more by Greg Cristman)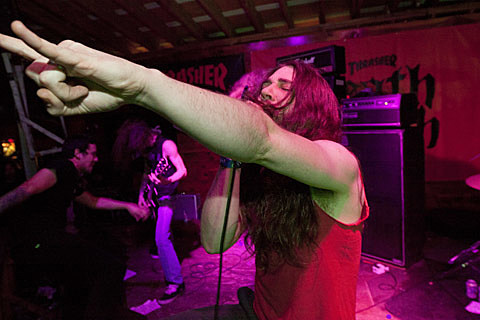 BrooklynVegan is proud to announce the NYC date of the MASSIVE Southern Lord Tour! The tour features appearances from the mighty Black Breath & Martyrdod on all dates, with rotating appearances from Poison Idea, The Secret, Burning Love, Enabler, Noothgrush, Pelican, Powertrip, Wild/Tribe, Dead in The Dirt, and All Pigs Must Die.
All dates are still TBA now announced and listed below. NYC's lineup will feature Black Breath & Martyrdod, along with The Secret, Burning Love, Enabler and one more band still TBA. It goes down on July 6th at Acheron and tickets are on sale.
Martyrdod have never played the East Coast and are touring on the strength of their 2010 release Sekt. The band will release their next LP Paranoia with Southern Lord.
All dates and some videos below...

--
Black Breath - Sentenced to Life

Burning Love - Alien Vs. Creditor

Southern Lord Summer 2012 Label Package Tour:
"The core acts for the tour include the Ontario-based hardcore/rock outfit BURNING LOVE (featuring ex-Cursed vocalist), dark lords of Swedish crust MARTYRDOD, Milwaukee's metal/hardcore crossover outfit ENABLER and Seattle's d-beat/death-infused hardcore bastards BLACK BREATH headlining the full tour. "
6/19/2012 El Corazon - Seattle, WA w/ Poison Idea [tickets]
6/20/2012 Hawthorne Theater - Portland, OR w/ Poison Idea [tickets]
6/21/2012 The Mezzanine - San Francisco, CA w/ Noothgrush [tickets]
6/22/2012 The Catalyst - Santa Cruz, CA w/ Pelican, Noothgrush [tickets]
6/23/2012 The Glass House - Pomona, CA *Southern Lord label showcase w/ Pelican
6/24/2012 The Casbah - San Diego, CA w/ Pelican [tickets]
6/25/2012 Chasers - Phoenix, AZ [tickets]
6/27/2012 Club Dada - Dallas, TX w/ Power Trip, Wild//Tribe [tickets]
6/28/2012 Red 7 - Austin, TX w/ Power Trip, Wild//Tribe [tickets]
6/29/2012 Walter's - Houston, TX w/ Power Trip, Wild//Tribe [tickets]
6/30/2012 Three Ring Circus - New Orleans, LA w/ Dead In The Dirt [tickets]
7/01/2012 529 - Atlanta, GA w/ Dead In The Dirt [tickets]
7/02/2012 Kings Barcade - Raleigh, NC w/ Dead In the Dirt [tickets]
7/03/2012 Strange Matter - Richmond, VA w/ Dead In The Dirt [tickets]
7/04/2012 Talking Head Lounge at Sonar - Baltimore, MD w/ The Secret [tickets]
7/05/2012 Radio Bar - Boston, MA w/ The Secret [tickets]
7/06/2012 Acheron - Brooklyn, NY w/ The Secret [tickets]
7/07/2012 The Barbary - Philadelphia, PA w/ The Secret [tickets]
7/08/2012 Blind Bob's - Dayton, OH w/ The Secret (*NO Martyrdöd) [tickets]
7/09/2012 Empty Bottle - Chicago, IL (*NO Martyrdöd) [tickets]
7/10/2012 Borg Ward - Milwaukee, IL (*Black Breath & Enabler ONLY) [tickets]
7/11/2012 Medusa - Minneapolis, MN (*Black Breath & Enabler ONLY)
7/13/2012 TBA - Spokane, WA
7/14/2012 Hawthorne Theater - Portland, OR (*Black Breath ONLY) w/ Autopsy