Spaceghostpurrp welcomed 'Mysterious Phonk' at SOB's w/ Despot & Vinny Chase (pics, video)
photos by Julie Schabel
"SOBs a zoo. When does the @despotroast rap? Im too sleepy from Bonnaroo and Fat Tony last night. After the Zomby before the Purrp." - Himanshu
Spaceghostpurrp at SOB's - 6/12/12

...There exists a stigma against new performers of all ages and stripes, the question of, "Well, can this impressive act pull his schtick off live?" As of now, SGP cannot. Though his wall of compatriots meant to signify power, the most it did was subtly acknowledge Purrp's shortcomings.
However, SpaceGhostPurrp has never been a lyrics-first guy. He traffics in fight chants and nothing more, lyrics that present themselves once and get out of the way for the beats to do the legwork. His cavernous instrumentals sounded great coming out of industrial-strength speakers, and for some, that is enough. [Non Stop Sound]
Spaceghostpurrp celebrated the release of his 4AD debut, Mysterious Phonk, with a performance at SOB's on Tuesday (6/12) with Vinny Chase and Despot. Did you go? Was Spaceghostpurrp's instrumentals coming out of industrial-strength speakers enough for you? More pictures from the evening are below, along with a live video from the show. And if you haven't heard Mysterious Phonk, you can stream that below as well.
Maybe you saw Spaceghostpurrp last moth at the Shortcuts party at Santos? That party happens again TONIGHT with Fat Tony, Fat Trel and more. Tickets are still available and the flyer for the show is below.
As for opener Despot, he's heading out on tour with EL-P. Killer Mike, and Mr. Muthafuckin' eXquire, a tour that hits Irving Plaza on July 13 and tickets for that show are still available.
More pictures and video from the SOB's show are below, as well as the flyer for tonight's Shortcuts party and the Mysterious Phonk album stream.

---
Despot
Vinny Chase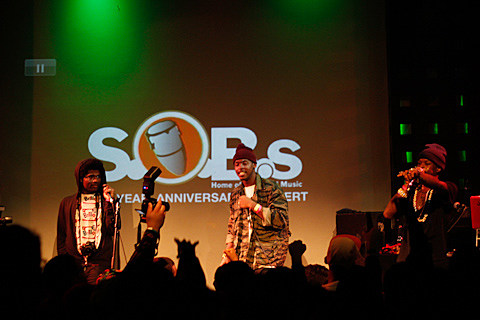 Spaceghostpurrp
mr muthafuckin' exquire on stage w despot at spaceghostpurrrp show at sobs from julie schabel on Vimeo.