speaking of Mercury Prize nominees…..
Klaxons dressed up @ MSG, NYC - Sept 24, 2007 (CRED)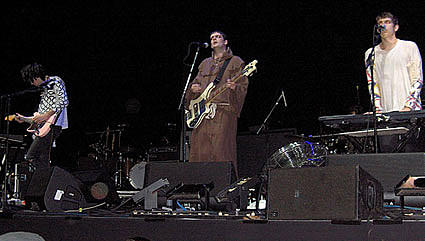 New Young Pony Club (also nominated) are playing Studio B on Thursday October 18th for CMJ. It's the Modular Records party. Muscles & The Cool Kids are also playing live, and Simian Mobile Disco are DJing. I saw NYPC at the Oya Festival in Norway this summer, and I didn't like them nearly as much as I did when they last played Brooklyn.
I didn't love Fionn Regan (also nominated) when I saw him at Austin City Limits. I was also saying he must have fans here though - because he's headlining the Gramercy Theatre. I knew that statement would come back to haunt me. The show was moved to Mercury Lounge. Tickets are on sale.