speaking of Mercury Prize nominees…..
DOWNLOAD: Klaxons - Magick (simian Mobile Disco Remix) (MP3)
DOWNLOAD: Maps - Lost My Soul (MP3)
Klaxons dressed up @ MSG, NYC - Sept 24, 2007 (CRED)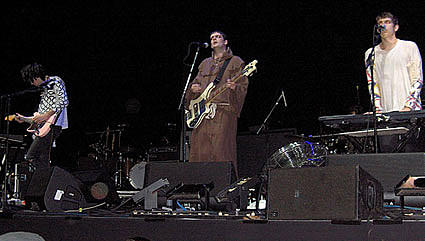 2007 Mercury Prize winners the Klaxons opened for Bjork at Madison Square Garden the other day. What were they wearing? I don't even recognize them. Is this Lovefoxxx's influence? Tickets are on sale for their Webster Hall show (which Shitdisco is no longer playing).
Speaking of funny outfits, Bat For Lashes - sometimes compared to Bjork (and I'll admit that Natasha Khan does do a mean Bjork) didn't win the Mercury Prize. They did play Bowery Ballroom this week though.
New Young Pony Club (also nominated) are playing Studio B on Thursday October 18th for CMJ. It's the Modular Records party. Muscles & The Cool Kids are also playing live, and Simian Mobile Disco are DJing. I saw NYPC at the Oya Festival in Norway this summer, and I didn't like them nearly as much as I did when they last played Brooklyn.
I didn't love Fionn Regan (also nominated) when I saw him at Austin City Limits. I was also saying he must have fans here though - because he's headlining the Gramercy Theatre. I knew that statement would come back to haunt me. The show was moved to Mercury Lounge. Tickets are on sale.
Maps (also nominated) play NYC Friday and Saturday night.
Amy Winehouse (I won't say it again) is releasing a DVD, played with Prince, and is to blame for your drinking problem.