Speedy Ortiz on tour, playing Pitchfork CMJ (lineup) and other CMJ shows (dates)
Speedy Ortiz at Death by Audio in July (more by Vladislav Grach)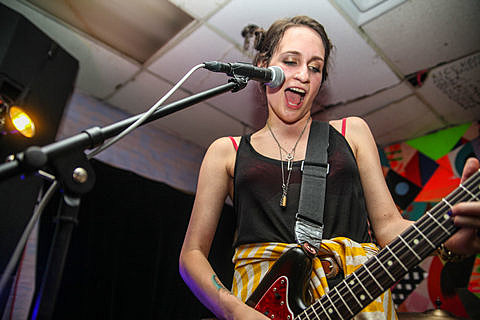 Trad-indie torch carriers Speedy Ortiz have been doing a ton of touring this year, many NYC shows included, and that show-count will increase even more this month when the Northampton, MA band returns for CMJ.
The first of their currently announced CMJ appearances is the previously discussed Panache showcase happening on 10/17 at Baby's All Right (146 Broadway) with Hunters, Ex-Cult, Calvin Love, Homeshake and Big Ups. More info at the Facebook event. Flyer below.
Then they play Pitchfork's unnoficial show happening at 285 Kent on 10/18 with Yamantaka // Sonic Titan, Priests, Joanna Gruesome, Perfect Pussy, Eleanor Friedberger (solo), and Courtney Barnett. Tickets for that show are on sale now. Flyer and schedule below.
Lastly (for now at least), they play the previously discussed Exploding In Sound Records showcase at Silent Barn on 10/19 with Pile, Fat History Month, Two Inch Astronaut, Grass Is Green, Kal Marks, Palehound, Krill, Roomrunner, and Porches.
After CMJ, Speedy Ortiz singer/guitarist Sadie Dupuis will take part in the Elliott Smith tribute at Glasslands on 10/21 which also features Cat Power, Cole of DIIV, Sky Ferreira, Marissa Nadler and more. Tickets for that show are still available.
And then just after that, Speedy will join Dinosaur Jr. frontman J. Mascis for another Brooklyn show at The Flat on 10/23. More details on that show TBA. Dinosaur Jr. will be back in NYC in December to open for MGMT at Barclays Center (12/13) (tickets).
Meanwhile, speaking of Pitchfork CMJ, they're doing another unofficial show at 285 Kent on 10/19 with an electronic-oriented lineup of Ryan Hemsworth, Kelela, Traxman, The Range, Jahiliyya Field, Huerco S, and Mas Ysa. Tickets for that show are on sale now. Flyer and schedule below.
All Speedy Ortiz dates are listed, along with show flyers and more, below...

---
Speedy Ortiz - "Tiger Tank" Official Video

Yamantaka // Sonic Titan (1:00)
Speedy Ortiz (12:00)
Joanna Gruesome (11:15)
Priests (10:30)
Perfect Pussy (9:45)
Courtney Barnett (9:00)
Eleanor Friedberger (solo set) (8:00)
w/ DJ Jenn Pelly
Ryan Hemsworth (1:45)
Kelela (1:00)
Traxman (12:00)
The Range (11:00)
Jahiliyya Fields (10:15)
Huerco S. (9:15)
Mas Ysa (8:15)
w/ DJs Richard Pretty and J-CUSH
Speedy Ortiz -- 2013 Tour Dates
10/11 - Northampton, MA @ The Elevens
10/13 - Somerville, MA @ RadioBDC Live on the Square
10/17 - Brooklyn, NY @ Baby's All Right Panache Showcase
10/18 - Brooklyn, NY @ 285 Kent Pitchfork Showcase
10/19 - Brooklyn, NY @ Silent Barn, Exploding in Sound CMJ Showcase
10/21 - Brooklyn, NY @ Glasslands (Elliott Smith tribute) (Sadie Dupuis solo)
10/23 - Brooklyn, NY @ The Flat w/ J Mascis
11/02 - Bronxville, NY @ Sarah Lawrence College
11/07 - Allston, MA @ Great Scott (WZBC 40th Anniversary Party) w/ Marnie Stern, Boy Toy
11/08 - Middletown, CT @ Wesleyan University
11/09 - Cambridge, MA @ Cambridge Elk's Lodge, Hassle Fest 5
11/21 - Durhan, NH @ MUSO UNH w/ Laura Stevenson
11/30 - Bennington, VT @ Bennington College
--