Spike Lee having a birthday party for Michael Jackson in Prospect Park again, w/ DJ Spinna again (time, directions)
Spike Lee & DJ Spinna at Michael Jackson's Birthday Bash last year (more here)

Michael Jackson still reigns as the King of Pop.

Thousands will gather in Prospect Park on Sunday at what would have been the musician's 52nd birthday for the second-annual "Brooklyn Loves Michael Jackson" celebration.

"I'm looking forward to everyone from all corners of the world coming together to honor, pay respect and love the life of Michael Joseph Jackson," said filmmaker and one-time Fort Greene resident Spike Lee, who worked with Jackson on his video, "They Don't Care About Us," and is organizing the celebration for the second year.

Last year, fans packed the park to pay tribute to the man behind such hits as "Billie Jean," "Thriller" and "Beat It," who died last summer, sporting Thriller outfits, white gloves and digging out their Michael Jackson T-shirts.

Expect more of the same during the five-hour party, where DJ Spinna will play the pop genius's innumerable hits.

"It's going to be bigger and better this year," said Lee, who will be documenting this year's celebration with his production company, 40 Acres And A Mule. "People are going to come from all over the world." -[BrooklynPaper]
If there's one thing that DJ Spinna knows, it's a killer theme party. The mixologist's incredible work with Prince Vs Michael Jackson Soul Slam, (Stevie) Wonder-Full, The Jackson Family, 90s Indie Hip Hop, and countless others sets him apart as one of the great funk/groove/hip hop DJs in the area. The free event takes place on Sunday, August 29th in Prospect Park's Nethermead Field. It kicks off at noon and ends at 5:00 PM. Directions below.
More pictures from last year HERE. A pair of videos from Spike Lee and directions to the party are below...

--
Reminder from Spike Lee to come to the Michael Jackson party

The 2nd Annual Brooklyn Loves Michael Jackson Birthday Celebration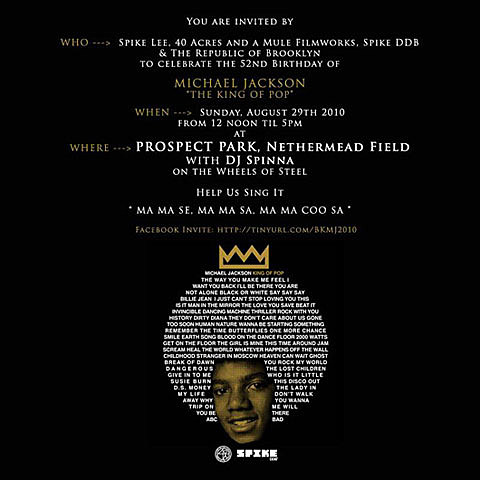 Directions to Prospect Park, Nethermead Field:
The Nethermead is most accessible from the 16th Street and Prospect Park Southwest entrance, the Bartel-Pritchard entrance, the 9th Street entrance, the 3rd Street entrance or the Willink Entrance at Ocean and Flatbush Avenues.
By Public Transportation:
- F Train to 15th St./Prospect Park station or 7th Ave. station
- 2 or 3 Train to Grand Army Plaza station
- Q Train to Parkside Ave. station
- B-41 or B-71 Bus along Flatbush Ave. to Grand Army Plaza
- B-69 Bus along Prospect Park West
- B-75 Bus along 9th St. to 9th St. Entrance
By Car:
- From Manhattan and Brooklyn Bridges: Take Flatbush Ave. to Grand Army Plaza, Prospect Park West exit to 3rd, 9th or 15th St.
- From BQE: Take BQE to 38th St. exit, make left on 4th Ave. and right on any street between 14th St. and 3rd St. to Prospect Park West.