Spiritualized played Ladies & Gentlemen @ Radio City…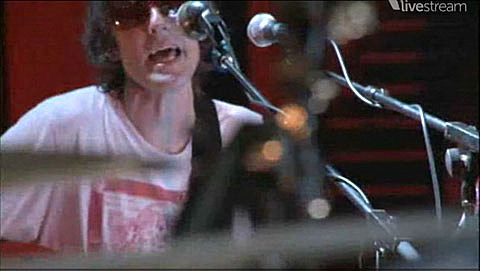 ...with a choir and an orchestra with strings and horns. Mindblowing, mesmerizing, massive, epic, surreal, amazing, glorious, fantastic, "Best Concert Ever", "I can Die Happy Now"... whatever adjective you choose, Spiritualized was it at Radio City Music Hall on Friday night. Jason Pierce and band performed their most acclaimed album, 1997's Ladies and Gentlemen We Are Floating in Space, in NYC's swankiest venue, followed by a 2-song, 'spellbindingly sensational' encore of "Out Of Sight" and "Oh Happy Day" to close out the setlist.
The Friday night show was the fifth of five ZYNC-presented SPIN 25th Anniversary shows (the other four were all at Terminal 5). And thankfully there was an online stream, so those who couldn't be at the concert, could still experience it live, and can probably experience it later since the whole thing is sure to show up in various bootleg forms including on YouTube fairly soon. Speaking of the stream, since it's Friday night and the show just ended and we won't have any real pictures anytime soon, a whole bunch more stream screen caps that still give you a good idea of what it looked like, continue below...