Spoon (and Dan Boeckner & Eleanor Friedberger), Deerhunter & the Strange Boys @ Radio City Music Hall – pics & video
Spoon has made a long and fruitful career out of simultaneously fulfilling and denying the expectations of fans, critics and record labels. On Friday night (3/26), the band greatly exceeded its own expectations by headlining a sold-out Radio City Music Hall.
It was a big deal for a band that's taken small but inquisitive steps over 16 years and 7 records. This show came in support of their latest effort, Transference, a moody yet powerful record of micro-experimentation that ultimately saw the band reinvigorating their inner scruffiness (they celebrated the release of that record by playing a much smaller NYC venue in January). But unlike some recent tour dates which saw Transference heavy setlists, on this night Spoon played a well curated sampling of many of their past gems; it felt like a therapeutic nod to history for a band eager to revisit the moments that brought them this far.
But it wasn't just looking back for the fuzzy feeling of nostalgia. Britt Daniel and co. breathed new sophisticated life into songs like "I Summon You" and "Someone Something." The latter was sung as a duet with Eleanor Friedberger of the Fiery Furnaces, one of several guests (Dan Boeckner of Wolf Parade and Stephen Patterson of White Rabbits) who appeared during the show. Dan and Eleanor performed one of their own songs with the group as well as assisting on Spoon numbers, as the headliner graciously and generously dolloped the trademark Spoon appliqué onto numbers like "Waiting To Know You" and "Modern World."
Radio City Music Hall is often a tough sell for rock fans, and Friday was no exception. It wasn't until midway through Spoon's first set, when the band was augmented by a seven piece horn section for numbers like "Don't You Evah" from their brass heavy 2007 album Ga Ga Ga Ga Ga, that the crowd finally took notice of the scorching effort brought forth by the band members and joined in on the revelry of this potential poster child for indie rock perseverance affixing its name to such an illustrious marquee.
Attempting to warm up the crowd were lively but somewhat underdeveloped The Strange Boys (sans new member Jenna Thornhill-DeWitt) and Deerhunter. Many attendants preferred to mingle in the gold-plated lobby of Radio City rather than check out the openers, but neither band did everything they could to completely win over the crowd either. Deerhunter didn't outright disappoint, but they didn't sound as impactful as normal. For the majority of their performance, the powerful streams of noise normally associated with the band were muted in the large hall. Instead the bare trappings of their songwriting were exposed, which might have been an interesting contrast for a frequent listener, but to the uninitiated came across as listless and at times sluggish. When Bradford Cox and his bandmates played to their more expansive and propulsive leanings though, things improved. They finally turned up the volume and intensity in the finale which was topped off with a long cacophonously exciting outro. Then they seemed to be having fun as eccentric noise makers in such a staid arena.
Still neither of the younger bands could match the passion of the older Spoon, who now might be considered elder statesmen of the genre they often like to eschew connections with. Daniel has an ageless croon, even if it faltered occasionally Friday. One couldn't help but feel Spoon could go on forever taking small steps at musical progression and growth. As a performance though, this was one giant leap.
More tour dates HERE. The full Radio City setlist with more pictures and some videos, below...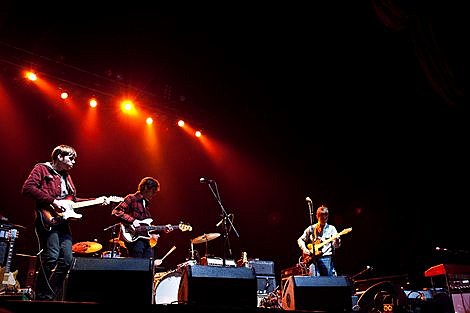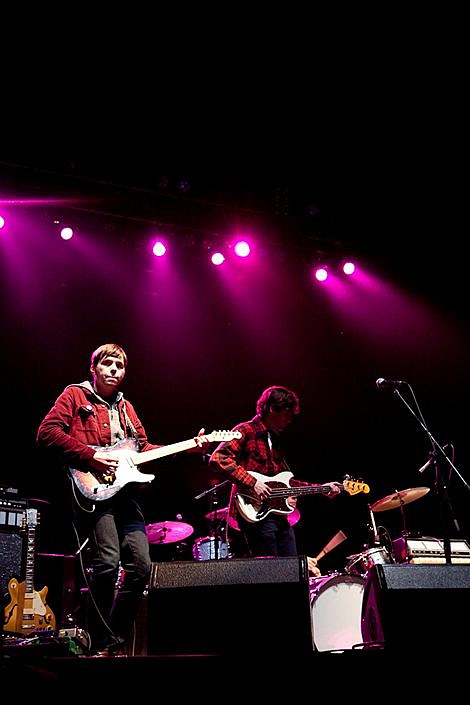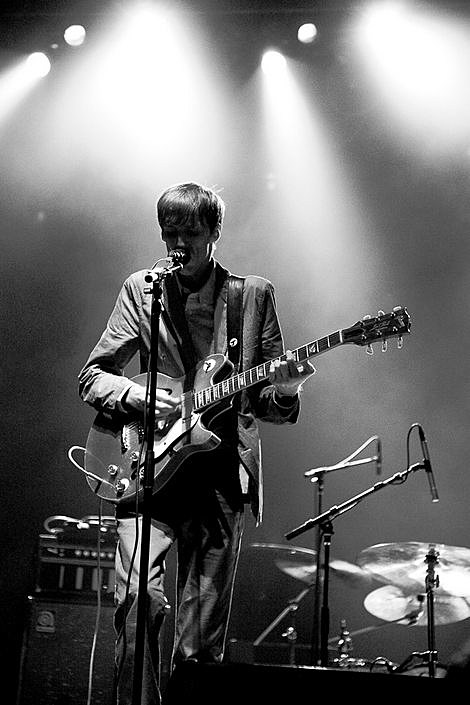 setlist (via)
1. Me and the Bean (Britt Solo)
2. The Mystery Zone
3. Written In Reverse
4. Got Nuffin
5. My Mathematical Mind
6. Don't Make Me a Target
7. Ghost Of You Lingers
8. Love Song (The Damned Cover)
9. Is Love Forever?
10. Waiting To Know You (Fiery Furnaces Cover w/Eleanor Friedberger of the FF)
11. Someone Something (w/ Eleanor Friedberger of the FF)
12. Beast and Dragon Adored
13. Don't You Evah
14. I Summon You
15. Nobody Gets Me But You
16. You Got Yr. Cherry Bomb
17. Rhythm & Soul
18. Jonathon Fisk
19. The Underdog
20. Black Like Me
Encore 1:
21. Trouble Comes Running
22. Modern World (Wolf Parade Cover w/ Dan Boeckner of Wolf Parade)
23. I Saw The Light (Dan Boeckner on guitar)
Encore 2:
24. Small Stakes