Spoon, !!! and Operators played Central Park Summerstage (pics, setlist)
photos by Amanda Hatfield
"Britt was Simon AND Garfunkel, tonight in Central Park. Thank you @spoontheband !" - Eleanor Friedberger
Spoon / !!! / Operators @ Central Park 9/10/2014

On the heels of their great new album, They Want My Soul, Spoon brought their tour to NYC last night (9/10) for a show under the stars at Central Park Summerstage. (Their second show in town this summer.) You couldn't have asked for a lovelier night, with the band casting tall sillouhettes against white panels behind them. Britt Daniel and the rest of the new lineup of Spoon were in good spirits, with the majority of the set devoted mainly to songs from the new album and 2007's Ga Ga Ga Ga Ga. Pictures and setlist are in this post.
Where most of Spoon's tour has been with either Hamilton Leithauser or EMA opening, Summerstage got a special undercard. !!! (chk chk chk), whose most recent album was produced by Spoon's Jim Eno, offered up a typically spirited set punky funk, with frontman Nic Offer still in those short shorts. The evening started with Dan Boeckner's new band, Operators (their third NYC show), who are now a quartet, adding onetime Hot Hot Heat member Dustin Hawthorne on bass. (Related fun fact: HHH's Dante DeCaro was in Wolf Parade.) Even though between Spoon and Operators every member of Britt and Dan's Divine Fits were in on stage at one point or another last night, the band did not make an actual appearance.
More pics from last night's Summerstage show, and Spoon's setlist, below...

---
Operators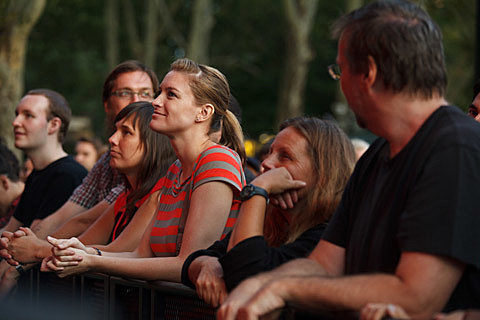 !!!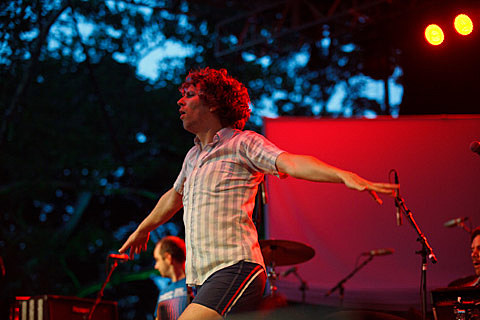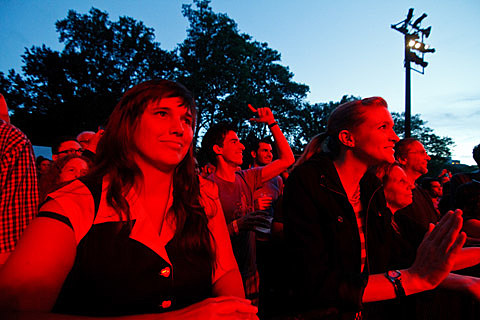 Spoon
SETLIST: SPOON @ CENTRAL PARK SUMMERSTAGE 9/10/2014
Knock Knock Knock
Rent I Pay
Small Stakes
Inside Out
Don't You Evah
Who Makes Your Money
Rhthm & Soul
The Ghost of You Lingers
My Mathematical Mind
Anything You Want
Don't Make Me a Target
Do You
I Just Don't Understand
I Summon You
I Turn My Camera On
New York Kiss
Got Nuffin
Black Like Me
Encore
You Got Yr Cherry Bomb
Outlier
The Underdog