St. Vincent & Cate Le Bon played Webster Hall (pics/setlist/review)
Twinkling blue lights covered the backdrop of the stage like stars when I arrived at Webster Hall last night (11/3), but as if to mirror the sparse simplicity of opener Cate Le Bon's brief solo set, everything faded to black when the Welch singer-songwriter appeared carrying a single electric guitar. Themes of heartbreak shaped Le Bon's songs, injecting a note of sadness into her deep, rolling voice. Though much of her older material is in Welch, Le Bon sung in her native tongue just once last night - to cover the Gruff Rhys song "Pwdin Wy 2."
Though Le Bon later lent backing vox to St. Vincent, the contrast between the performances of the two female artists was stark. The lights and effects were minimal for Cate Le Bon, but for the main act, columns of rainbow-colored light shone through the thick, machine-generated fog. A master performer, Annie Clark easily matched the intensity of the light show with her explosive guitar solos and urgent lyrics, often introducing slight deviations not found in the recorded versions of her songs to keep things interesting. Though covered in shadows for the majority of the evening, her backing band of 3-4 was solid.
Clark drew heavily from her most recent album, the excellent Strange Mercy, omitting just one song ("Hysterical Strength"), but she also peppered her set list with a handful of older songs, like "Marrow" and the buoyant "Actor Out of Work."
Apart from her sheer talent - Clark's voice was flawless, what made her performance so compelling was her ability to channel both her sweet and kick-ass sides. One minute, she was charming the audience with stories of chatting up eccentric bar tenders and sneaking into cemeteries to chase deer, and the next she was crowd surfing while playing the guitar. I couldn't help but chuckle a bit at the appropriateness of the title of her chosen cover, The Pop Group song, "She Is Beyond Good and Evil." At one point, a debate broke out in the audience:
"Shred it Annie!" someone yelled.
"Yes she does!" a third person quickly countered.
"What is this, a live Twitter feed?" Clark joked.
I do believe this debate was resolved several times over.
Clark wrapped her show with a two-song encore of older songs, ending on "Your Lips Are Red," the only song from her debut album that made the cut. Annie also stage dove during the song, continuing to play on the crowd, but then back on stage in time to sing "your skin's so fair it's not fair."
Despite the annoying strobes that started to take over as the night progressed, St. Vincent's show will undoubtedly make it into my top ten list this year.
More pictures and the setlist from Webster Hall, below...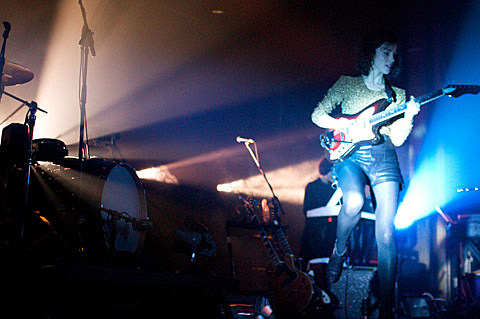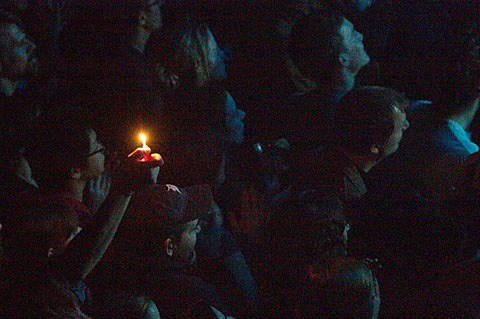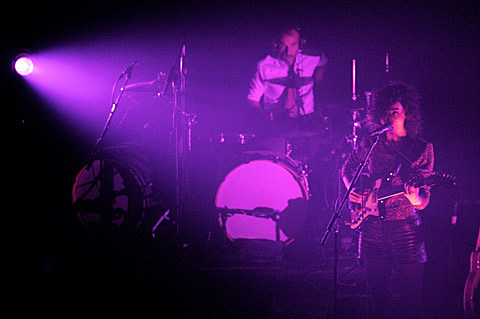 St. Vincent set list
Surgeon
Cheerleader
Save Me From What I Want
Actor Out of Work
Chloe In The Afternoon
Dilettante
Cruel
Just the Same But Brand New
Champagne Year
Neutered Fruit
Strange Mercy
She Is Beyond Good And Evil (The Pop Group cover)
Northern Lights
Year Of The Tiger
Marrow
Encore
The Party
Your Lips Are Red
--