Starred releasing EP on Pendu, playing shows (dates, streams, video and MP3)
Picasa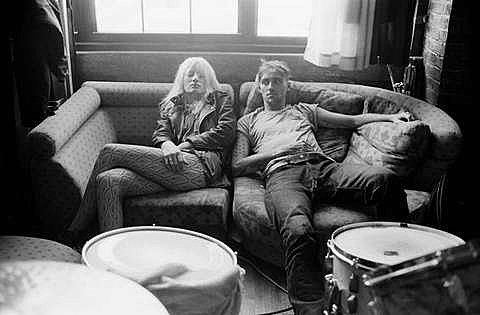 Brooklyn/LA duo Starred aka Liza Thorn (who previously played with ex-Girls frontman Christopher Owen in Curls) and Matthew Koshak are set to release their debut EP, Prison to Prison, on November 20 via Pendu Sound (also home to Chelsea Wolfe). Given that label's preference for dark, brooding music, it's no surprise that they took interest in Starred, who play the sort of dream pop that has more in common with slowcore and psychedelic folk than much of their shinier, synthier contemporaries. You can stream two EP tracks, "Cemetery" and "Call From Paris," and check out the video for the latter below. They've also got a 7" single on the label for the track "No Good," which you can download above or stream below.
Starred have a couple upcoming shows Brooklyn shows, including one this week at Glasslands on Tuesday (9/11) with Captured Tracks band Cosmetics, ex-Team Robespierre band Black Marble, and Warm Ghost. They'll also play with Tamaryn and Cool Angels at Knitting Factory on November 10. Tickets for the Glasslands show tickets for the Knitting Factory show are on sale now.
There's also another chance to catch Black Marble in NYC this month at Public Assembly on September 21 with Plastic Flowers, Indian Flowers, and Total Slacker, plus DJ sets by Heavenly Beat, Pictureplane, The Death Set, Creep, and Le Sphinxx. Tickets for that show are on sale now.
Starred streams, video, cover art and tracklist below.

---
Starred - "Call From Paris"

Starred - "Call From Paris"

Starred - Prison to Prison

Prison to Prison Tracklist:
SIDE A
01. Call From Paris
02. Sure Bet
03. LA Drugs
SIDE B
04. Committee
05. Cemetery
06. Light