watch Steve Martin & The Steep Canyon Rangers play a loft in Brooklyn (video, pics & tour dates too)
I know what you're thinking. "I love Steve Martin. I wish he'd play with bluegrass group The Steep Canyon Rangers in a Williamsburg loft!" Well, he did and we've got the exclusive, never-before-seen video to prove it, and you can watch it below. BV photographer David Andrako happened to be there too, and you can check out more pictures from the event below too. You might spot members of indie type bands in the crowd too.
Steve Martin and the Steep Canyon Rangers are heading out on tour next week and all tour dates are listed below (no NYC dates, though they did recently play Staten Island.)  They're supporting their most recent album, Rare Bird Alert, which came out last year on Rounder Records, a title that tied in nicely with Martin's 2011 birdwatching comedy The Big Year.
Video of the loft performance, photos and a list of all tour dates are below...

---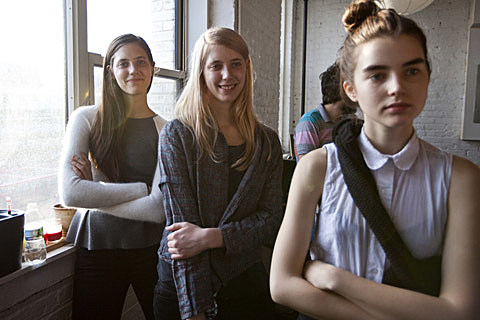 Steve Martin and The Steep Canyon Rangers - 2012 Tour Dates
June 20 Little Rock, AR Robinson Center Auditorium
June 21 Kansas City, MO Midland Theatre
June 22 Sioux City, IA Orpheum Theatre
June 23 Des Moines, IA Civic Center of Greater Des Moines
June 24 Highland Park, IL Ravinia Pavilion
June 26 OTTAWA, ON Confederation Park
June 27 Rochester, NY Kodak Hall at Eastman Theater - Matinee Show
June 27 Rochester, NY Kodak Hall at Eastman Theater - Evening Show
June 28 Detroit, MI MotorCity Casino Hotel - Sound Board
June 29 Interlochen, MI Kresge Auditorium
July 18 Morrison, CO Red Rocks Amphitheater
July 19 Salt Lake City, UT Red Butte Garden Amphitheatre
July 20 Missoula, MT Ogren Park at Allegiance Field
July 25 Eugene, OR Cuthbert Amphitheater
July 26 Troutdale, OR Edgefield
August 3 Detroit Lakes, MN We Fest
August 5 Duluth, MN Bayfront Blues Festival
August 23 San Diego, CA Humphreys
August 26 Saratoga, CA The Mountain Winery
August 29 Livermore, CA Wente Vineyards
August 30 Modesto, CA Gallo Center for the Arts
August 31 Palm Desert, CA McCallum Theatre For the Performing Arts
September 1 Los Angeles, CA Pantages Theatre